One Day. One Weekend. One Championship.
Last year Erie Cheer won state for the first time since 2007. This year, it was time for our new team to try to go back-to-back. After working all year long, countless 5:30 AM and late night practices, a three-day camp, and being pushed through many struggles, it was time to prove our worth. 
It started at 7:45 Friday morning, dressed in our uniforms, ready for the day. I was feeling more awake and excited than ever. Expecting the school buses, I was more than excited when the party bus had pulled in. The inside lit up just like we were ready to take on the state mat. The cheer team piled in and began singing and eating breakfast, before we knew it, we were at the Denver Coliseum. 
We didn't have long to prepare for warmups like usual. I sat my stuff down in the stands, put on my lipstick, and grabbed my poms. Everyone felt calmer than the usual competitions filled with anxiety. As we headed to the halls our coach told us today was our day. We marked three or four routines, then sat together and visualized what our performance was going to look like. I visualized a hit routine, one with enthusiasm. A runner working the competition alerted the team that it was time to head to warmups.
In the warm up room there was 10 or more teams, it was loud, and for some on the team, stressful. We waited in line to take a team picture and then it was onto the tumbling mat. I talked to my stunt group and other girls on the cheer team to keep calm, singing songs until coach Nora told us it was officially time to get focused. I started with my standing tuck, then encouraged others while they warmed their passes up. From there, I went to my full which is my hardest pass. With the team cheering me on it was easy to throw and before I knew it the 4 minute tumbling mat time was over. 
I quickly gathered my stunt group around and told them to be confident, they reminded me to use technique, and we stepped onto the stunt mat to warming up extensions, good and bad leg libs, then our elite stunt. My stunt group had a strong confident warmup, which only contributed to our excitement. We practiced our pyramid which is the hardest stunt sequence in the routine. It was flawless, my flyer Grace Hardin hit the stunts like never before. Again our four minutes had run out and it was time for our stunt routine on the full floor. This meant we ran through a full routine with no tumbling. I could feel Grace start shaking as the realization of state rolled around. 
We gathered in a circle right inside of the curtains. Coach Nora told us that she was proud of us and we earned this routine. The team went around encouraging and reminding everyone why we cheered: it was for moments like this. I had never felt more confident and proud of a team in my 12 years of cheering, we deserved a hit routine. I prayed and continued traditions of handshakes for good luck as we were being called out onto the floor.
Only seconds later I heard the crowd, loud as they were all I could hear was my heart beating through my chest. If anything got me through the routine it was the adrenaline. The music started, I let my muscle memory and drive take over. Every stunt hit, every stumbling pass landed, and more importantly every person performed with smiles on their faces. In that moment we owned the mat, no one could take that away from us. The 2:30 second routine came to an exciting end as I hugged my teammates and we all cried tears of joy walking off the mat. 
We waited hours, bought snacks, took ridiculously funny pictures, and watched videos to fill the time. Around 6 PM finalists were announced. Our name was called and I felt more than  accomplished. The scores got released not too late after, where we saw that our routine was the highest scoring routine of prelims. That night I slept content knowing we hit and the best was next to come.
Day two rolled around, I got dressed with two friends and then met at the Coliseum at 4. We participated in the Parade of Champions, it was chaotic but once set up, rewarding. The lengthy ceremony came to an end and today we had time to spare before warmups. Most of us (including myself) ate one or two hours before because we couldn't risk being too full competing in state finals. Time passed quickly with the help of dancing and watching other entertaining game day style routines. It was getting close to 8:00 PM when it was once again time to begin warmups. 
Before starting to mark or visualize our coach pulled us in a circle. The owner of Empire Athletics and our Tuesday practice coach, Kyle, began by saying that he was unbelievably proud. He told us that we needed to take what we wanted, and all I wanted was a perfect routine. Justin reminded us how large the crowd was and our main coach Nora gave us reasons to hit. The injuries, the people who quit, loss of skills, and people doubting the cheer team all gave us another reason to drive when competing. We marked two routines and visualized two much like prelims. 
The warm up room was louder, hotter, and more stressful than before, but I had never been more excited to compete. The energy on the tumble mat was strong, our hopes were high, and now we want to get out on the mat. The stunt warm up was strong, the elite stunts going up marvelously. Pyramid was a different story, our high to high full around struggled all year but the past week we had been amazing, feet together, strong hitting stunts. The nerves must have kicked in because we had to fight extra hard to keep the stunt in the air, a few falls in between. Our full floor stunt routine was beautiful and built our confidence. The pyramid did not hit as planned, and usually this would make me anxious or nervous to compete the skill. Today, though I was confident we would pull through on the mat.
As the time to perform for the final time in Colorado arrived, I felt at ease. This was a team that had been through it all and stuck together, this was the team where I could proudly say I loved each and every member, it is my team and right in that moment was our time. We gathered around and gave pep talks, our coach told us to do what we know how to do.
As we walked out the crowd was massive. There were so many people in the stands that they couldn't all fit in the viewing section. People lined up at the railing and as a team in the stands begin chanting out, the support made us all tear up. We lined up and the music began. Throughout the routine I could feel my teammates cheer me on, push themselves, and be proud. Towards dance the hair tie that held my hair snapped and it began falling out. In that moment I could have panicked, or finished my routine strongly. Option two was much more appealing. Through the pyramid my bow fell out but remained untouched during the finishing of the routine, so there were no deductions. Our pyramid bobbled slightly but it wasn't major. It was an amazing performance that I felt amazing about. 
Two hours later after waiting around, it was awards time. We knew we were in first place from day one, but, in the back of our heads, we thought that the bobble or bow could have lost us state. We curled up and played a hand game until the announcer began announcing the runner ups and winners. It felt like it took three hours to get to our division. They announced that it was time for the 4A Cheer division. I reached for my teammates next to me, we all squeezed each other's hands in anticipation. I had never been more anxious, scrunched faces and heavy breaths waiting for the runner up to be called. 
Suddenly it was called out, "Your 2019 runner up, Ponderosa High School." We all tensed up, we all started crying but not loud out of respect for Ponderosa. My hands were shaking and I felt like my breath was taken away. They announced our name and suddenly it was all worth it. All the sweat, blood, and tears had paid off. Everything felt like it was in slow motion, hugging three or four of my closest teammates. We screamed out of joy, cried harder than before. There is no other feeling like that. With mascara running down my face and a dry throat we took a picture and then sat to wait untill the end of awards. 
Awards wrapped up and we went to the stands to get our bags, I looked upon my team that was still emotional, and started crying once again. In my 13 years of cheer nothing made me prouder than that moment. We went to the bathroom fixed ourselves up and celebrated in the Coliseum halls by taking pictures. And the only thing I could think about was that we were back-to-back state champions.
Leave a Comment
About the Writer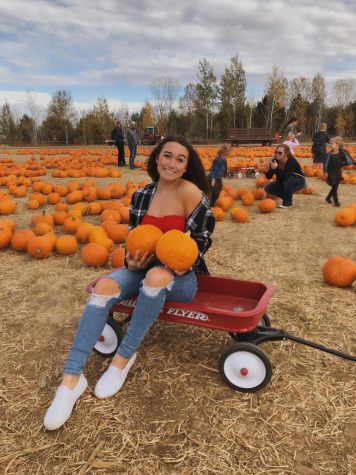 Ella Mullins, Staff Writer
Ella is a sophomore this year at Erie High. Last year she and her team won state for cheer, and this year you will be sure to find her with the varsity...