(Video) Erie Tiger Cheer: Back-to-Back 4A State Champions
DENVER – On December 6th, the defending 4A Cheer State Champions, Erie, took the mat for the first time during the state competition.
The exceptional performance that ensued instilled a lot of confidence in the team for the rest of the competition, however, what they made look easy took a lot of preparation to master.
Going behind the scenes, the team was practicing up until just a few minutes before they took the mat. However, the team morale contributed just as much when they were faced with any hardship leading up to the state competition.
Senior cheerleader Lauren Postel explains, "This team has such a great bond, and just the way we deal with each other helps deal with all the troubles that we've had and we all stay together and work through it together which helps us come out on top." 
At the end of the first night, all the hard work paid off when Erie Cheer secured their spot in the second day of the competition and did so with the highest score across all classifications.
Erie Cheer kept the momentum going on Day 2 with another stellar zero deduction performance, which left the seniors of the team a final performance to be proud of.
Right after their performance, senior cheerleader Taylor Green described, "I feel amazing, we hit so solid, we came back day 2 for today, we felt so good coming off of yesterday and we just wanted to do the same exact thing to be feeling the same way we did after yesterday. I feel sad obviously because I'm a senior but so excited that we just ended that way. It's such a good feeling I can't even explain it."
After Day 1's results, Erie knew they had to beat Ponderosa, who sat in 2nd place. When they announced the state runner up (Ponderosa), Erie could taste the state champion trophy. But it wasn't set in stone until they announced the 4A Cheer State Champion, the Erie Tigers.
Being a state champion is no mean feat in itself, but being a state champion twice, back-to-back, brought indescribable feelings. Sophomore cheerleader Sydney Wolff was on the team last year as well, and said, "It feels really great like being able to be like pull together as a team knowing what you can do and like it just makes you feel so much more like a family, you just are so happy it's like an overwhelming feeling."
The state championship marks for most the end of a season. But for the seniors on the team, it marks the end of their high school cheer career, but being a state champion lets them go out on top. "Going out on top as a state champion is just a really good feeling knowing that I get to walk out of my senior year knowing that I've won and I've tried my best and I'm just so proud of my team," Senior cheerleader Kaya Massoglia explained.
While these seniors may have performed at the state level for the last time, they have one more competition that awaits. This February, they will perform at nationals in Florida, and they are ready for the challenge. Head Coach Nora Roth explained, "The girls are ready. I think it's their chance to finally prove themselves beyond the state of Colorado and I think we're gonna show up and it's gonna be good."
With the state title locked down, all that's left to focus on is the future, and there is a bright future for Erie Cheer. Roth also added, "We just keep on building, we keep building. I think that every year we get stronger and stronger and people are coming because they want to be a part of this program, and not because of the trophies, but because we have such an awesome atmosphere which is the most important part."
When Erie Cheer left for the Denver Coliseum Friday morning, they had no clue what was in store. But coming home late Saturday night, they have a trophy, rings, and one proud title: 4A State Champions.
About the Contributor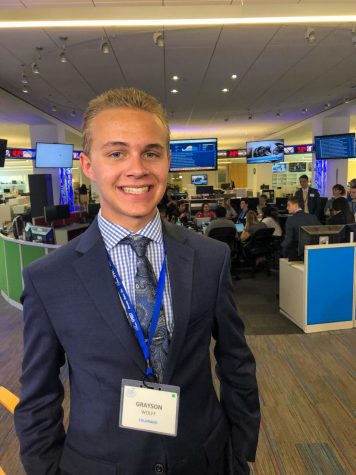 Grayson Wolff, News Director (ETN)
Grayson is a Senior at Erie High School and is the News Director for the electronic media division of Erie Tiger Media called the Erie Tiger Network. He...