Bringing the People of Erie Closer Together
ERIE — Excitement and chatter filled the cold air  on Friday night on Briggs Street in Old Town. Stands were set up, Christmas lights lit the street, and everyone was looking forward to a great time. At the Erie Christmas Parade, hundreds of people showed up, gathering together as a community.
During the parade, people and businesses from all over Erie showed up. In the open spaces, small stands were set up, most selling or giving out food for spectators. Some of the businesses along the street opened up 'warming huts' in their buildings with free beverages and snacks.  One of these 'warming huts' was at Coldwell Bank. Brie Fowler, a realtor there, say that Coldwell "really wants to be involved in the town, and [the parade] is a great way to just help the community members," and believes that this parade "helps us maintain that small town charm that Erie is craving to maintain." 
That sentiment is shared by many at the parade. Julia Rosenstein, who works with the Erie Chamber of Commerce, and handed out free s'mores to the community says the parade "brings everybody on the same night at the same time" and creates community among the people. She loves "getting out and seeing everybody."
Community aside, many people were looking forward to the activities planned. Ian Glass, an onlooker, was looking forward to dinner and the parade, while Amy Evan, a parent, was looking forward to watching her children sing in the choir. The Erie Middle School choir sang Christmas carols in a corner of Briggs Street, which gathered a large group of viewers. Others, like Mary Johnson, were looking forward to the parade at 6:30 pm. After seeing it, she said, "I think this year has been my favorite."
Once the floats and bands started coming down the street, everyone lined the sides of the street, cheering and laughing. People were all trying to get a look and the kids were trying to catch candy being handed out. There were inflatables on trucks, people in costumes, a group of dogs, nativity scenes on the backs of trucks, and even the engine of a hot air balloon sending up blasts of fire. The hot air balloon seemed to be a favorite, sending out heat to the cold onlookers.
This annual county Christmas celebration and parade of lights brought families from all over Erie together. It connected them, and created a great time for everyone.
About the Contributor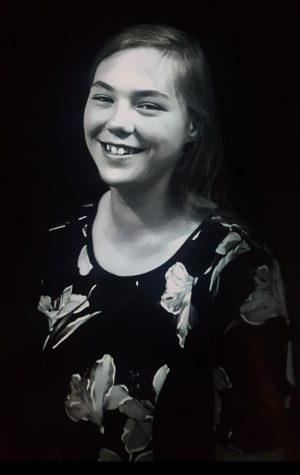 Jozlyn Jorgenson, Assistant Editor
Jozlyn is a Junior at Erie High. Some of her hobbies include drawing, reading, playing video games, and writing. Jozlyn has plans to go to college and...