Nunsense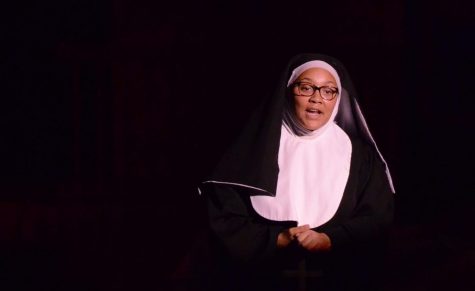 A blacked out stage. A single spotlight. Five actresses, standing in the ring of light, looking into a faceless crowd of silhouettes. All eyes are on them. Music serves as merely a background guide to their powerful voices as they sing their melody for a crowd eager to gobble every note of their music.
This is the stage of five talented actresses of Erie High School performing in the musical Nunsense. Nunsense is an interactive dinner theatre – the first of its kind at EHS. It is a small play with only a cast of 6. It is about 5 nuns (known as the Little Sisters of Hoboken) with different dreams and hopes for their futures coming together in the same convent and working together to find a solution to a strange problem – trying to find the money to bury four dead sisters that died due to a cooking accident.
The actors and crew members had a shorter rehearsal period than all other musicals and plays at EHS, but nonetheless still put much effort into making the play as amazing as it could be to make this play a success. According to Scott Wright, the director of Nunsense, they had only 14 rehearsals, and the cast sacrificed long days called "Boot Camp" days, where they would work from 7:30 a.m. to 5:30 p.m. during summer before school started.
The most difficult challenge about the play was to ensure that the dinner portion of the play was accomplished and successful. The producers had to make sure that there were different caterers for the six different performances. Otherwise, it would be no longer a "dinner theatre," but just as a theatre. According to Wright, "making sure we had tableware: plates, cups, and napkins" was difficult, but not impossible, to complete successfully.
Wright says that with such a small cast, it was at times easier to accomplish. When asked what kind of cast was easier to work with, he replied, "in some ways it's easier to work with a cast of 5 instead of 30 to 40." Directions are able to be more closely followed and the director is able to have more one-on-one time with the cast, thus creating a sometimes more positive commitment and attitude about the project.
Overall, the dinner theater
was a hit. Everyone who saw it loved it and was hungry for more performances from the talented actors and actresses of EHS. The tickets were quickly sold and the seats were taken in no time. Wright looks forward to other plays and musicals, and hopes to do more dinner theaters in the future.