Volleyball Thrills in Dramatic 3-1 Win over Mead
Hang on for a minute...we're trying to find some more stories you might like.
MEAD, CO — Erie pulled out a heart-racing 3-1 (25-22, 22-25, 25-23, 26-24) win over rival Mead on Tuesday night.
It was a thriller right from the start, as Erie (9-4, 2-1) quickly got out to a 7-4 lead. It was an adventure for the broadcast team, since for a few minutes, the volleyball game hijacked the stream of the choir concert (in the Erie Tiger Network's first dual cast of the year) before finally going live on YouTube as the volleyball game and not as the choir concert.
After allowing Mead (7-3, 1-2)  to tie the game, Erie took a 13-8 lead, after which the Mavericks would tie the game again at 14.
The two teams kept everyone's hearts in their throats with every rally: they traded points from 14 all to 17 all before the Mavericks crept ahead by 3.
Erie rallied to tie it at 22 when a perfect serve from Lily Kurz led to a Kate Sebesta kill.
Kurz's next two serves led to attacking errors from the Mavericks before a quick hitter from Jess Amend gave Erie the first set.
"Serving it out (can) bring the energy down on the team, but we had a side out right away, and we came back and won the game" said Kurz.
The second set was more of the same, except it was Mead holding the lead, not Erie. After falling behind early, Erie clawed back into the set, only trailing by three (18-15). A Mead timeout stalled the momentum, as the teams traded points before the Mavericks got to set point up by five. 
Erie was able to string together three points, but fell in the second set 25-22.
The Mead momentum continued into the third set, where they got off to an 11-5 lead before an Erie timeout.
Out of the timeout, Mead scored twice, giving them what would be the largest lead of the match at seven points (13-6). Erie promptly ripped off seven points in a row behind Maggie Olson's serve as well as key blocks from Kurz and senior setter Jess Amend. "We started earning our own points rather than relying on (their) error(s) which helped us gain momentum" said Amend. "We both had the mentality when we were blocking that we just needed to be up, set, and pressing strong over the net to help our defense."
"Having those three blocks, especially against their biggest hitters was really important, and changed the momentum of the game" added Kurz.
That mentality paid off as Erie rode the momentum to a 25-23 set win.
The final set was as back and forth as any of them. It seemed as if each team could only string together two or three points at a time, and the tension was steadily mounting in the gym. Both coaches took timeouts very early in the set. Right after Mead's timeout, one of the more bizarre things happened that you'll ever see in a high school gym: Mead's student section, with a beach theme for the game, was tossing around beach balls during the timeout. This extended into the first rally out of the timeout, catching the eye of a vigilant official, who, in essence, ejected the beach balls from the game.
It isn't every day that you see beach balls be removed from a high school gym, but it took some energy to remove them from a consistently boisterous Mead student section. They briefly quieted, and Erie scored four straight points. This would extend their lead out to 16-9 for their largest lead of the match. 
"Mead's student section was really loud and caused us to miss a few serves, but it brought us energy when we shut down some of their big hitters or got our big kills and they would just be quiet" said Kurz.
"They had to put away their beach balls and it was really funny, and it just brought us energy overall."
A few points later, with the Erie lead at 19-12, Mead took what would be their last timeout. And initially, it didn't appear to pay off for the Mavericks. Erie held at least a five point lead until they reached 23 points, when Mead went on a run. The Mavs, trailing 23-17, tied it back up at 24, and the gym reached its loudest noise level of the night. 
After Mead tied the game, Amend brought the team in a circle to take a breath. "When the sets start to get close, it helps to just come together as a team and just pause and take a breath, so that's exactly what we did."
Amend then perfectly set up Olson, who hit straight into the Mead blockers, and the ball fell on the Maverick's side of the net to put Erie up by one.
At match point, Peyton Michaelson's serve was returned by Mead. Amend quick hit it over but Mead returned again. Kate Sebesta saved the Mead return, and Amend set for Olson who buried it in the back corner to give Erie the victory.
"Right before the second to last play, I told Jess that I was ready to hit and she trusted me and gave me two perfect sets which helped me put the ball down" said Olson.
The two teams will not meet again in the regular season, as Tri-Valley volleyball teams only play each other once. 
Next, Erie plays Berthoud on Tuesday and Mead plays Severance on Thursday.
You can watch the archived livestream of the game HERE.
About the Writer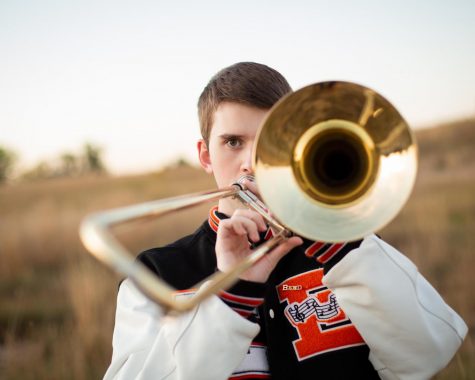 Grayson Blalock, Editor-in-Chief
Grayson is the Editor-in-Chief for the 2019-20 Tiger Times and is a senior at Erie High School. He was the Assistant/Sports Editor for the 2017-18 Tiger...