How High School Music Impacted Katie Broermen's Life
For four years of her life, Katelyn (Katie) Broermen has gone to Erie High School. She has gone through all of the motions of high school. From being a nervous little freshman, to finding her place as a sophomore, then working away during her junior year, she just finally finished the saddest yet happiest year yet, her senior year. Katie transferred to Erie High School her freshman year after being homeschooled for all of her previous years of education leading up to her high school career. Coming in to a quickly growing school as a freshman was nerve racking enough, let alone coming in from being home schooled for the past 8 years of her life. Katie says that, "Going into public school after being homeschooled all of my life was a huge transition for me. It was really hard for me to just be thrown into the crazy life that high school was." But, despite feeling lost in a brand new world of public school on her first day, Katie quickly found a safe place in high school by joining the choir program.
Katie has had a love for music since she was a small child, and she came into high school eager to join in the music department and continue pursuing her passion for singing. There were five choirs that were available for Katie to participate in at Erie High School when she first joined as a freshman: two non auditioned choirs, Man Choir for boys, and Women's Ensemble for girls, two auditioned choirs, Topaz for girls and CR5 for freshman through senior boys and sophomore through senior girls, and Concert Choir, another mixed choir that requires one year of previous high school choir in order to join. She began her choir career by joining Women's Ensemble her freshman year to ease into it and see how she felt about it. She immediately found a safe place in the choir room where she would continue to spend much of her time throughout her entire high school career.
Throughout the rest of her high school choir experience she continued to push herself each and every year in order to to become a better musician, peer, and person. She found "a love for music in her soul" and she felt compelled to continue to do sing every year. Before her sophomore year she auditioned for Topaz, and with her stunning voice she made it in with flying colors. In order to make it in, she had to audition for Mrs. Janay Bird, the Erie choir director, and sing a solo, 3 scales, 4 triads, and do rhythmic and melodic sight reading. She was and has been a soprano one (the highest singing voice/part in a choir) for most of her time in choir throughout high school given her ability to hit a wide range of high notes, and in Topaz she earned several solos throughout the year. She found a family and many best friends in the auditioned women's choir that year, and it helped her continue to grow from a quiet young freshman to someone who was no longer afraid to share her voice on stage.
Her junior and senior year she pushed herself even further and auditioned for CR5, the top mixed choir at Erie High School, and she landed a spot for both years. She also went even further and auditioned and was accepted to a choir that was new to Erie her sophomore year, the acapella jazz choir 5130. She excelled in choir her junior and senior year, exploring new things and learning how to become a better choral and jazz musician within these choirs. She also created relationships "unlike any others" and found some of her very best friends by being a part of the Erie choir program. She was also very involved in these choirs by being the Vice President of CR5 her junior year, and the Senior President her Senior year. These jobs required her to plan all of the social aspects her junior year, and then manage everything for the choir seniors her senior year. By being in these choirs she was required to learn a lot of music throughout the school year, to perform at 4 concerts and to travel with these auditioned choirs to festivals and experiences around Colorado and even to Disney World in Florida for a competition her junior year. Although her high school was packed full of memories created with her choir family, Katie says that her favorite experience was definitely going to Disney World with CR5 because although they went on many trips together, they got to spend the most time together on this one having so much fun in Disney together while also making beautiful music and getting to compete in another state.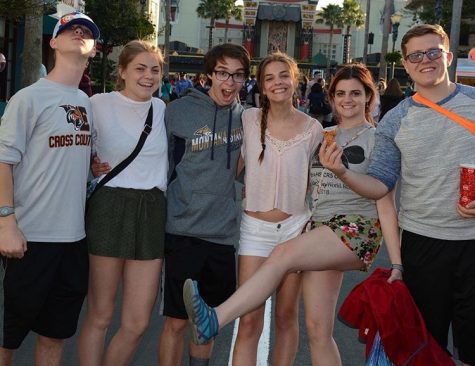 Katie's junior and senior year she also auditioned and got into the annual SVVSD honor choir. In order to make it into honor choir, you have sing and record an audition similar to that of the Topaz and CR5 audition, and submit it to a panel of judges. Then, kids are selected from all around the district, sent around 4-6 pieces of music to learn on their own, put through a second audition, and then are allowed to participate in a day full of learning what it is like to be a musician. Guest clinicians come in to work with the kids, and they spend a whole day rehearsing with the other selected kids from around the district to perform in a concert that evening. Katie really enjoyed honor choir because she got to know kids better from her own school and from around the district, and it was an amazing opportunity to get to work with such amazing clinicians and kids who shared a passion for music like her.
Another way Katie pushed herself in the music department was by participating in Erie's annual Erie Idol her freshman, sophomore, and senior year. This event is very similar to the show American Idol, where you audition with a solo in front of judges, and if you are selected you sing for a panel of judges and an audience who votes for you in order for you to continue on to the next rounds. It takes place over a few nights, and every year that Katie did it she advanced farther than the previous years. She got second place when she participated this school year with her duet partner Zane Winegar because of their ability to create such beautiful harmonies together. Every year that she participated, you could see her voice flourish and blossom as she grew in her musicianship and stage presence. She also played guitar for alumni Alia Brand her junior year when Alia was a senior, and she and Alia made it to the finals winning first place that year. Katie said she loved participating in Erie Idol because, "It gave me a chance to show off my solo voice that I often wouldn't be able to in choir, and compete with my peers while they get to show off their beautiful voices as well."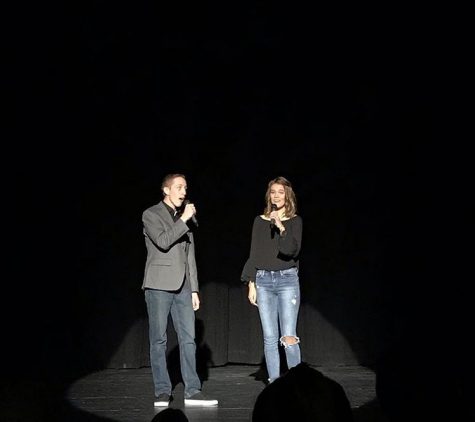 Katie was not only in the choir department, but decided to expand her musical arts by being a part of the theatre department as well. She participated in many shows throughout her high school career, and the auditorium became another place for her to call home. Many of her choir friends also participated in the theatre department as well, but she added many new friends to her family by being a part of this program. Her sophomore year she was in the musical Addams Family, her junior year she was in the musical The Music Man and she was in tech for the show Blood Brothers as well as did singing waitstaff for the show Charlie Brown, and she scored a lead role this year in the musical Rock of Ages (high school edition). For each of these shows she put in countless hours of effort to learn more music outside of choir, and transform from Katelyn Broerman into each role that she would portray on the Erie High School auditorium stage for the whole community to see. Her favorite show was Rock of Ages, which is no surprise as she had grown into a natural on the stage, and was perfect for the role of Sherrie. She exclaims, "I loved being in Rock of Ages because I was given the opportunity to be such a big part of it." Over the years she also came to "love the family aspect of the musicals at Erie high." Some of her other favorite memories from over the years were "during tech week when we were all exhausted" because they had all been at the school for hours past that of anyone else, but they all got to "sit, have fun, get to know each other, and eat dinner together."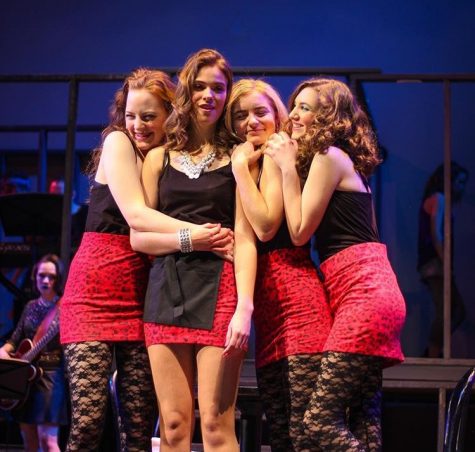 Before Katie even knew it, she went from being a scared freshman to this beautiful woman who was so involved in her school. She blossomed, and the choir and theatre department helped her become the person that she was striving to be. Every day became filled with music. Whether it be choir class, practicing her music, singing the national anthem, playing her guitar, singing for fun, having sectionals, rehearsal for shows, singing with her family, or performances in and out of school, Katie found much of her world revolving around music, and she loved it.
This year has been a very emotional year for Katie as she realizes all of the beautiful things that she has been experiencing for the last four years are coming to an end. Each year at the winter concert the choir department has a tradition of singing a song called Christmas Tide, and Katie was very sad to realize that this was her last year as a high schooler to participate in this special tradition. Her last concert where the choir department sings pop music every year came and went, and her last ever musical show did as well. She shared some beautiful words with the choir department and with CR5 at the last concert, and she realized it was the last time she would ever do that too. It has been emotional for her to realize that these were the last moments she would be creating music and art alongside her choir family, and she has done everything to soak up every last moment that she has here in the Erie choir department before she becomes an alumni and all she has left are memories, friendships, and a legacy that she has left behind. Mrs. Bird did an amazing job of helping her soak in all of these moments by having a very nostalgic and emotional senior sunrise at the beginning of the year, and senior sunset at the end of the year for all of the choir seniors. Katie also helped all of her choir senior peers feel recognized all throughout the year as the senior president, and helped them create some very special last memories together as the senior choir kids of 2019.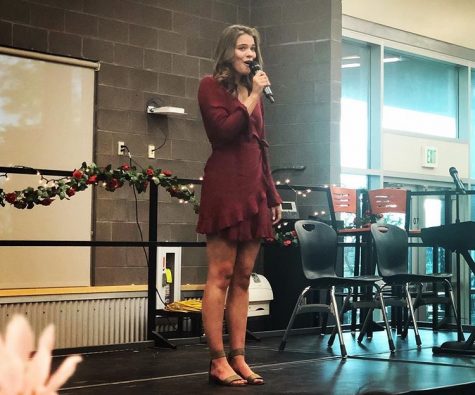 As Katie's time in the Erie choir department comes to and end, she has one last performance with her special choir family CR5. They will be singing the national anthem and Seasons of Love from the musical Rent at Erie High's graduation on Saturday, May 25th. Katie will be wearing a chord around her neck that is pink representing music, and black representing Erie, for being a part of the Erie choir program for all 4 years. And, although this may be her last performance as a high schooler with this program, she will always have a home in the Erie choir department.
Music has always been an important part of Katie's life, and has become even more prominent throughout high school. Because of this Katie plans on music continuing to be a part of her for the rest of her life. She is attending CU Boulder next year to further her education and to study Psychology, but plans on finding some way to make music a part of her college career. Music has forever impacted Katie's life. She said that "I never really understood why people love music so much until I walked into the choir room my freshman year. Being apart of a choir and making music with my best friends is just something magical and it's hard to explain unless you understand first hand what it's like. I don't believe that I would be the same person I am today if it wasn't for music. Music helps me think through my emotions, helps me relieve stress, and helps me to grow intellectually. I have such a love for music and I will always keep it as apart of my life."