Erie's State Wrap Up
    The 2019 Erie Track and Field team was nothing but phenomenal this year! From having the first home meet in over a decade, to breaking school records. The most exciting part about the 2019 season was at State.
    This year, Erie sent the girls 1600m relay and two pole vaulters. For the guys, Erie had the 1600m relay, 3200m relay, a triple jumper, pole vaulter, two miler, and an 800m runner! With so many people going to the state track meet this year, everyone was excited to show up and show everyone what their made of. The team also consisted of 7 special olympic runners!
    Everyone was excited and ready to compete. The first day started off with and amazing performance from Hogan Warlock, senior, on pole vault. Warlock went into state ranked 18th and outperformed several to take 14th place at state with a vault of 12 feet. Then, shortly after Hogan's great performance, Heidi Warlock, freshman, and school record holder Nicole Schubert, senior, took the stage. Heidi came into state ranked 18th in 4A state with a personal best of 8 feet 7 inches. Heidi knew she had to come up big in her last meet as a freshman, and did nothing other than that! As the bar continued to rise and the stakes continued to increase, Heidi continued to show up clearing 8'7", 9'1", and 9'7" all on her last attempts! With a huge improvement of a foot from her previous personal best, Heidi placed 10th at state. Nicole, school record holder, and meet and stadium record holder at Prairie View A&M, came into state ranked 3rd with a personal best of 10'9". With this being her last meet of high school, she made sure to come up huge for Erie with a jump of 10'1". That 10'1" jump earned her fifth place, her highest finish at state in her career.
  One of the most exciting parts of the meet was our special olympic runners. We had seven amazing runners compete at state and the coaches and track athletes loved their presence. Coach Havard stated, "Not only did these athletes go out and compete well, they also kept the track teams nerves down. Everyone was excited to have them travel with us and loved hanging around each other." Another track athlete said, "It was so cool to get to watch them experience running and stats and hearing them scream and cheer us on as we ran." All of these athletes did amazing! Preston Himler, BOCO 100m dash champion, placed second at state in the 100 meter dash with a time of 13.90 and was the state champ in the 200 meter dash with a time of 28.82! The coaches look forward to involving these runners more next year.
    As state continued, the team was hanging out and having fun trying to keep nerves down. The highest ranked team for Erie this year was the boys 3200 meter relay. All eyes were on them as they were ranked third in the state of Colorado and looked to chip off a ton of time from their previous race. The team, consisting of Jonathan Powell, senior, Cooper Hinman, senior, Jamison Cartwright, senior, and junior sensation, Adam Hounder. The whole week of practice leading up to this race they were all hitting the track hard making sure they wouldn't be beat. During the race everyone was blazing around the track for two laps. Heading into the last leg, the team knew they had to make up some ground, so Hounder did nothing other than that. He was flying around the track and was racing to the finish line. The team finished 4th at state with a new personal best of 8:02.65! The entire team was so excited because that is the fastest that 4×800 team has ran in the past two years!

    Next, it was the boys and girls 1600 meter relay. The girls team has two freshman, Ashley Lovett and Lily Meskers, Izzy Hagemen, sophomore, and Teagan Brand, senior. The team was ranked in the bottom half of the meet, which fueled their dedication to show everyone Erie is the best. They came out in prelims ready to go and placed 6th with a new personal bets of 4:06.74! Then the next day the team had to show up once again for finals. And once again, they were ready. The team ran the most impressive race ever placing 4th place at state and once again getting a new personal best of 4:02.91. With so many young runners, there is a ton of hope for a new school record soon! The boys also ran their 1600m relay which consisted of Jonathan Powell, Adam Hounder, LaDorian Havard, junior, and Quentin Hartel, sophomore. The team qualified for state just the meet before state. With nerves high and adrenaline kicking, the boys settled for nothing less than another personal best placing 12th with a time of 3:29.66. With only one senior on the boys team, they also have tons of hope for next year and will come back stronger.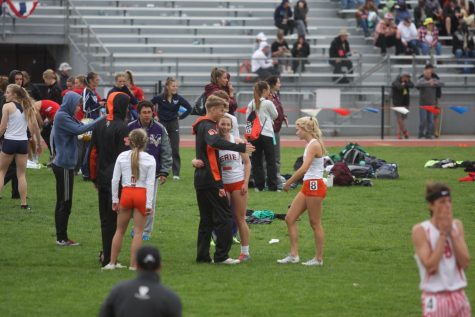 Erie also had three athletes in personal events. LaDorian Havard, Adam Hounder, and Jamison Cartwright. Havard came into state in triple jump with a jump of 42 feet 9 inches. Havard was looking for a new personal best trying to break the school record of 44 feet. With three strong attempts, he finished 14th place with a jump of 42 feet 2.5 inches. Cartwright, committed to BYU,  was one of Erie's best distance runners ever with the school record in the 5K and just seconds shy of the record in the mile and two mile. Coming in with a time of 9:46.05 from the last meet, Cartwright really wanted to improve. Coming into the last lap Cartwright kicked it into gear and started to pass everyone and finishing in 6th place with a lap time of 1:03 and a finishing time of 9:40.58! Hounder was looking to continue what the team already has accomplished this meet. With a really nice first lap with a time of 58.745 seconds he finished the race with a time of 1:58.35 and finished in 13th place!
    With so many up and coming young athletes the team has a bright future. As the team looks forward to next year they reflect on how many great memories and how awesome the season was. With tons of new school records and personal bests. State was a really great meet for the team as everybody there showed improvement and got lots of personal bests!