Erie Lacrosse 2nd Round Playoff Preview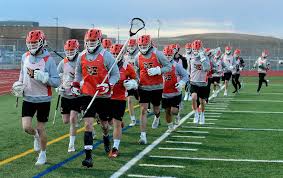 The Erie Tigers lacrosse team will be competing in the quarterfinal game of the playoffs this Friday, May 10th at 7:00pm in the Erie High School stadium. They will be competing against the Golden High School Demons, in order to make it to the semifinals, and then hopefully to the state championship game.
The Tigers played their first playoff game on Tuesday, May 7th at 5:00pm at the Erie High School stadium where they crushed Eagle Valley 15-1. This allowed them to continue on to the quarterfinals that they will be competing in on Friday, and if they win, they will continue on to the semifinals where they will play the winner of Thompson Valley and Air Academy next week. Sophomore, Adam Bristow, said that he is excited to play in the playoffs with his teammates because,
"we have been working up to moments like these all season, and now it's time to show our full potential."
The boys have had a great season with a record of 13-2, and are ranked 11th in the state of Colorado. They have worked really hard to come together from a few schools around the district under the great coaching of a new coach and teacher new at Erie this year, Nick Mandia. They have played Golden previously this season at home, beating them 10-3, and they hope to do the same again on Friday night.
If they make it to the final game, the state championship game, it will be held on Monday, May 20th at All City Stadium in Denver. This would be a great accomplishment for Erie High School's first ever lacrosse team, and they would love your support in order to make a run for the state championship.