OKC vs Portland Round One Review
The West now has one team to advance to the next round and is waiting for their opponent. The Portland Trail Blazers beat the Oklahoma City Thunder last night to win the series 4-1 to advance to the second round. This matchup was anything but boring. The series had everything you could ask for. Drama, buzzer beaters, and career highs left and right.
Damian Lillard and company walked into the series with a 116-120 regular season record versus the Thunder all time. The Trail Blazers walked in extremely confident being the series favorites after coming off of an amazing regular season going 53-29. This series was going to live up to all the hype of Lillard v Westbrook.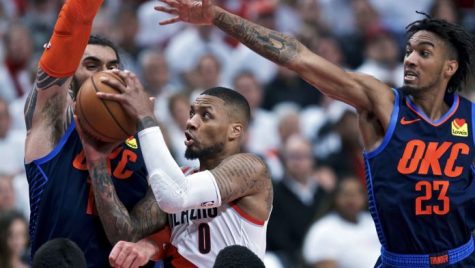 Game one started off fast with Lillard hitting a very deep three to start to game 3-0 and from there it was all Lillard and CJ McCollum leading the Trail Blazers way to a 1-0 series lead. Lillard went 30-4-4 in game one and McCollum went 24-6-3. The Trail Blazers shot 41% on field goals and 44% on three pointers.
Game two was nothing different with McCollum going 33-8-5 and Lillard going 29-4-6. However, game two is when the series started to get spicy. Westbrook and Lillard started to get into it and create some heat they carried from the regular season. All eyes were on Lillard and Westbrook at all times just waiting to see what was going to happen next. With 2:43 left in the second period, Lillard tightly guarded Westbrook and got him to fall to the floor. Soon after the whistles were blown and a small scuffle broke out within the starting 5 of both teams. From there on out there was a ton of heat between the two. Lillard continued to try and get into Westbrook's head. Westbrook missed an open three and Lillard went on to flex on him and then hit another very deep three right over him and told him to "hush".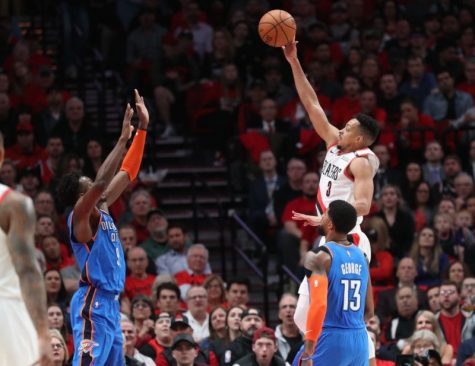 The rest of the series carried the drama from game 2 and Lillard just took over and showed the Thunder who was in charge. In game five Lillard launched a 37-foot walk off missile right over Paul George's head to win the game 118-115. Lillard lead the league in points in game 1 with 165 points. The Trail Blazers outscored the Thunder by 29 combined points in the entire series with 20 of the points coming from the game 2 win of 114-94.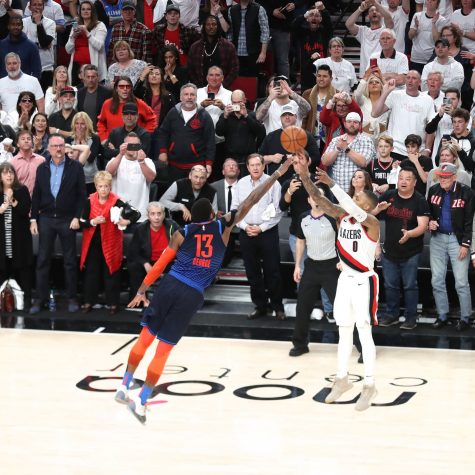 Now as the Oklahoma City Thunder pack their bags and head home, the Portland Trail Blazers stay alive and look ahead to their second round matchup against the winner of the Nuggets and Spurs series.