Mahomes v Brees MVP
Explosive stats, or efficiency? More touchdowns, or less interceptions? Patrick Mahomes, or Drew Brees? The debate goes on and on. No one has been able to decide whos more deserving of being named MVP. The two have gone toe to toe all season long. Will it be the old veteran, or the young phenom?
     Drew Brees, born on January 15th, 1979, is a very decorated player in the NFL. Throughout his 18 year career, he has accomplished many things. Brees is the Super Bowl MVP of Super Bowl XLIV, has been inducted into 12 pro bowls, was First-team All-Pro in 2006, Second-team All-Pro four times, 2 time NFL Offensive Player of the Year, Sports Illustrated Sportsman of the Year in 2010, Associated Press Male Athlete of the Year in 2010, won the Bert Bell Award in 2009, was the Walter Payton NFL Man of the Year in 2006, NFL comeback player of the year in 2004, seven time passing yards leader, and four time passing touchdowns leader. Brees also holds the record for most passing yards, most passes completed, highest completion percentage, highest single season completion percentage, most consecutive games with a touchdown pass, most pass completions in a single year, and tied for the most passing touchdowns in a game. On top of all of that Brees has lead the New Orleans Saints to 5 division titles.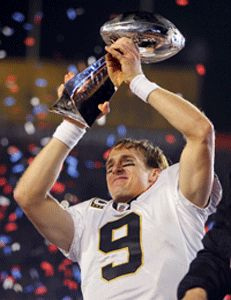 Obviously, Brees has been in the league many more years than the young Patrick Mahomes has and previous stats don't matter for the MVP award of that year. Brees has many more awards and has a lot to support his case on why he should be MVP. However, this year, Mahomes has thrown for 5097 yards, along with 50 touchdowns. That alone is pretty miraculous for those being in his first 16 games in which he started all of them in. Mahomes has a 66 percent completion percentage and had a quarterback rating of 113.8. The young phenomenon has done nothing but impressed coaches, teammates, analysts, and reporters. Mahomes rode behind Alex Smith in his rookie season and noted tips from Smith himself. In his first year as a starter, he brought the chiefs to the number one seed in the AFC and brought them all the way to the AFC Championship to face the mighty New England Patriots. He did end up losing that game in a nail biting overtime matchup, but it just shows how much talent Mahomes has to offer. Mahomes and company lead the league in total offense, and was third in passing yards. Personally, Mahomes led the league in touchdowns and was second in passing yards.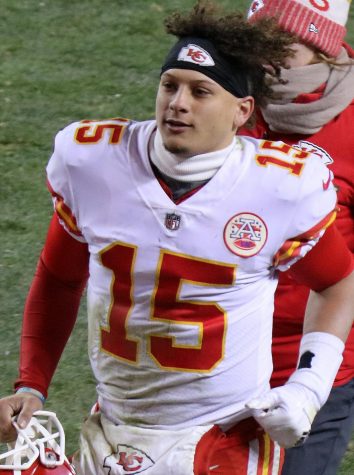 On the other side of the competition, Brees has once again put up phenomenal numbers. Brees led his team to the number one seed in the NFC playoffs as well as bringing them to the NFC Championship. In 2018, Brees racked up 3992 yards with 32 touchdowns on just 489 passing attempts. Brees had the highest completion percentage with 74.4 percent, crushing his previous record of 72 percent. Along with that, Brees had a 6:1 touchdown-interception ratio. On top of all of that, Brees also led the league in quarterback rating with a rating of 115.7! Brees also set a new career high in game winning drives with seven of them! Also, after starting the year 0-1, Brees led the Saints to an insane hot winning streak bringing New Orleans to 10-1! Brees was also 6-1 against winning teams this year with three of those teams being playoff teams.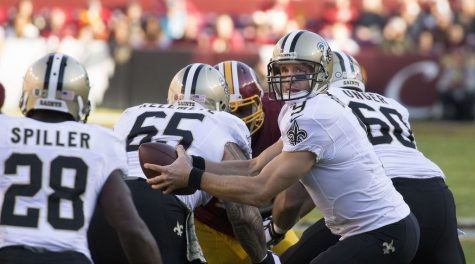 With all of that being said, everyone can say it's a toe to toe race, and in the end, it will all come down to the night of February 2nd. To me, the most valuable player isn't based off of the player with the most stunning stats such as passing yards and touchdowns, it comes down to whoever was more efficient and did more for their respective team. Touchdown to interception ratio, completion percentage, and more wins against better teams. I believe Drew Brees deserves the 2018 NFL MVP. He did nothing but astonish others with how efficient he was. Like I said in the previous paragraph, Brees is 6-1 against winning teams. Mahomes was 3-4 against winning teams. Brees also completed 8.4 percent more passes than Mahomes and had a higher touchdown to interception ratio. "Showtime" Mahomes may have put up more appealing stats, but the old veteran was more efficient passer and player than Mahomes. The Saints had their leadership through Drew Brees which helped them in the 13-3 run.
With it being so close, no one will truly know until it is announced on that night. But through my opinion, Brees was more valuable to his team than Mahomes was to his. Therefore, Brees receives my vote for the 2018 MVP.