Erie's Own Alumni: Faith Chatten
Faith is an 18 year old girl who grew up going to Erie schools, and graduated from Erie High School in the spring with the class of 2018. She grew up in this small town of Erie alongside her peers, knowing everyone in the school and practically everyone in the town. She had her childhood here, and she accomplished many great things in high school. Now that she has graduated she has moved away, remembering and coming back to visit her old town, but moving on to bigger things out in the world of college and adulthood.
Faith moved to the small town of Erie, Colorado in the third grade when the town still consisted of dirt roads, the middle and high school were in one building, there was only one elementary school, and none of the local stores or shops existed yet, including the red center. She went to Black Rock Elementary school when it first opened, and that is where she began her life in Erie. She went there for all of elementary school learning her shapes, letters, and numbers until her childhood moved into the awkward years of middle school.
Faith attended Erie Middle School all three years, and this is where her love for music began to grow. She was in class choir all three years, and in the select women's extracurricular choir Tiger Lily for the two years that you could be in it as a seventh and eighth grader. She attended Colorado Middle School All State Choir, as well the St.Vrain Middle School Honor Choir. She also loved her middle school choir teacher so much that she teacher aided for her, and still keeps in touch with her to this day.
Faith grew up in a house in Erie with two loving parents, and eventually two awesome younger siblings. Her little brother Blake is currently a freshman at Erie High School, and her little sister McKenzie is in seventh grade at Erie Middle School. Faith has "loved growing up alongside" her siblings, and enjoys that her sister is carrying on the choir legend by being in class choir and Tiger Lily at the middle school as well.
Moving into high school, Faith quickly got involved in as many things as she could possible to make the best out of her four years at Erie High School. One of the things that Faith was involved in was National Honors Society. She participated her junior and senior year, and was the Committee Head her junior year as well as the Co-President her senior year. She was very involved in this program doing above and beyond for it and participating in many volunteer hours throughout her community to make the world around her a better environment.
Faith also excelled highly in all of her classes, and in her education. She was an AP Scholar by the time she graduated, and she received an AP Capstone diploma for AP Seminar and AP Research. She received many academic award recognitions for exemplary work in class from choir, AP Environmental Science, and AP Research throughout her years of High School. She was also named to the National Society of High School Scholars, was a National History Day website first place winner, and was chosen to present at Erie X Night which showcased some of Erie's best AP students' project.
Of course, Faith carried her passion for music throughout her life in her years of high school participating in choir throughout all four years. During her freshman year, she was selected in Erie High's select women's choir Topaz, and in the next three years she was selected for Erie's top mixed choir, CR5. As a part of CR5, Faith was also a part of Erie's Choir Leadership Council which includes all of the leaders from each choir at Erie High School. Being the great leader that she is, Faith was even president of CR5 her senior year! Every year Faith participated in St. Vrain Valley's district honor choir where select kids from around the district are chosen to participate and prepare a few songs to be performed together. She was also chosen to participate in something similar called CU Boulder Reading Honor Choir with select kids from a few select schools every year that she was in High School as well. She was also picked one year for Colorado's All State Choir which only lets a select amount of kids participate by preparing six pieces of music, spending a weekend in Denver, and performing alongside the other top kids throughout the state. In order to participate in all of these she had to pass through many rigorous auditions, but it was "worth it because it was some of the best memories of my life." Faith recalls that throughout choir she made "some of the best friends and memories through music and the love that it brings with it."
Continuing with getting as involved as she could, Faith participated in a few sports over her time in high school. She played JV tennis her junior year, but she played her "favorite" sport her freshman and sophomore year when she played and lettered in Varsity soccer. Being an athlete, Faith was also involved in the club Fellowship of Christian Athletes within the school, and was involved in the leadership of that her Junior and Senior year.
Inspired by her love of music and participation of musicals/shows in middle school, Faith continued with acting and performing in high school as well. The shows that she was involved in were: Charlotte's Web, Adams Family, Music Man, A Christmas Carol, and W;T. Faith created some "lifetime friendships/relationships and memories" by doing these shows, and did an amazing job performing up on stage while having some big roles in each of these shows.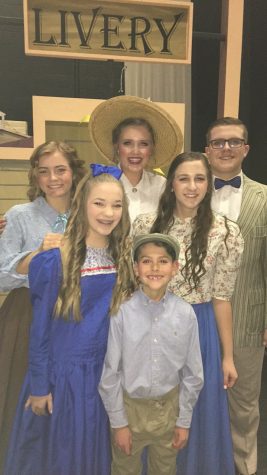 Throughout high school, Faith had the idea that she wanted to be a lawyer, so she attended that National Student Leadership Conference at Yale University, and was invited to be part of a Colorado Congressman Jared Polis' Youth Summit on environment, education, health care, and voter rights in 2018. Faith didn't end up pursuing law as a major once she left for college, but it still taught her many "valuable life lessons, and information on those topics that she never knew."
Some other activities that Faith was involved in while attending Erie a high school were: She was a Link Leader her senior year to help be part of the team that welcomes freshman to the high school. She was the senior class president her Senior year, and will continue to do things for her old high school as well as plan reunions in the years to come. She was involved in Teens With Wings every year of high school, which is a club at the high school to boost the morality of students, and she was the co-leader of it her senior year. She was on the prom committee her junior year to help plan the prom for Erie High School. She was a peer high school mentor for elementary kids at Red Hawk Elementary her junior year, and she also had the job of a lifeguard on the side, mainly over the summer at local pools in the community.
Another huge part of Faith's life is her religion. Throughout her whole life she has been very involved in her churches and youth groups in the community, and has done many volunteer hours and put in a lot of time for her faith.  She was involved in ThornCreek Youth group throughout her whole high school experience. She was also the leader of a weekly teen girl's bible study, volunteered as a Sunday school teacher every Sunday, and participated in many musical things within her churches and youth groups all throughout high school. She put in so many hours beyond that mentioned as well, and just overall made the community a better place through her beliefs and faith.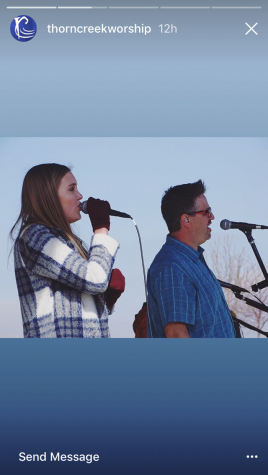 Faith now attends the college Ole Miss, or the University of Mississippi, in Oxford, Mississippi. She is studying music theory, is a member of the University of Mississippi School of Law LLC, is a member of the University of Mississippi Mock Trial Team, and is a Provost Scholar. She continued her passion of music into college and is in a women's choir. Her choir even got to sing at the Ole Miss vs Auburn football game! She is part of a sorority at Ole Miss, Pi Beta Phi, the Mississippi chapter, and is making so many new friends and memories in her new state. One of her favorite parts about being in the sorority so far was "when we did Wing Ching night with the fraternity's." Basically this night was where all of the frat boys each had to have a team and choose their pledges to do it, and whoever ate the most wings got the winning title. All of profits from the night went towards their philanthropy as well,  read > lead > achieve, which is helping to inspire every 1 in 4 American who doesn't know how to read to become a lifelong reader.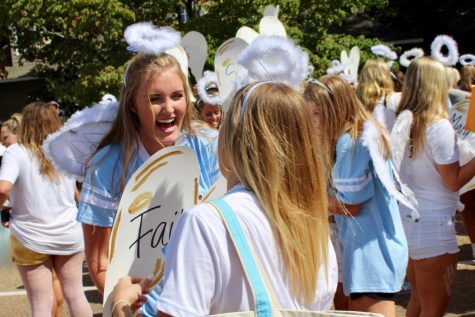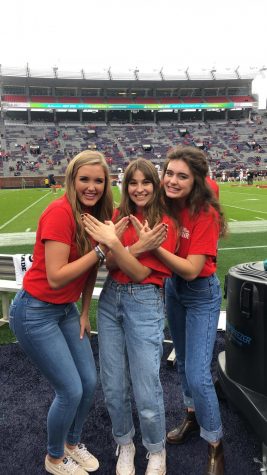 After Faith's first semester at college she came back to Erie High School to sing with all of her old choir friends in the song that Erie High School choirs sing every year: This Christmastide. Each year alumni are invited to come back and sing with everyone, and it creates a magical night of holiday music and rebonding with friends who have moved on from Erie High. Faith said it was wonderful to be able to "sing with the program again, and to reconnect with all of my best friends since graduating and leaving for college"
    Faith made the best out of every experience in her childhood, throughout high school, and is now making the best out of her experiences in college. She grew up in this small town of Erie and keeps all that Erie taught her in her heart, but she is now using that part of her to make her mark on the rest of the world outside of it.