Coach Simmons is Grinding it Out
A term heard frequently on the baseball or softball field at Erie is "grind". Whether it's, "embrace the grind", or "on the grind", or just "grinding". It has been made a word that will continue to stick in these athletes heads for years to come thanks to one man.
Harold Simmons has been a staple in Erie Athletics for many years. After being head coach of Erie's baseball program for 10 years, he also began leading Erie's softball program 4 years ago. With many regional and conference championships under his belt, he has led Erie baseball and softball through many successful seasons.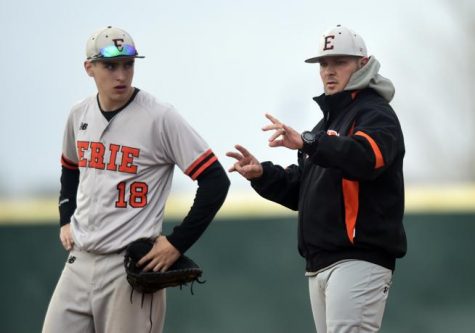 Simmons started as baseball's head coach 11 years ago, coming from the head coaching position at Windsor. He became involved with softball and worked under Coach Bledsoe and was around to see many of the programs state championships. After Coach Bledsoe retired, Simmons inherited a legacy that continues to stand under him today.
Simmons went through the same thing a lot of his kids do. He played high school baseball then continued on to play in college. But coming from a rough background, he didn't have it as easy and carefree as some kids do. He grew up moving from town to town, spending some time in Missouri and some time in Arizona. He paid his own bills and lived on his own when he had to. He has lived through many hard times to get where he is today.
He explained his journey to where he is today, in a small, suburban, carefree town like Erie, he explained, "I do get on my soap box when kids are whining about something because I did, I would go to practice and then go work at McDonalds and I did live on my own at times and that did prepare me for what I was going to see in college and what it was going to be like and what the real life's like and it just wasn't a, for lack of a better term, pampered life."
Coming from a drastically different background than most Erie kids experience, he continues to push and remind them to be grateful that they are living the life they live. Players are reminded of how good they have it when complaining about the effort they have to put into their lives and the small problems they may face.
When bringing that experience to Erie, the term "grind" was introduced. Players are always encouraged to be on the constant grind whether it's being in the weight room or long toss after school or coming to winter workouts. Simmons encourages athletes to be working whether it's in season or on their own time. He encourages this because, "I just think those things prepare you for what life is because life is really hard. There's always challenges and you have to know how to answer back."
"
It's an endless amount of work, you just keep working and keep working."
— Harold Simmons
Since beginning to teach at the high school this year, Simmons has been around to really get his players to embrace the grind. From encouraging kids to take Ironworks or getting in on games in his PE classes, he has become even more integrated into the Erie community.
Although he hasn't taught at the school before this year, his presence has been felt. The banners in the gym show the hard work he has put into softball, the most successful sport in Erie history, with 3 conference championships, 4 regional championships and a state runner up in just his four years of being head coach. When taking over a program with the most state championships in that sport, the grind has to be embraced.
Even with the tough reputation that the Erie programs have, Simmons wants kids to enjoy the sport. He cultivates a passion for the game and tries to instill a need to get better for these athletes. Being one of the tougher coaches, he still wants kids to have a passion and want them to come back to get better. He explains, "My number one goal in coaching, obviously we're all trying to win state championships and do those pieces but my number one piece is how many kids want to come back and be a part of our program."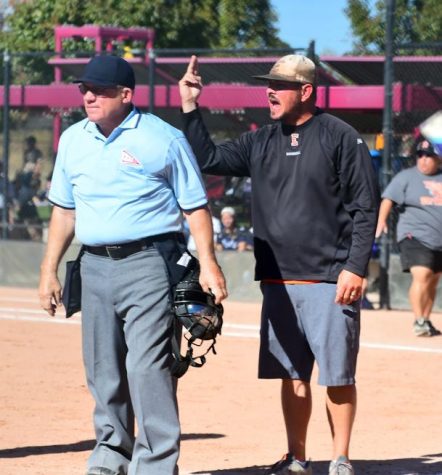 Baseball has been grinding it out for many years now. After being the head coach for 11 years, Simmons has built a program that runs smoothly and efficiently, and expectations are clearly set. The Erie baseball program goes beyond the high school, developing players on teams from sixth to eighth grade. Some kids get the chance to be a part of Erie baseball for 7 years, rather than the normal 4. In addition to coaching an Erie summer team for younger kids, he also coaches the NoCo Roughnecks. The Roughnecks are made of Erie and Longmont High students who play together over the summer. The 16U Roughnecks made it to the national level over the summer after never playing together before the start of the summer. The success of a team who had never played together was incredible, and just another amazing feat that Simmons has under his belt.
Along with being a coach for many kids, Simmons is also a family man. He has two young daughters, Brooklyn and Avery, who are always supporting their dad and being involved. From coming to practice to taking part in Erie Softball's summer camp, they are big supporters of their father. His wife, Amber, is around often whether it's making food for athletes during a marathon practice or bringing the girls to see their dad. Though he is a family man and his wife and daughters are very present during both his seasons, he makes sacrifices to do what he does. Players will hear him say that he spends more time with them then he does his own kids. From working a full day to being out at practice every single day during season, he isn't getting to spend as much time with his daughters as he should. During the Erie Tournament of Champions, him and his coaching staff will be out getting the fields ready until midnight. This is a common thing, which also happens during regionals. He is out at the fields past dark trying to make them perfect for his players. Another running joke along players is how his wife is a saint for putting up with him. He and his family are making sacrifices to keep these programs thriving.
The reason Simmons continues to make these sacrifices to coach is, "It keeps me young. I don't think kids have ever changed. I think kids have an innate ability to be resilient and tough. It's a growth mindset piece for me. It allows me to share the game and something I love and something that's been important to me with kids that I grow to love and trust."
Through Simmons hard work and his program, many player get the opportunity to continue their passion for their sport in college. Many baseball and softball players have gone to compete at the collegiate level. This is truly something special when you come from a small town like Erie. Simmons says the secret to becoming a college athlete through Erie baseball or softball is, "It's the grind and the toughness that's created. I try to help that along in our athletes."
After struggling to get to play at the college he wanted to go to, where his uncles were in the hall of fame, Simmons continued to grind his way to playing time and at bats and eventually ended up being a great collegiate player. He advocates for kids to continue their passion even though he knows the struggle. After talking about his struggle through college he concludes, "The relationships you build, the people you meet, I would never want to do it differently."
After going through the recruiting process and getting to play college baseball, he continues to help players on their journey to the next level. At least one player from one of his programs for the past four years has gone on to the next level. One notable athlete is pitcher Rio Sanchez, who went D1 at Central Arkansas and is a sophomore who continues to play there. Kyle Leahy, a 2015 graduate, continued on to play at Colorado Mesa and then went on to be drafted by the St. Louis Cardinals who he currently plays for on one of their minor league teams.
Seniors from baseball and softball this year have already begin to commit. Jon Thoren, a left handed pitcher, recently commited to Occidental College in Los Angeles. Sloane Quijas, a senior this year who has verbally committed to play at Chadron State, explains, "Simmons was important on my path to where I am now. He really helped a lot with getting my name out there and when the time came he reached out to the schools I was serious about and helped me eventually committing to a school which was something I had really wanted."
The class of 2019 will be Simmons first class who he was able to coach in his four years of being head of the softball program. These seniors have been able to witness the legacy of a powerhouse program that Simmons continues to build. They were exposed to Simmons' mindset as freshman and have continued to embrace it. To see the kids that were his first freshman class graduate is truly something special and it's something that will only happen once.
Madie Leach, starting pitcher for the 2018 season, says, "Since we are the first class to have Simmons as a coach for all four years I think it really sets the tone for younger classes. Out of my four years we have won three league championships, four regional championships and made it to state all four years which really shows the work we've put in."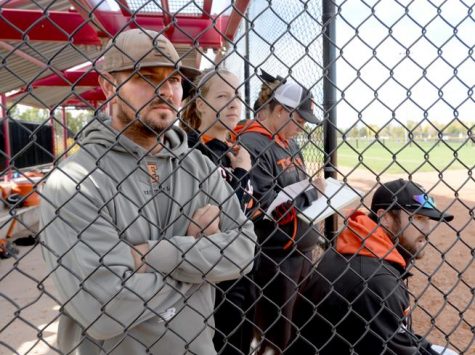 Harold Simmons has continued to set a tone of hard work and resilience in his programs for many years. He has continued to make sacrifices and stay committed to each and every player. From coaching 6th graders to helping athletes progress to the collegiate level, he is involved in every athletes journey through his programs.
The passion and hard work Simmons puts into the sports he coaches is felt in each and every player. You could ask any kid that has been coached by him about the "grind" and they could tell you exactly what it means. His influence will continue to be present whether it's through another softball regional championship or a game of dodgeball in PE class.