Holiday Snickerdoodle Recipe!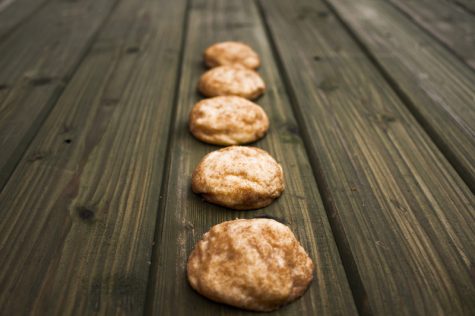 It is the holiday season which means snow, hot cocoa, and sweaters. What better to go along with all that than the BEST snickerdoodle cookies you will ever have? Well, at least according to me.
Ingredients
– 1/2 cup butter, softened
– 1/2 cup shortening
– 1 1/2 cups granulated sugar
– 2 large eggs
– 2 teaspoons vanilla extract
– 2 3/4 cups all-purpose flour
– 2 teaspoons cream of tartar
– 1 teaspoon baking soda
– 1/4 teaspoon salt
– 4 tablespoons granulated sugar (for rolling the dough balls in)
– 1 tablespoon ground cinnamon (for rolling the dough balls in)
Instructions
1) Start off by preheating the oven to 375 degrees Fahrenheit.
2) Cream together butter, shortening, and 1 1/2 cups sugar. Add eggs and vanilla and combine well.
3) Add the flour, cream of tartar, baking soda, and salt and stir until combined.
4) Shape dough by spoonfuls into balls. I grease my hands with cooking spray since the dough is slightly sticky. I also like to put one finished tray of rolled cookies in the fridge while I am rolling the second. Then when you are ready to roll them in cinnamon and sugar they are easier to handle.
5) In a separate bowl, mix the four tablespoons granulated sugar and the cinnamon. Roll balls of dough in mixture, get a nice even coating, and then place dough about two inches apart on a parchment lined baking sheet.
6) Bake eight to nine minutes (do not over bake!). Remove immediately (and carefully, with a good spatula!) from baking sheets onto a cooling rack to cool completely.
This is my mom's recipe, and I love her.
Pair these cookies with a nice glass of milk and your favorite movie, but make sure to let the cookies cool on a cooling rack before enjoying with your favorite people (or just enjoy them by yourself, we do not judge).
Happy holidays!