What If It's Us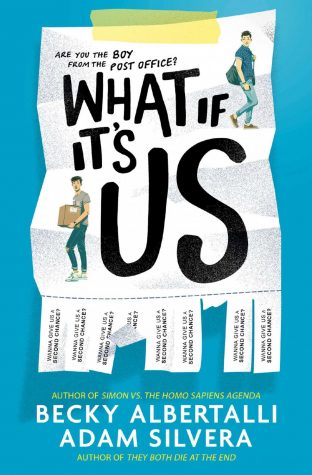 Becky Albertalli, author of her debut novel Simon vs. the Homo Sapiens Agenda (the book that inspired the movie Love, Simon) and Adam Silvera, author of They both Die at the End, collaborated on a new young adult LGBT+ book called What If It's Us.
These New York Times best selling authors have been developing these characters out of the public eye for years, making this book highly anticipated by their readers, and they did not disappoint. This novel already has a review of 4.1/5 on Goodreads and a 4.3/5 from Barnes & Noble.
What If It's Us follows the story of two teenagers in the summer before their last year of highschool. Ben Alejo and Arthur Seuss both grew up in completely different places in the United States, but fate manages to run them into each other in New York City, and Arthur does not want to give up his chase for the boy with the break up box, although Ben feels differently.
"Arthur is only in New York for the summer, but if Broadway has taught him anything, it's that the universe can deliver a show stopping romance when you least expect it," commented Becky Albertalli and Adam Silvera on Goodreads.
"Ben thinks the universe needs to mind its business. If the universe had his back, he wouldn't be on his way to the post office carrying a box of his ex-boyfriend's things," elaborated Becky Albertalli and Adam Silvera on Goodreads.
Follow the story of both boys questioning everything about love, and follow Arthur's chase for one person in a giant city.
This book was, to put it simply, really good. The characters are relatable and endearing, the descriptions of cityscapes are wonderful and the romance is not only tasteful, but realistic. I fortunately got to hear the authors talk about their process in creating this book, and it was inspiring to hear about their thought process through creating the scenes.
The character interaction and relationships in What If It's Us makes you feel close to every character and all sides of their personalities. The title of What If It's Us is a spin on the hit broadway musical Dear Evan Hansen, and it is extremely fitting. I am sure that after the release of Simon vs. the Homo Sapiens Agenda, many people were looking forward to this book, and personally I was not disappointed.
Readers should definitely look forward to any possible future collaborations between these to young adult novelists. I will definitely be anticipating it.