Friendsgiving: The How-To Guide
Thanksgiving can be hassle; you reunite with an overwhelming amount of people at a relatives house, there's little kids screaming and old people pinching your cheek. By the end of Thanksgiving dinner your spirits are low and it seems like your holiday was less enjoyable than you wanted it to be. Never fear, Thanksgiving has a distant cousin and she is STUNNING… Friendsgiving! Friendsgiving is a time when you invite your friends to have a mellow house party with leftover turkey sandies- and nobody will be pinching at your cheeks. Here is a quick guide on how to host your very own Friendsgiving.

Step one: Invite your friends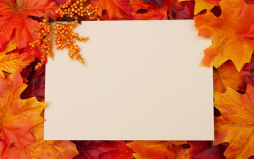 Inviting people and getting RSVPs can be a little bit of a challenge, especially when trying to pick a day and time that works for everyone. Make sure your date is on either a Friday night or on a weekend. It is common for teenagers to have work on the weekends, so make sure to invite at least a couple weeks in advance to give your friends time to find cover for their shift. Paper invitations are more formal, and they can turn out really cute! A more efficient way of making paper invitations is to type out your invitation, and to print it out. Once it is printed, you can paste the copy paper on a sheet of decorated scrapping paper. Include your date, time, location, RSVP information, and the specific dish you want your friend to bring. If you are not the type to craft, you can always send out an evite! You can customize your own invitation online and send it out through email, text, or direct messaging. An efficient, free evite program to use is www.evite.com.

Step two: Decorate your house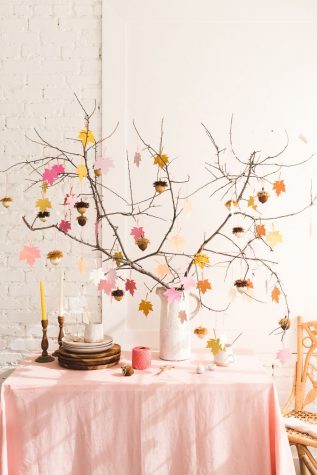 Set the mood with some warm fall colors, and a festive dining table. You do not have to break out the fine china, but a welcoming home brings in happy vibes. Here are some tips on how to spruce it up with a gratitude tree. Place a large fallen branch in a pretty vase (this will serve as your tree), and cut out some red, orange, yellow, and brown leafs, and turn them into little ornaments with twine poked through their tops. Place a couple by each friend's plate with a pen, so when it is time to give thanks they can write what they are thankful for on the leaf. When everyone is done, they can hang their leafs on the 'tree.' Total estimated cost: $0-10.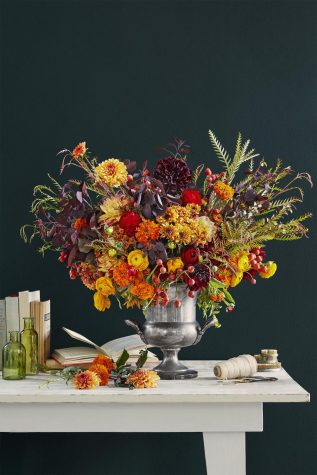 Flower Power: Whether it be real flowers, or artificial arrangements from Hobby Lobby, a bouquet can never go wrong at Thanksgiving! Make a centerpiece with red berry stems, vibrant orange carnations, sweet yellow Gerberas, and dark red leaf accents (Baby's-Breath never hurt). Gather your flowers, and a tinted vase; or make separate arrangements for your friends to take home as party favors. For a centerpiece, take a large vase or tin and fan out the flowers for everyone to see! Place on top of a vintage doily or table runner. Total estimated cost: $15-25.

Rustic Table Decor: What is a table without its silverware and other dressings? A table cloth is easy to find,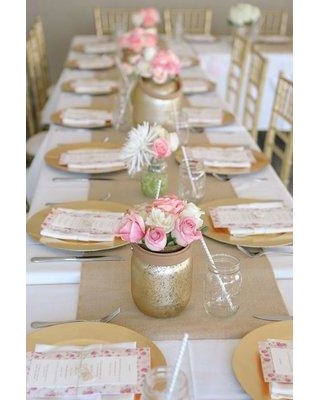 both at home and in store. The Dollar Tree sells both round and square disposable cloths, and they come in all sorts of colors! For a more rustic look, try finding a white or beige table cloth, and a Burlap table runner. Burlap runners can be found at Walmart for cheap, and if they don't fit your fancy you can always go for an accented color to match your flowers. To skip washing the dishes, try using decorative disposable plates and silverware. Target is a dangerous place for those on a budget, but I am sure you can find their leftover Thanksgiving swag in the clearance section for a cheaper price. The Up&Up brand has the cutest gray hash design plates with matching metallic silverware in silver or rose gold! Fabric napkins are expensive, and will have to hit the laundry room after, but fabric napkins are much more classy looking than crunchy decor napkins. Plain white or accented napkins lay beside your plates, and wrap around the silverware like a little pocket. Cop those, and your table will serve LOOKS. Total estimated cost: $5-16.
Step three: Food production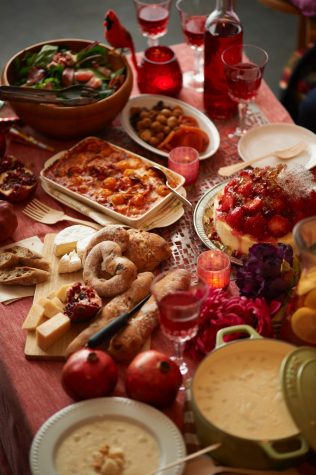 Who brings what? As the host, your number one job is to only make the meat course. Everyone else that is invited must bring one to two plates, or supplies. When invitations are sent out, make sure you include the specific dish you want your friends to bring.

Meat Plate: The host always provides the turkey in a traditional setting. Since it is after Thanksgiving, there should still be an abundance of turkey leftovers and buns. You can make a mini deli serving table for your friends to come up to and make their own turkey sandwiches. If these things are not found in your home, turkey slices and buns are not too pricey at your nearest grocery store, and you can choose a different meat if you would like!
Potato Plate: Assign mashed potatoes and sweet potatoes to a friend, or two friends. They can bring leftovers in a fancy tray, or they can go out and buy some from Boston Market. Just make sure to include any bit about needing your friend to bring a fancy dish and a serving spoon in your invite. (Gravy is optional)
Casserole: Only have one person bring a casserole! Not very many people like casserole, unless you know for a fact that your friends group will appreciate more than one dish of a homemade casserole. Make sure this person also brings a serving spoon or fork.
Salad: You can get a little creative with salads, and have two people bring a salad. One with greens, nuts and dressing, and the other can be a dessert salad. Dessert salads are kind of rare to have any leftovers of, but you can send out a recipe to your best friend (or just make it at home if it is not too much work). Here is a fantastic recipe for a fluff salad from the Seasoned Mom: Orange Fluff Salad
Appetizers: Go easy on the appetizers since there is already tons of food coming in. Assign chips, bread rolls, pizza rolls, and deviled eggs. You can assign these to three/four different people, so that nothing gets forgotten. Remember to specify in your invite any additional dishes to bring.
Desserts: Desserts are kind of hard to bring if your friends don't have leftover pies. Assign one friend to buy a little tub of ice cream, and to bring a small dessert of their choice. Assign two more friends to buy or bring a dessert of their choice. Be careful when letting your friends bring something of their choice, because if they are going to bring pies, they both might buy the same thing.
Drinks: Assign one or two people to bring pop, sparkling water, or sparkling cider. These are all reasonably priced beverages, and the sparkling cider is easy to find at King Soopers.

Friendsgiving is a time to share with those you do not always have time to show your gratitude towards, and is a decent cure to your Thanksgiving hangover. Even if your dishes didn'tturn out right or maybe the crafts got too stressful, the most important thing is that you spend time with your other family, your friend family.
Leave a Comment