Erie's Own Ready, Set, Hut with Coach Scott Hahn.
10u football Coach Scott Hahn brings Erie football to a whole new level.
Hang on for a minute...we're trying to find some more stories you might like.
When you think of a 10u youth football coach, what comes to mind? A coach that monitors drills that do not even look like drills, but just a bunch of chaos along with too many players doing too much standing around doing nothing during practice?A coach that does not focus too much on the playbook, or failing to scout out the team's next opponents, to name a few? But what do you know about 10u youth football coach Scott Hahn?
Erie's own Coach Hahn influences many young football players to play the game not only the right way, but to respect their team while doing it. Hahn is more like any of us than we think. In addition to being a 10u Youth Football coach, he also likes to hike, camp, fish, back mountain ski, and all the usual "Colorado stuff," he added with a grin.
Hahn played football up until his senior year at Fairview High School, in Boulder, Colorado, because Hahn was injured playing football his senior year. "There were only a few sports at the time, so everyone played football," explained Hahn. Baseball seemed to be Hahn's main sport, as he played competitive baseball for 14 years, but as age limited his abilities, Hahn began playing softball in an Adult Softball League in Erie with this year's 10u youth football Head Coach Steve Achtziger.
Hahn definitely did not lack any form of coaching when he was a player. Hahn played under a former University of Colorado Boulder football player, along with a former Denver Bronco; specifically, The Marlboro Man
As the youngest of three siblings, Hahn did not get to experience his father as a coach like Hahn's two sons, Tyler and Nathan. Hahn coached his son Tyler from age nine through thirteen, and coached his younger son Nathan for two more years. "Spending that three hours every night with my sons had to be my favorite part of coaching them, especially when not every father gets to experience that," stated Hahn. As he expressed a concern coaching his two sons, Hahn believes he was more strict on his them. Hahn also had to consider player fairness as their football coach.
After Hahn coached both of his sons, Tyler and Nathan, they continued to play football for Erie High School under Coach Chad Cooper. Hahn took about two years off of coaching football, until he came to the conclusion that he "missed" the interaction with the kids on the field "because you can not get that interaction with the kids anywhere else." He began coaching again, this time without his two sons.
As the 2016 Erie Youth football season approached sign up, Hahn was talking with many other youth coaches involved in the Erie football program when Coach Achtziger, who had other kids on other teams, asked Hahn to commit to a two year coaching commitment. Hahn said he would consider it, and this year he is currently on his third year coaching alongside Coach Achtziger in the Erie youth football program. After Hahn said he would not be returning to coach for the 2018 youth football season, it was somewhat of a shock for the kids to see Coach Hahn return at the end of last season.
"It is one thing to watch your boys play football from the stands, but a whole different thing to be on the field," commented Hahn.
There was no question that Hahn's favorite part of coaching was interacting with the kids. Even after coaching his own boys, Hahn continued without a player related to him on the team, which showed so much more commitment than most coaches want to give. Hahn expressed that he had a different perspective coaching without his kids on the team; it was not about the wins or losses anymore, it was about developing the young boys into respectful kids and teaching them the life lessons that they might not get anywhere else. Hahn explained that at this level, the boys do not need to focus on the wins and losses, or the outcome of the team, but their work ethic and teamwork. Hahn wants the boys to know the game and to learn how to play it; to him, that is time well spent. Hahn added that "really, it is only two hours a night for three or four times a week, three or four hours on the weekend, three months of the year."
Hahn realized that coaching without his kids on the team benefited his coaching, saying he was much more relaxed and enjoyed being the "goofball coach" in front of his players. "We were not a winning team when I first came back; some may say we may have had a losing record," commented Hahn with an outgoing smile. Despite this "losing record," Hahn showed no signs of giving up; he used the season as a learning experience for not only the players, but for himself as a coach. Hahn knew that he was put in a unique situation to watch the team get better and better. Hahn stated that "seeing the team get better was an accomplishment."
Even though Hahn's coaching brings him joy, it does not mean that it does not get hard at times. Hahn expressed that he was somewhat nervous to start coaching again after coaching his own boys. "It took me awhile to realize that you can not please everybody – a parent that does not feel like their kid is playing enough or the kid that does not think that they are playing enough. It is hard to find the balance in finding middle ground with the parents and the children, it is enough for loss of sleep and I sure did," stated Hahn.
Hahn expressed that you just have to take the time to "condition" the parents, and that it is best to be bluntly honest with everyone even if it is not in the favor of the parent or the athlete. "The only parents that really want to talk to you are the parents that are unhappy," stated Hahn. He also expressed that it gets hard for a while, but eventually you develop thick skin. Hahn had to step back and ask the question whether wins or losses were more important than getting the boys prepared for life and their high school experience. It was no surprise that Hahn had a new perspective and knew that it was right for him to scratch their teams outcome for what the boys needed.
Hahn expressed that he is very appreciative towards the Erie High School football program, not just because both of his sons were put through it, but because Coach Cooper has such enjoyment and appreciation for the Erie youth football coaches. "Coach Cooper is fantastic," declared Hahn. The Erie youth coaches are trying to get as many numbers up there and to have them prepared for the high school program under Coach Cooper, Hahn expressed with gratitude. Other coaches from other programs did not buy into the program like Coach Cooper did. For theses boys, it means so much to meet Coach Cooper, Noah Roper, and all the other starters on the team; it is all very exciting and Coach Cooper makes that happen for the boys each and every year.
Hahn's relationship with the each of his athletes varies in many ways. "I am a softy for the underdog, I am always looking for the diamond in the rough kind of kid," stated Hahn. Even though he is a softy for the diamond in the rough kind of kid, Hahn puts in the effort to make a relationship with his players on and off of the field. "I want to work with the kid that wants to put in the work to see improvement." Hahn strongly believes in change in his players; he does not want anyone to discount that. He believes that any player can go from one of the worst players on the team to one of the best football players on any team as long as the player puts in the work to improve; and Hahn wants that from everyone of his players. "You earn your position, so work hard and respect your coaches, respect your teammates and most importantly, you respect your parents," added Hahn.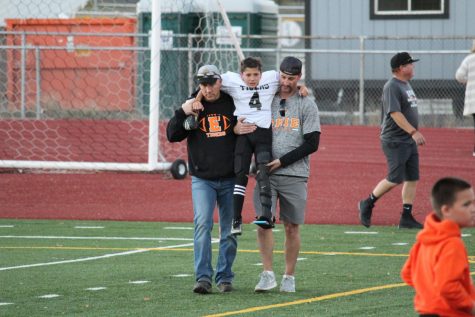 Hahn's brother always said to "soak it up, because after high school, what is over, is over and what is done, is done." What you get out of sports, it is not the wins or the losses, but the friendships, and Hahn makes that a coaching philosophy in his book. Speaking of books, football players do not really get scholarships anymore for being a "dummy athlete," said Hahn. He mentioned that he tells all of his athletes that statement in hopes it will motivate them to keep their grades up. Hahn hopes that they remember and look back to their youth football experience and know that not all players will get playing time, but it is the effort you put in that with determine the outcome of your experience.
At the end of each season every year, Hahn says "We will see about next year," but as he considers his comeback for next season, and possibly his final season of coaching, Hahn added "Then I get bored." He explained that he enjoys the kids, the game and the parents, and that the parents are a good group making the team so much easier to come back too each year. One thing Hahn wanted to make sure that is carried on with the boys would be to "stay physical, stay healthy and keep your grades up and you all will be just fine."