A Tragedy Close to Home May Have Dug Chris Watts His Own Grave: Watts Case
What seemed to be a missing persons case of three, turned out to be a family the most tragic family annihilation case in Frederick Colorado in years.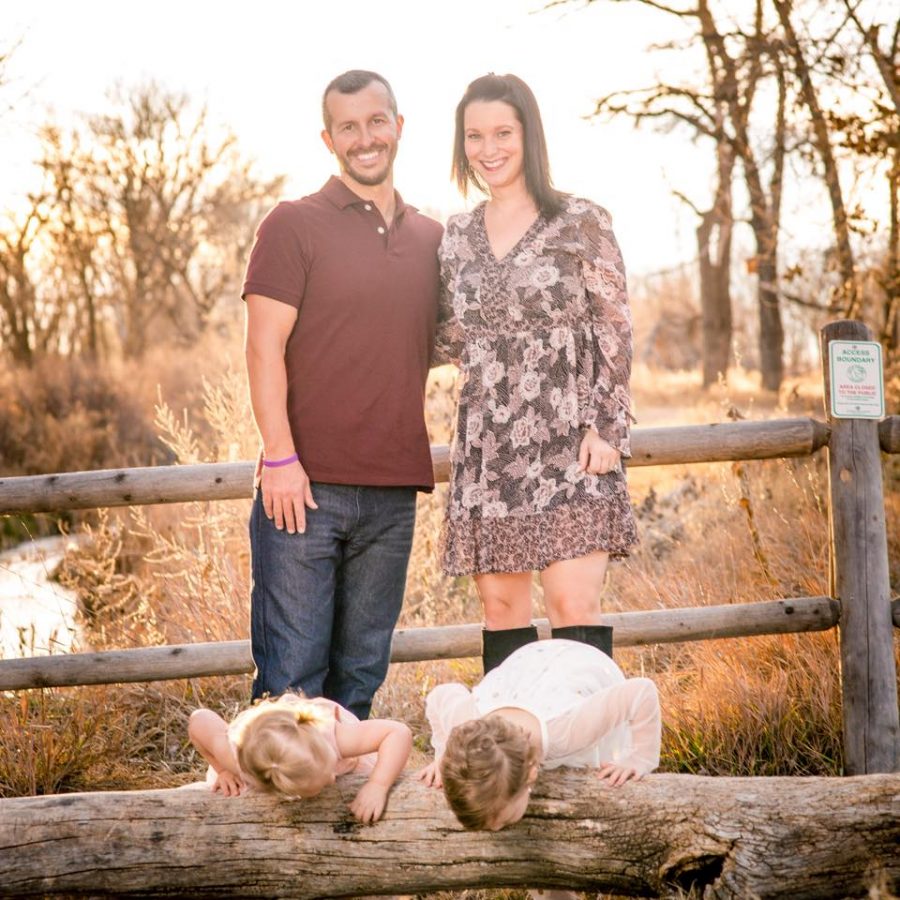 Many people in this area have heard of the case of Shanann Watts and her two young daughters, as well as her unborn child. It was national news. It made it on to the New York Times, CNN and other news outlets. It also affected this area tremendously, given that the neighborhood in which the murders occurred feeds students and staff members into Erie High School and the Erie Community.
Monday; August 20:
           Shanann Watts, 34 and her two daughters, four year old Bella and three year old Celeste were reported missing out of their home in Frederick (Wyndham Hill), Colorado.
Shanann Watts was last seen early Monday morning around 2 a.m., when a friend took her home after she flew in from Arizona. Her flight had been changed due to storms in the area, causing the late arrival time. Shanann had been in Arizona on a business trip for Thrive a Health and WellBeing product that she advertised and sold mainly through her Facebook, for the past several days while her husband Chris stayed home with their two daughters, Bella and Celeste.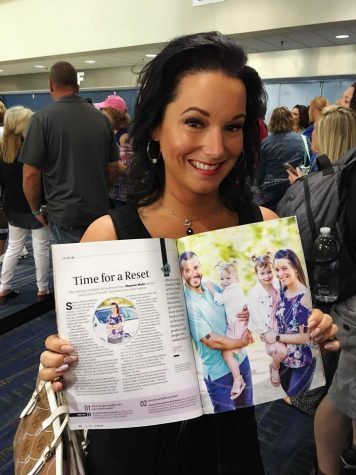 Watts claimed that the last time he had seen his wife was around 5:15, 5:30 a.m. Monday morning before he left their home for work. Chris's interview with Denver7 claimed that Shanann's friend, Nicole showed up at their home around noon expressing concern to where Shanann and the girls were. Watts told Denver7 that he had called and texted Shanann several times without response just before Shanann's friend showed up at the door. He says he figured that she was busy and she had not responded to any of her people. "it registered like alright this isn't right" Watts said.  
Police then confirmed that a woman went to the Watts home after Shanann missed a doctors appointment Monday. She then reported Shanann and her daughters missing after getting in contact with Chris Watts, Shanann's husband, who had claimed to know nothing about where his family had been.
Frederick Officers were dispatched to the Watts home on a welfare check around 1:40 p.m. Monday afternoon and it was confirmed that the three were in fact missing. Officers also confirmed that Shanann's phone, keys and purse were all left inside the home.
Frederick Police requested for FBI and CBI assistance Tuesday. The investigation continued with both units only a few hours later.
A search was initiated with K-9 units and several units of police officers while Chris Watts and several others were being questioned and interviewed. In the meantime, Lauren Arnold, a friend of Shanann opened a Facebook donation caption; "Bring Home Shanann, Bella and Celeste" for the public to make donations towards. The story caption that Arnold wrote stated that she did not know the "appropriate" amount to raise and "it can be raised if needed". She asked for everyone's help to ease the burden of Shanann's distanced family for the search.
Denver7's Tomas Hoppough interviewed Chris Watts on Tuesday, a day after the three were reported missing. Watts, showing no visible emotion, pleaded for his wife and daughters to come home. "I mean, she wasn't here. The kids weren't here. Nobody was here." stated Watts.
Denver7's interview with Watts was used in many media outlets in no time. Watts stated that he needed to see them, wanted them back and most importantly, he wanted them safe. Watts also responded to a question asked by Denver7 regarding to what he thinks happened to his wife and children. His response was very blunt, stating he didn't want to make assumptions at the time.
Chris Watts stayed with Nicholas and Amanda Thayer, friends of the couples after Shanann and the girls were reported missing. Several news outlets received coordinated media interviews through them. As the investigation grew, more and more signs pointed to Watts having something to do with the disappearance of Shanann and her two daughters, Bella and Celeste.
Thursday, the Thayers told Denver7 that they were horrified that they let him stay in their home and apologized on several media outlets including facebook, instagram and twitter for backing Watts. Thayer also told Denver7 news that Shanann expressed concerns of infidelity from Chris a week prior to all this.
A quote was received by Amanda Thayer by Denver7 stating that: "It came to her mind that he could possibly be cheating but at the same time, she was like, you know, he has no game."
Late afternoon Sunday August 26th, Denver7 had a radio interview with a man who claims to have had an extensive relationship with Watts just last year. This source did not want to make his information valid to the public but is being verified by police. He claimed that he did not know that Watts was married but knew that he had children until more than a few months into the relationship, after one of the girls asked to "sleep" with her mom and dad tonight. Police say that this may be an attempt to obtain 15 minutes of fame.
Watts mentioned in the Denver7 interview with Tomas Hoppough, Tuesday that him and his wife "had an emotional conversation"  before the last time he had seen her. He also stated "I will leave it at that" and continued on to his plead for his wife and daughters return.
"Shanann, Bella, Celeste: If you're out there, just come back. Like if somebody has her, just bring her back. I need to see everybody. This house is not complete without anybody here. Please bring 'em back." Watts pleads to the public.
Wednesday, August 15th:
Frederick's Public Information Officer; Ian Albert spoke at a press conference and gave a press statement that was held regarding Shanann and her two young daughters Bella and Celeste, just outside the Frederick Police Station.
Shanann Watts Investigation Press Statement

Posted by Town of Frederick, CO on Wednesday, August 15, 2018
Police, Denver7 and other media outlets received statements and questioned several neighbors last week. Neighbors seemed to have scaled opinions on the couple. One neighbor, who wanted to remain unidentified to the media told Denver7 that they seemed to be a "normal family" and they didn't see anything "negative" in the relationship of Chris and Shanann Watts.
Denver7 also took statements from neighbors Ann Watt and Mike Hendrickson both of which claimed to be somewhat "shocked". Ann Watt said that she has seen Shanann and her girls at the neighborhood pool, and also says she "lost a lot of sleep" over this all.
On the other hand, Mike Hendrickson and his wife told Denver7 "They seemed like very quiet and very nice, cordial people". Hendrickson also claimed that his wife would also say that "she admired Chris for the attention he gave to his young'uns." Hendrickson mentions to Denver7 that after seeing Chris's interview "something doesn't add up".
Thursday, August 16th:
It was publicly announced that Shanann's body was found on Anadarko Petroleum Property; where Chris Watts had been employed. Anadarko stated late Thursday morning that Chris was fired by the company on Wednesday. Many questions on why Watts was fired early Wednesday weren't addressed. They also released an official statement to Denver7 "We are heartbroken by this, and our thoughts and prayers are with the loved ones and friends of the Watts family. We will continue to support law enforcement in its investigation." said company spokeswoman Jennifer Brice.
Thursday night, Frederick Police announced they have "strong reasoning to believe" that 4-year old Bella and 3-year old Celeste Watts have also been found sometime Thursday evening. They were located close to the other body found on Anadarko's Property, whom police believe is Shanann Watts found earlier Thursday.
Shanann Watts Investigation Press Conference

Posted by Town of Frederick, CO on Thursday, August 16, 2018
Later Thursday evening sources told Denver7's Jennifer Kovaleski that the bodies of the two young girls; Bella and Celeste were located inside oil and gas tanks close to the mother's body. Some news sources say that they believe Watts, placed four year old Bella and three year old Celeste in the tanks on Anadarko's property to conceal the smell from passersby, and also to destroy DNA.
Watts made a defense claim to investigators, stating that after an "emotional conversation" with his wife, Shanann, he had given her some space. After a while Watts claimed to return to speak with Shanann but saw his wife via a baby monitor, currently "strangling" Celeste while Bella layed on her bed looking "blue." He then strangled Shanann out of anger for killing his two young daughters, Bella and Celeste; claiming that his "slain" wife instead of Watts himself murdered Bella and Celeste.
Colorado's Children's Hospital also made a statement on Shanann's behalf to Denver7 "We're deeply saddened by the tragic death of a talented and highly respected former colleague and her two young daughters," The hospital also said "She is remembered fondly and we send our thoughts and prayers to her loved ones". Shanann worked for the Children's Hospital under a year ago for a short time period.
Friday, August 17th:
Information was received from the coroner's office that the bodies found positively identified as the victims; Shanann Watts and her two daughters Bella and Celeste Watts victims of the Frederick Colorado Case.
Shanann's brother; Frankie Rzucek acquired the Facebook fundraiser that Arnold had started for their return as soon as the situation and circumstances had changed. Rzucek made sure to notify the public that the donated money will be used for funeral costs. Rzucek also made a statement about the fundraiser to Denver7 "I'm not one to ask for donations or any kind of money I didn't earn, but at this time we don't know how long we will have to be in Colorado or what all were supposed to do about this tragedy." Rzucek also published an open statement on Facebook towards the fundraiser "I'm so distraught and in shock with this sickening news… for all the people who are helping and donating may God bless you for helping a family in need." As of Saturday August 25th, the donation caption has raised $97,286 and people are continuing to donate. "Thank you for ALL your help and donations." Arnold says in the open donation caption.
A candlelight vigil in their honor was held in front of the Watts home on Friday at 8:30 p.m. Hundreds turned out; family, friends, neighbors and surrounding citizens all came to grieve and pay their respects filling the homes front yard with candles, cards, flowers and stuffed animals. Social Media was filled with words of grace and respect for the family and the tragic loss to the community.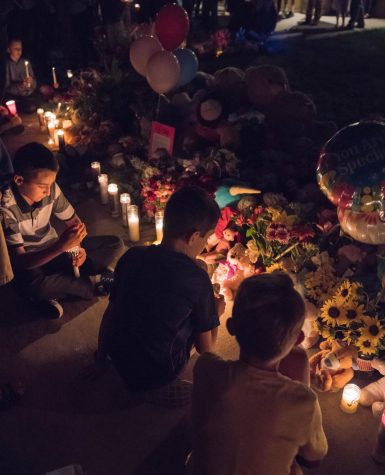 Susan Broerman
As the investigation continued Chris Watts' attorneys asked for DNA samples that imply that Bella and Celeste were strangled to death, the motion was filed and the coroner was requested to take DNA samples from the necks and throats of the remains of Bella and Celeste's bodies. Many news sources including ABC News and Denver7 have also reported that the body of mother; Shanann Watts was located in a shallow grave on Anadarko Property.
After Chris Watts was charged for the murders of his wife, Shanann and two young daughters, Bella and Celeste Thursday, media clips of the Watts family, taken off of Shanann's Facebook creating an image of a "happy family" were streamed over serval news channels and news outlets, making the tragic news of the murders even more heartbreaking to the public. The media clips drew out doubts and even scaled opinions on the Watts charges. The public expressed disappointment and hatred towards showing the media.
Other information confirmed that the couple had recently filed for Chapter 7 bankruptcy in July 2015 and there was civil claim filed by the Wyndham Hill Master Associated, the Watts' homeowners association in July of this year. Records from the Weld County Court show that there was a return date on a court summons set for August 24th according to Denver7. No interviewed family or friends appeared to know about the money troubles in such extreme manners were expressed from the Watts family.
The Denver Post states that the Watts listed $400,000 and more in liabilities in the 2015 bankruptcy filing. There was discussion that Chris Watts mentioned selling the house, even putting the house up for sale Monday and that he and Shanann had talked about doing so says Amanda Thyer, a friend of the Watts couple.
This case brings up lingering question on the charges of Chris Watts are the possible charges for the murder and death of his and Shanann's unborn child. 38 current states have a fetal homicide law in action but according to the National Conference of State Legislatures colorado is not one of them. Even though Chris Watts will not be charged for unlawful termination he will be charged with 3 counts of murder and 3 counts of tampering with evidence.
According to Denver7 "Colorado does have several criminal statutes that apply specifically to crimes committed against pregnant women." Denver7 received a statement on Thursday from Stan Garnett; former Boulder County District Attorney that it seemed "extremely unlikely that a fourth murder charge will be filed" against Chris Watts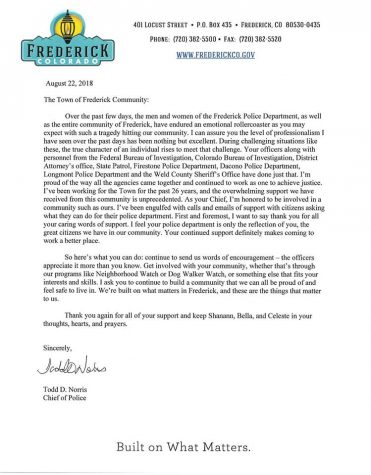 The town of Frederick released this statement on Wednesday, August 22, only a little over a week after this tragedy occurred. This unexpected tragedy made an impact on not only Shanann, Bella and Celeste but their family, friends and community.
"Saddened" has been the word used in almost every article and or statement involving this tragedy that not only surrounded the community but worldwide. "Saddened" is an understatement. "Heartbreaking" may be a better word to represent not only the situation but all the other words that may not be said but thought in grace, in memory of Shanann, Bella and Celeste Watts.
About the Contributor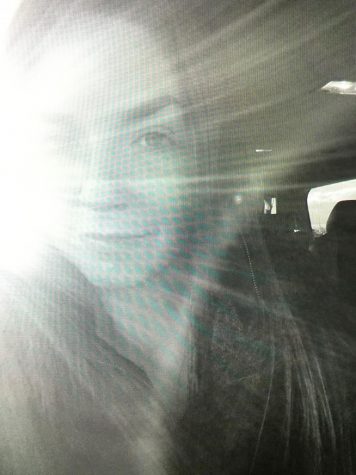 Morgan Walje, Photographer & Staff Writer
Morgan Walje is the staff photographer and a staff writer for Erie Tiger Times. She is also a Sophomore at Erie High School. Morgan hopes to go to college...