10 Groovy Genres of Music
Genres to suit both the obscure listener and the nonconformist
Music is the glue of the world. Music heals, inspires, and is hopeful. Music unites different parts of the world, different peoples, and different times. Seriously, that is how we got fusion. However, despite all of the strange, idiosyncratic, fused together styles of music, the radio really only plays a couple good stations riddled with static and commercials, and those few good stations only cover a handful of genres. So here are a few genres that are a little less mainstream and a little less played.
Acid Jazz:
Acid jazz came out of the club scene in London, England during the mid 1980s, and is derived from the Rare Groove Movement. Acid jazz combined elements of jazz, soul, funk, and disco, and is characterized by wind instruments and long repetitive musical configurations. Acid jazz bands include Jamiroquai, Jestofunk, and Brand New Heavies. Acid jazz is great music if you are feeling kind of out there, but also grounded.
Calypso:
Calypso is an Afro-Caribbean music which originated from Trinidad and Tobago bateen early to mid 1900s. Calypso is usually sung in French Creole, and is characterized by moving rhythm and a prevalence of drums. Calypso artists include Ajamu, Lord Pretender, Harry Belafonte, and Lord Creator. Calypso is great music for summer chill and happy listening.
Psychedelic Music:
Psychedelic music reached its high during the 1960s, and became popular by bridging the gap between early blues and progressive rock. Psychedelic music is crafted to recreate and enhance the perception and experiences of hallucinogenic drugs. Psychedelic artists include Pink Floyd, The Doors, Jimi Hendrix, The Rolling Stones, and The Grateful Dead. Psychedelic music is existential and trippy regardless of the state of mind in which you find yourself.
Disco:
Disco was the response to the dominance of rock music and the stigma of the newly emerged electronic dance music. Disco took electric sound and used it to mix together the sounds of the 60s and 70s from the urban nightlife scene. Disco also created dance moves such as the Bump and Hustle. Disco artists include Gloria Gaynor, Michael Jackson, Daft Punk, and Bee Gees. Disco is great for all your bad dance moves and decade flashbacks.
Funk:
Funk was dominated the mid 1960s, and fuses together the styles of soul, jazz, blues. Funk is known for deemphasizing chord progression and melody, and instead emphasizing the bass line. Electrified instruments like guitar and drums were also introduced into funk, becoming one of its main characteristics. Funk artists include Prince, Bar-Kays, Betty Davis, and The Brothers Johnson. Funk music is just downright funky; rhythm, feelings and all.
Rockabilly:
Rockabilly dates back to the 1950s and is one of the original forms of rock and roll. Rockabilly is considered classic rock, although it is a blend of bluegrass, country, and rock. Rockabilly is characterized by drums, piano, bass, and tape echo. Rockabilly artists include Elvis Presley, Johnny Cash, and Buddy Holly. Rockabilly is a terrific genre for a laid back rock and roll vibe.
Ska:
Ska originated in Jamaica in the late 1950s, and was a huge influence for reggae. Ska combines elements of calypso, blues, and jazz. Ska is characterized by a bass line accented by rhythms on the offbeat. Ska is defined by three waves, the first being original ska of the 1960s, the second wave of ska revival and punk rock fusion during the 1970s, and the third wave during which bands from other countries, including South America and Japan, took hold of ska in the 1980s and 1990s. Ska artists include No Doubt, Sublime, and Bob Marley. Ska perfectly blends the energy of reggae and the hype of rock music.
Jam Bands:
The genre of jam bands was pioneered by The Grateful Dead during the 1960s in California. Jam bands are characterized by long musical improvisations, rhythm and chord patterns, and blurred lines between genre boundaries. Jam bands typically combine the styles of bluegrass, rock, electronic and psychedelic music. Some jam bands include The Grateful Dead, Phish, and The Allman Brothers Band. Jam bands are really good music to listen to while driving or entertaining people whose musical tastes with which you are not familiar.
Skate Punk:
Skate punk emerged from the skateboarding subculture of the mid to late 1970s, and is influenced by "garage rock." Skate punk was originally a subgenre of hardcore punk during the 1980s, which later evolved into the punk rock of the 1990s. Skater punk is characterized by speedy tempos and catchy hooks, along with bass, drums, and electric guitar. Some skate punk bands include Sum 41, Green Day, The Offspring, and Blink-182. Skate punk is wonderful music to satisfy the inner angst of the modern generations.
Swing Music:
Swing music dominated the 1930s and 1940s, which is probably why we hear so little of it now. Swing music is derived from the specific jazz style of the 1920s, and is characterized by emphasis on the offbeat, and soloists who would improvise on the melody over the arrangement. Some swing musicians include Ella Fitzgerald, Count Basie, Frank Sinatra, and Billie Holiday. Swing music is simply classy music, and while it may not always be popular, it will never lose its classic style.
Music contains so much variety and so many genres and subgenres and fusion genres, that I truly believe there is music to suit everyone. But, if there is not, we can always invent some more. The aforementioned suggestions contain some of my favorite artists, and I hope you can find some of yours here too.
About the Contributor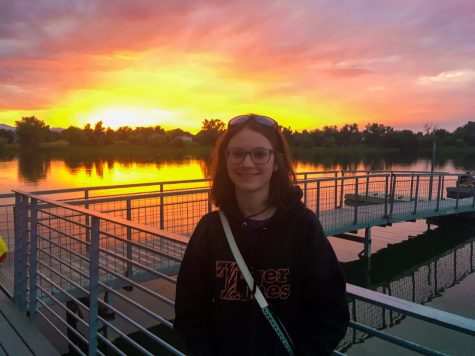 Emma Sanders, Editor-in-Chief
 Emma Sanders was Copy Editor of the Tiger Times from 2017-2019 and 2020 Editor-in-Chief. She has won multiple CSMA awards and is an ardent supporter...