Erie rolls over Evergreen
2nd ranked Erie began their 2018 campaign with a resounding 35-7 win at Evergreen.
EVERGREEN – The game started off with a bit of a lull, as Erie went four & out. Excitement quickly increased for the Tigers, though, as Ethan Johnson forced and recovered a fumble. Noah Roper ripped off a 26 yard run but got his helmet yanked off. Tyler Gardner came in for the next play and scored on a 24 yard run to put Erie up 7-0. They would never trail.
After Evergreen punted, Erie put together another good drive. Roper got a few good runs off after a 28 yard punt return. Then, Gavin Mendoza took the ball and tossed a perfect strike to Mason Veve in the back corner of the endzone. Julian Custine buried his second PAT of the night to make the score 14-0.
Evergreen's next drive would continue through the end of the first quarter.
Once the second quarter began, the Evergreen drive stalled in Erie territory after  Jayme Nelms made a great 4th down stop. Then, Evergreen punted for a touchback.
Next, Noah Roper made one of his two most impressive plays of the night: he took the handoff, burst through a massive hole on the left side and took the ball 80 yards for his first touchdown of the season with 10:39 left in the 2nd quarter.
On Erie's next drive came the most impressive play of the game. Roper took the ball, ran up the middle, and spun out of 8 tacklers to score from 26 yards out.
The third quarter was relatively quiet on the field. It took forever to finish, and was not helped at all by the penalties that both teams racked up.
The only excitement during the quarter was from the Erie Tiger Network broadcast. Because of Evergreen's small press box, there was not enough room to fit inside, so the broadcast moved to a adjacent rooftop. It began to rain rather heavily during this quarter, so jackets were thrown on top of equipment as the crew scrambled to keep everything dry. One person ran down and grabbed a tarp from the football coaches in the press box, which was used as a makeshift roof for the quarter.
Unfortunately, there are no pictures to show you, becuase that was quite a sight to see.
The third quarter also saw Roper's last action of the night. He took four carries on the first drive to finish off his night.
Erie's scoring was done for the night early in the fourth quarter. Mendoza tossed a mirror-image pass of the first quarter to Isaac Khanna.
With a few minutes left in the game, Evergreen broke the shutout on a short touchdown run against a defense of all 2nd and 3rd string Tigers.
You can watch the Erie Tiger Network broadcast of the game HERE.
Elsewhere around the state, 4A 1 Pine Creek beat 3A 1 Palmer Ridge 27-12. 3A 3 Pueblo East smashed 6 Roosevelt 47-8, Holy Family knocked off  4 Pueblo South by a score of 19-7. 7 Mead came back to beat Lewis-Palmer 27-14, 7 8 Durango had no problem with Pagosa Springs, winning 34-6. Rounding out the 3A Top 10 was Thomas Jefferson, who beat now 4A Silver Creek 28-16. 9 Discovery Canyon plays later on Saturday, and 5 Palisade had the week off.
Box Score:
Q1
Tyler Gardner, 24 yard TD run, 7-0 Erie
*Julian Custine PAT Good on all Erie TD's
Gavin Mendoza 18 yard TD pass to Mason Veve, 14-0 Erie
Q2
Noah Roper 80 yards TD run, 21-0 Erie
Noah Roper 26 yard TD run, 28-0 Erie
Q4-
Gavin Mendoza 18 yard TD pass to Isaac Khanna, 35-0 Erie
Evergreen 3 yard TD run, 35-7 Erie
FINAL
Stats
Offense:
Gavin Mendoza, QB
⅖, 36 yards, 2 touchdowns; 2 carries, 25 yards
Noah Roper, RB
19 carries, 240 yards rushing, 2 TD; 28 return yards; 268 all-purpose yards
Tyler Gardner, RB
7 carries, 50 yards rushing, 1 TD; 21 return yards; 71 all-purpose yards
Cameron Crooks, RB
5 carries, 43 yards
Mason Veve
1 rec, 18 yards, 1 TD; 1 carry, 3 yards
Isaac Khanna
1 rec, 18 yards, 1 TD
Defense
Noah Roper, S
7.5 tackles
Jayme Nelms, DL
7 tackles
Isaac Khanna, S
4 tackles
Ian Vera, MLB
4 tackles
Ian McDonald, MLB
3.5 tackles
Ethan Johnson, DL
1 tackle, 1 forced fumble, 1 fumble recovery
Special Teams
Julian Custine, K/P
5/5 PAT; ⅚ touchbacks
Noah Roper, PR
1 return, 28 yards
Tyler Gardner, KR
1 return, 21 yards
About the Writer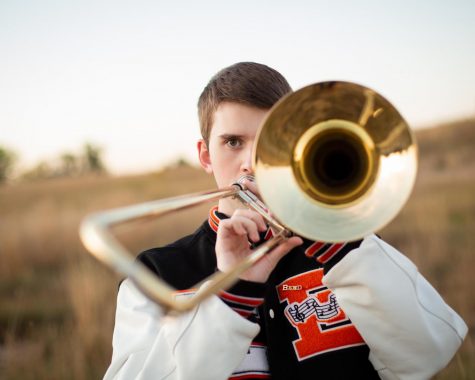 Grayson Blalock, Fall Editor-in-Chief
Grayson is the Fall Editor-in-Chief of the 2019-2020 Tiger Times. He was the Assistant/Sports Editor for the 2017-18 Tiger Times and was the Sports Editor...