Erie's Own Innovate to Create Lifesaving Possibilities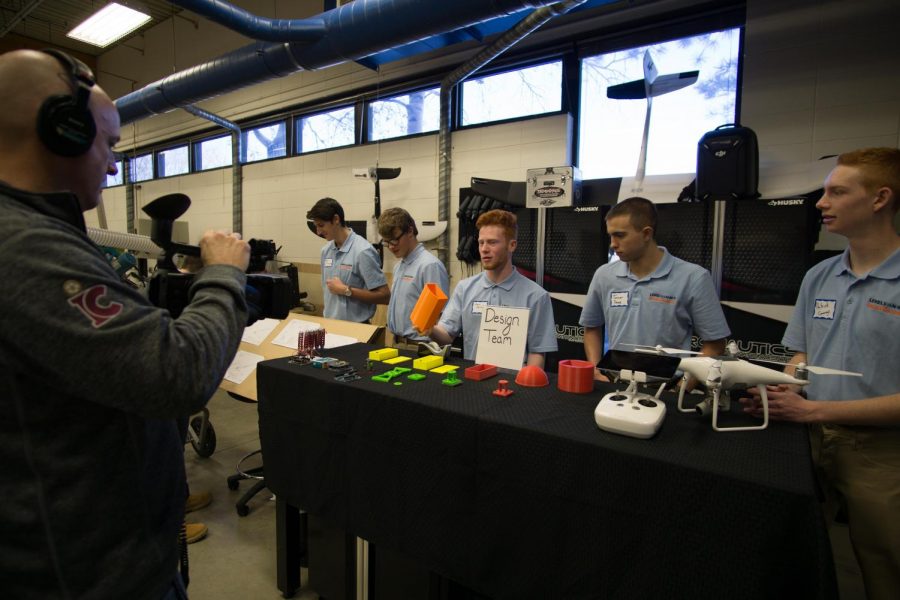 Erie High's Academy of Engineering and Aerospace has proven to be a strong batter ever since its debut in the fall of 2015, but the newest addition of the Senior Design class swung hard and hit a home run when a group of students won a Lemelson-MIT InvenTeam grant for their senior capstone project.
In fall of 2015, the engineering program at EHS started with just an Intro to Engineering class, and then expanded adding more classes as these students attained their skills. All of these classes were held at EHS in its entirety, but the newest class dubbed Senior Design took an integrated approach. Instead of offering the class at the high school, Senior Design classes from Erie and Skyline High School merged and met at the innovation center.
The journey started in the middle of last summer when John Steckel from the innovation center made it through the first phase of the application for the Lemelson-MIT InvenTeams grant process. Steckel opened the idea up to the joint class, and let anyone who was interested get involved. Meetings took place over the summer and the group of students who wanted to get involved was left to write the second phase of the proposal, which was shortly after school began.
Around a month later, the students were surprised with some exciting news; they got the grant. The team of 12 students embarked on their school-year long journey of inventing something using the engineering design process. The idea was centered around drones, but what started as an idea for a food delivery service quickly evolved into a search and rescue system.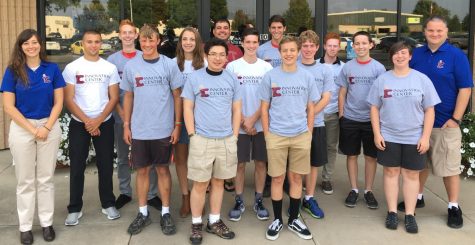 This evolution was not only due to the hardships the students would face with regulations from the Federal Aviation Administration (FAA) regarding the matter, but also a series of natural disasters occurring at the time. Hurricanes Harvey and Irma hit and left many stranded. With roads flooded and cell signals ceasing to exist, first responders faced an extremely difficult challenge locating and helping survivors. The team wanted to change that. Erie Junior Patrick Cummings explained, "There are some things on the market that do use drones, but our idea was to come up with a search and rescue beacon system."
Throughout the research, the students discovered that their idea was unique. Other solutions out there did not accomplish the same goal and were out of reach in terms of pricing for the general consumers. "We wanted to save lives but in a cheaper way that is available to everyone," Cummings continued.
The concept seems relatively simple, people would keep a reasonably priced beacon in their first aid kits. When disaster strikes and they are stranded, they activate that beacon. First responders would then use a drone system to fly around and pick up signals from these beacons and determine the exact location of people in need of help. This makes locating and responding extremely efficient and safer. First responders would be saved a lot of manpower, that is potentially dangerous or even impossible because of conditions.
However, this simple concept would prove to be not so simple to execute. Managing proved to be the first hardship. Kelsey Rasmussen, head of the Engineering department and advisor of the class expanded upon this by saying, "At the beginning, it is different. Usually, in school, you are told what task to do and when its due. Whereas in this open-ended project, the students had figure out what they needed to do, break down the task into smaller pieces, assign them to different people, and then follow through with that."   
The whole team seemed to agree that this was one of, if not, the biggest hurdles. First semester they coped and learned along the way with trying to figure out how to maximize efficiency. They made a big change second semester with the help of a company named DigitalGlobe. DigitalGlobe uses a program called CA Agile to help aid in their project management. DigitalGlobe let the engineering team use this software, and it changed the dynamics of the team. Patrick Cummings was named the "scrum master," and dove into his role by explaining that "The scrum master manages work, breaks down the workload, and assigns it to each person and is there for accountability measures on who is doing work and when it needs to be done by."
This system is given a lot of credit for the amount of work that ensued. The work was split up into many groups inside the one large group. Engineering the system was only a part of the bigger puzzle. Other groups like communication, budget, and sustainability were crucial to the project.
The communications group is something that both is prominent in the field of engineering and played a role in their requirements from Lemelson-MIT. They ask that monthly blog posts and journals of progress are kept. The communications group handles these, in addition to handling   things like connecting with experts and setting up appointments. With skills levels in different aspects varying across the 12 team members, each of them had plenty of room to find their niche. Lindsey Deaver was the head of the communications team, and further adds "I do not have really much of a technical background so this works because I know how to send emails and set things up, as well as editing, so this played to my strengths."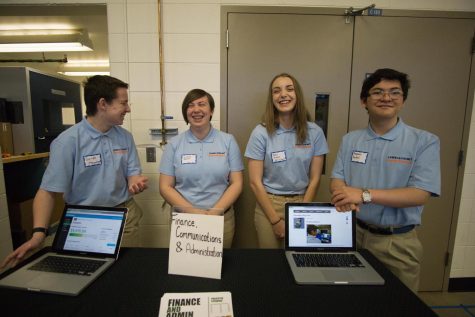 The next group, budget, had an outstanding role as well. The standard for design teams in the Senior Design class was a $150 budget, but with the grant, they had to manage an inflated $7,000 budget. Money and budget is one of the biggest tasks in the engineering field, so the call to action was extremely prominent for Derek Meadows, the head of the finance team, who learned that "It is important not to spend willy-nilly and plan things out because in this type of project you need to be able to look back on the past and see what you spent money on and see what everything individually costed as well."
The sustainability group was made to satisfy other requirements from Lemelson-MIT. The end goal is to make a product that is "greener." Ethan Wright and Morgan Stoner, students from Skyline, were in charge of this aspect. Ethan said that "we just focused on the more important aspects of our design like what kind of battery, 3D printing filament, electronics waterproof coating we would use. Morgan and I also focused on shipping and production locations in an effort to reduce pollution through the gathering of our parts for the BRD system. End of life was also an important thing to consider, as we wanted something that did not produce toxic fumes or would not break down in a landfill/disposal facility when disposed of."
But the design group definitely should not be overlooked. In June, the students will travel to Boston and present their final product at EurekaFest, so they need a working product. However, the fast-moving environment of innovation and discovery makes things interesting. Hogan Warlock, a junior on the design team, says "Everyday we see that some of the work from the last class is already obsolete. We can not really get attached to anything."
Warlock helps with finding background information and then applying that to the technical aspects. Engineering is about figuring out what works and what does not. Sometimes aspects are overlooked, the team learned this and adapted.  "Our end goal has changed along the way. At first, it was not even supposed to be a three-part system, but rather a two-part system. Then, after a month of trying to design, we realized that emergency responders needed to get the information, and that is where the third part came in," Warlock explained.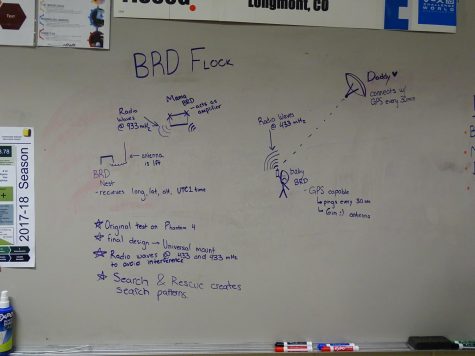 Throughout the year, the students have seen many different iterations, which were aided in many ways. The 3D printer proved to be a valuable asset because it allows parts to be manufactured almost instantly compared to normal means of manufacturing. The group also had opportunities to fully test the system in simulated but realistic environments with the Boulder County Police Department. The team hopes that while not completed, they can use these tests to enhance their presentation and to guide them in the future.
As for what the future holds after this school year, the team is not yet sure. One idea that resonated with was the idea that this could blossom into a company and members can work on it full time. While it comes with constraints, only time will really tell if that is a realistic possibility. Rasmussen suggested that this also could be a multi-year project with new students picking up where they left off. There is no shortage of possibilities, but it really depends on each individual's goals and what they hope to get out from the project.
Erie's exponential growth has provided amazing opportunities for students across the board, and the Engineering department is no exception. While this year has come to an end, a new class will enter with a blank slate to make their mark. The Senior Design class started off day one with one amazing story to tell, and undoubtedly it will not be their last.
About the Contributor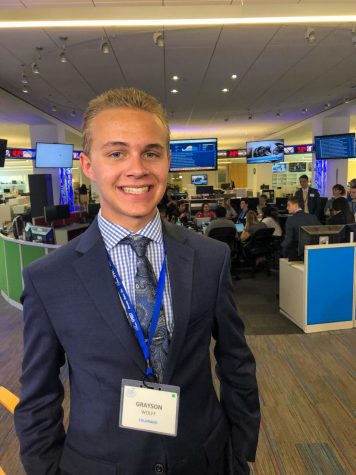 Grayson Wolff, News Director (ETN)
Grayson is a Senior at Erie High School and is the News Director for the electronic media division of Erie Tiger Media called the Erie Tiger Network. He...