And the Award Goes to…
Hang on for a minute...we're trying to find some more stories you might like.
Students in the Erie Tiger Network and Erie Tiger Times class have been working very hard on writing the best stories and broadcasting the best videos possible. With all the hard work throughout the past year these students competed in the Colorado Student Media Association competition. After the anticipation of the certificates to come out to see who won, many students took home a prestigious award. There is a total of 26 categories you can enter and Erie took four of those first place certificates and some more awards.
The Erie Tiger Network took home a total of three awards. This includes a first, second, and honorable mention.
Caleb Humble and Grayson Wolff did a package on Noah Roper, Erie's star running back. That won the producers an honorable mention in the sports feature category. The video was uploaded to the Erie Tiger Network on December 1, 2017. While watching, it is clear to see all of the hard work put into the video and that it is deserving of its title.
Alex Ailey and Cody Yopp produced a play by play of baseball. This video won a second place award in the play by play category. This is just one simple sample of the sports that Erie Tiger Network broadcasts of sports including baseball, basketball, soccer, and football.
Caleb Humble, Kyle Couper, Devon Fitzgibbons, and Alex Duvall created an astonishing video going back to the 1997 state win for football. This video was published on December 2, 2017 when our football Tigers when to state. This video shows a memorial time with photos that date back to the 1997 state win.
Erie Tiger Times took home five awards. They won three first places, on second place, and one honorable mention.
Emma Sanders is well known for writing very fiery opinion pieces. She can state her opinions and write hundreds of words about it. Her stories as a collection won an honorable mention in as a column piece.
Kailey Pickering won first place in the personality profile with her article "We Are All Sparkly Diamonds and Mrs. Julie Mitchell Shines the Brightest." This is a 3,00 word feature about Erie's own science teacher Julie Mitchell.
One of the Tiger Times editors, Grayson Blalock, won a total of three awards. Blalock won a first place award in breaking sports coverage. This story covered Erie's varsity first round football playoff game against Pueblo East. This story also included a collection of photos by Morgan Walje. Blalock also submitted the same story to the breaking news category and took home a third place award. Finally, Blalock's Mya Michaelson story that he published at the beginning of the school year won first place in the sports feature category.
A special congrats to all the Erie writers and broadcasters who took a Colorado Student Media Association. Erie has multiple talented journalists who strive to be the best in Colorado.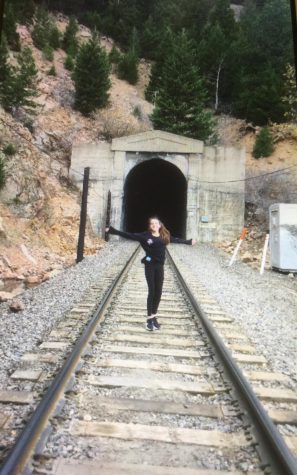 Madison Hays, Layout Editor/ Staff Writer
Madison Hays is a freshman at Erie High School, and the layout editor for the Erie Tiger Times. She values friends and family as they play a big part of...