Tariff Wars
A game of retaliation and power plays
Hang on for a minute...we're trying to find some more stories you might like.
On Sunday, April 1, 2018, China officially ended presidential terms, meaning that China's current leader, President Xi Jinping can stay in power indefinitely. On Monday, April 2, 2018, China announced that it will be establishing tariffs on 128 American products in response to the White House's plan to tax steel and aluminum from multiple countries, including China. On Tuesday, April 3, 2018, the Trump administration announced that there will be a 25% tariff on Chinese products, including batteries and medical equipment, and that tariffs will be imposed on a total of $50 billion worth of Chinese products per year. In total, the United States will be placing tariffs on 1,300 imported goods to reprimand China for the theft of American intellectual property.
Financial markets markets fell bluntly on Monday, as China imposed tariffs on American products, but regained footing on Tuesday at America's response. In addition to tariffs, the White House is planning to restrict Chinese investment in American technology and innovation, and will be bringing a case against China to the World Trade Organization (WTO).
Concern regarding China's practices began at the close of the Obama administration. In 2017, a technology focused unit in the department of defense released a report claiming that rising Chinese investment in Silicon Valley was giving China unprecedented access to futuristic military technologies, and was increasing Chinese ownership of supply chains that serve the United States military. In response, Congress is currently debating legislation that could strengthen national security checks on Chinese investment.
The Trump administration is devising a plan to counter the Chinese strategy Made in China 2025 plan. China implemented the initiative in 2015 to elevate Chinese industry and dominate industries of the future. So the White House is targeting products in an effort to diminish China's dominance in the technology industry, including semiconductors, electric vehicles, and advanced medical technology.
The designation of these targeted products will be followed by a period of feedback, during which American companies can voice their opinions and suggestions to the Trump administration, which is holding a public hearing on submissions on May 15, 2018, in Washington. Companies have until May 22, 2018, to file any final objections to the tariffs.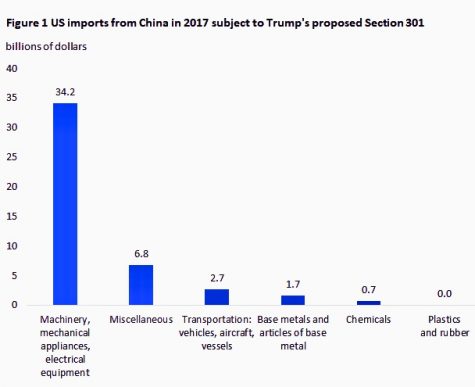 In 2017, the United States' largest exports to China were aircrafts and aircraft parts, totaling more than $16 billion, according to IHS market. The products featured heavily on Tuesday's agenda led to fears that China might retaliate with similar penalties against the American aircraft maker Boering. Other effects of the "tariff wars" is that China's tariffs of 25% will negatively affect American pork farmers, who sent $1 billion worth of products to China in 2017. Tariffs are also damaging taxes on American consumers, and tariffs of $30 billion annually would eliminate over one third of the savings American families received from the doubling of standard deduction in tax reform.
These "tariff wars" between China and the United States began with our last president, and will most likely end with our next. While it is difficult to predict the moves of China, or even what our next move is, certainly watching the world's two largest economies will have drastic and lasting effects one way or another.