2018 Quarterback Draft Class
After sitting through a roller coaster throughout the college football 2017-2018 season, we saw some young stars rise, and some players that have gained some attention by NFL scouts, especially in the 2018 Reese's Senior Bowl. The most noted position heading into this years draft, is quarterback.
We saw some quarterbacks crack under pressure, but then others who came out of nowhere and showed scouts who they really are. The most notable quarterback that rose to the occasion, was the 2018 Reese's Senior Bowl MVP, Kyle Lauletta, University of Richmond. Standing at 6'3" and 215 lbs, Lauletta is the average height you look for in a quarterback heading to the 2018 NFL draft. Lauletta threw for 198 yards on 12 attempts with eight completions, racking up a total of three second-half touchdown passes. Lauletta showed amazing pocket awareness, and threw a couple of deep passes with great precision. When looking at Lauletta, you notice he is extremely accurate in the short to medium passes and knows how to read defenses and pick them apart.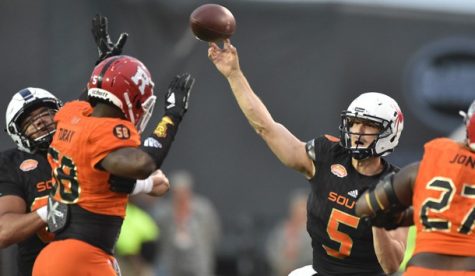 The quarterback that received tons of notice throughout the entire 2017-2018 season, and only played the North Teams first two drives is Baker Mayfield. From the University of Oklahoma, Mayfield attempted seven passes completing only three of them for nine yards. Mayfield had a short presence in the Reese's Senior Bowl due to flying out to Austin, Texas to aid his healing mother. But in the 2017-2018 season, Mayfield threw for 4627 yards with 43 touchdowns and only throwing six interceptions. Mayfield was exactly what you look for in a top prospect heading towards the NFL. Many teams are contemplating naming Mayfield as their quarterback of the future due to his two incidents in the 2017 season. Many analysis stated that Mayfield put up "Video game numbers" and was always there to impress. Even with Mayfield choking in the first round playoff game against the Georgia Bulldogs, he still is looked at by every scout.
The next quarterback that has been projected to be the number one pick this draft for months now is USC's, Sam Darnold. Darnold is not the most consistent quarterback but happens to be one of the most well rounded quarterbacks. This season Darnold throw for 4143 yards with 26 touchdowns. Darnold only had a 2:1 touchdown to interception ratio, which is a huge factors many teams are taking into thought. But Darnold also was sacked nearly five times more than last season. Last year's Rose Bowl game was an amazing bright spot for Darnold. Throwing for 453 yards, five touchdowns, 20 rushing yards, and only one interception, Darnold was able to beat a higher ranked team, and he looked like a Heisman caliber talent. Although it was a very different story in this year's Cotton Bowl. Darnold threw for no touchdowns and one interception that was a pick-six. He also threw for 100 less yards. It does go without saying that Ohio State was a tougher opponent, but to an NFL scout, it is numbers on a page. Ending on a high note, Darnold has almost all the tools you want in a quarterback coming out of college.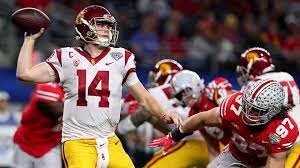 The 2016-2017 Heisman trophy winner, Lamar Jackson, University of Louisville, is known to throw the ball deep and get it to his receivers and take off when there is no good looks to air it out. There is lots of debate on whether Jackson is fit to be a quarterback in the NFL or if he should attempt to transition over to a running back. Jackson is best said to be a "Thrower rather than a passer." This is due to the fact that Jackson is not the most accurate quarterback by any means, however he still managed to rack up 3660 passing yards and got a total of 27 touchdowns but only completed 59.1% of his passes. Jackson is the best dual-threat quarterback heading into the 2018 NFL draft.
Wyoming quarterback, Josh Allen, has one of the most controversial play styles and has scared some NFL teams off but others have been pulled in and have been impressed. Allen only threw for 1812 yards and had a low completion percentage with 56.3% but showed that he has quite the gunslinger and can put some heat on his short to medium passes splitting the field in half. Allen had an outstanding performance in the 2018 Senior Bowl throwing 158 yards on only 13 attempts with two touchdowns. Allen is projected to go in the top six and has a good chance at being the starting quarterback for one of those teams.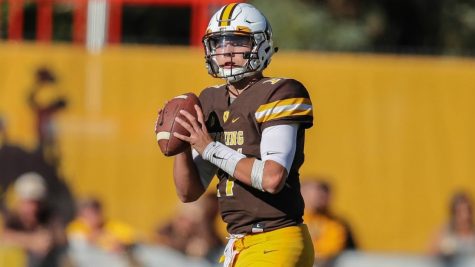 With the 2018 NFL draft coming up in April, 18 of the 32 NFL teams either need a quarterback or need to start looking at one for the future. This draft is loaded with quarterbacks and give many NFL teams a strong playoff chance with this young, talented quarterbacks.
About the Contributor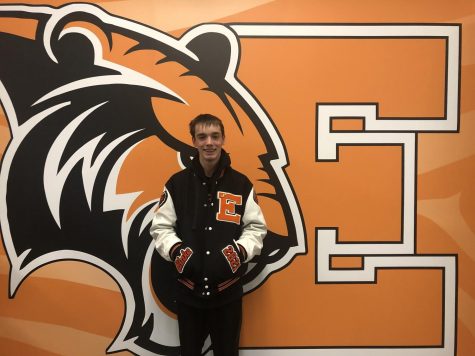 Blake Donaldson, Staff Writer
Blake is a Sophomore at Erie High School. He runs on the Varisry Track Team running the 100m dash, 200m dash, 4x100m relay, and 4x200m relay. He also plays...