Erie Choir: Winter Concert
Erie choirs embrace Christmas spirit
Hang on for a minute...we're trying to find some more stories you might like.
Tension filled the room as every choir student joins the stage. The lights are out, and the sound of soft piano music fills the Erie High school auditorium.
On Monday, December 11th 2017, the choir performed the annual Winter Concert. The concert started with a reception, involving a silent auction with several baskets with various themes in which every choir created. The reception was joine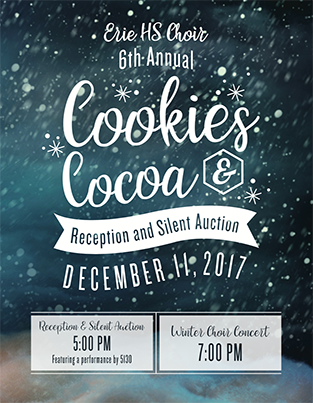 d with a performance from the auditioned jazz choir, 5130. The reception started at 5 pm, giving the other choirs, as well as the choir director Janay Bird, two hours until the performance, at seven.
The various choirs include the audition choirs: CR5, the mixed audition, Topaz, and the auditioned women choir. The other three choirs include Concert Choir, a mixed choir; Men's Choir; and Woman's Ensemble, each choir having three songs. The concert ended with two songs from all the choirs combined.
The mixed songs were two holiday songs of different origins. The first song was a traditional Nigerian holiday song titled Betelehemu. The other song was a Christmas song titled, Christmastide.
After talking to a few of the presidents of the choirs, it was obvious that they were proud of everyone. When talking to Ashley Bedore, the president of Concert Choir, Bedore says, "I think concert choir did very well. Concert choir, and all choirs for that matter, almost always pull it together for a great performance.
With everyone very prideful of the music and performance, it was obvious everyone enjoyed themselves. After talking to Cydnie O'Brien, the president of Topaz, it was shown how much love all the choirs have for one another. "The highlights of the concert, in my eyes, were how much fun everyone had performing Betelehemu, and how focused everybody was in Christmastide," says O'Briem.
Janay Bird was very proud of everyone involved in the concert, "I thought it was amazing. Everything went smoothly, all the choirs were amazing, our rehearsal was great and I was just really proud of it… I would not have changed anything musically about the experience," explains Bird.
Everyone at the performance would agree that the concert was beautiful and nicely presented to everyone in the community. O'Brien says, "When Tutti pieces come together so well, it is just so satisfying because all the choirs combine and are thinking the exact same things at the same time and making music that people are excited to come back and see every year.