The Stars of Erie
Erie is bursting at the seams with talents and here are some of the leading examples.
We are all stars in the sky and we all shine brightly, yet some work harder on perfection on something they are very passionate about and shine brighter than others with talents they display.
At some point in our lives, we walked into Erie High School for the first time. We were most likely shaking, not knowing what to expect. Erie High School is bursting out the seams with students who are very talented and successful in every which way. Some of Erie's students have worked very hard to excel through their Erie years.
Kyleigh Bernie, Caleb Humble, Delaney Spielman, Mya Michelson, Izzy Hageman, and Evan Hassman have been striving to meet their goals through this school year. With unbelievable achievements made, and many more to make from these successful students.
You may have seen her at football games or parades. However, she was not just watching in the stands or on the sidelines, she was part of the musically harmonious marching band. Senior Kyleigh Beirne excels in band, and everything musical. She participates in two types of bands, marching and symphonic. This amazing flute player has the honor of being first chair and takes that with pride. As well as being a flute player, Beirne is a drum major for the marching band. This year she had the amazing opportunity to be a first chair flute player and a section leader in symphonic band.
Beirne's band career started in fifth grade, when she took a trip to the middle school for sixth grade orientation. This is when she met her future band teacher,  Mr. Roseth. Beirne described him as very enthusiastic as for the fact that he was able to get her into music, and excited her about joining band the following year.
When she started band, Bernie's mom gifted her with her childhood flute, if it was even possible this got her even more excited about band.
Band is not the extracurricular activity that would give you stress. However, Beirne does receive some stress when she has a solo in a band concert. With around a hundred band students, receiving a solo in a concert is a huge award and something to be very proud.
Even with long days every day, Beirne is grateful for every moment of spare time she has.
"I typically practice my flute in my free time, usually solo pieces or music for the Longmont Youth Symphony." Beirne also takes any spare moment of her time to do any school work, take naps, or work at her job.
Being a part of Longmont Youth Symphony is a very big deal since there is such a low acceptance rate as well as auditioning to get in.
After being in band since she was twelve, Beirne has had the ability to become very close to her bandmates. The friends she made in band are not the people whose names she will forget, they are the people who she will never forget.
"Band has impacted my life in so many ways. I have met some amazing and talented people who push me to do better and I've met some of my friends whom I've known for many years now. I have improved my leadership skills and my confidence through band. And my love of music still continues to grow."
Beirne has developed a close connection to band over the years. With meeting lifelong friends and learning amazing new skills, this has been an amazing opportunity for her.
"If you want to be in band but you're not sure you can do it, just go for it. There's a place for everyone. If you want to be in band you should be willing to grow as a musician and as a person. Band is one of my favorite places to be and I hope it will be one of yours too."
You know him as the outstanding, over-achieving student body president. This Senior at Erie High School excels on and off the golf course and basketball court. This is the one and only Caleb Humble. He works very hard to succeed on a daily basis. He juggles golf, basketball, and student body president responsibilities, all while managing his grades and finishing off his high school career.
Humble has grown up with golf as he has been playing the sport for almost his whole life. His dad taught him at a very young age and he has fallen in love with the sport ever since.
When Humble qualified for the state tournament three out of four times during his high school career, the smile on his face could not be any bigger, as this is what he explains as being his proudest moment. Especially for the fact that no one in high school has ever done this before.
However, with this huge achievement, came a lot of work to accomplish. Caleb explains his dedication towards golf, "When I just started off playing golf, I was not that good and I was barley on varsity since the team was so small. Between my freshman and sophomore year I was outside four to five hours every single day working on my golf game. I ended up going out one of the best golfers in the school the next year and making the state tournament. My advice is to practice as much as possible.
When his last year of high school ends, spring of 2019, he wants to pursue a biology degree while playing golf at a junior college in California. Humble would also like to get an education degree and career.
In his free time he hangs out with his friends, plays golf, and basketball. He also helps out in his community by volunteering at Red Hawk Elementary.
This year has been especially hard for Humble to deal with, considering his very busy schedule.
"For golf you would miss at least two whole days of school a week. Also trying to catch up on everything in school was hard. In the fall we have homecoming, which is the biggest event of the year and we had to do a lot of things for that. So missing two days of school a week made everything a lot more difficult to cope with. I managed somehow to juggle everything."
The most effective way to make sure Humble was able to be on top of things was to make an agenda for Student Government and to always make sure someone took over for him while he was gone.
"Golf has impacted my life in a really positive way. It is more like a stress reliever for me. If i had a bad day at school I know that I can got to golf and I can relax and be alone for a couple of hours. I also created friends through golf that I know I am going to have for a long time."
You may have seen her at the orchestra concerts because she is a very talented bass player that participates in Erie High Schools orchestra, and plays in the Denver Youth Orchestra. Delaney Spielman is gets involved with the meaning of her music, and is a lot of talented involving anything musical.
Spielman started her music path by playing piano when she was younger. However, after a while she quit as piano was not the right instrument for her. In seventh grade Spielman took an introduction to music class. She didn't start playing the bass until eighth grade. After picking up the bass, and working with it for two years, she has found a passion for playing the bass.
"Theoretically I would like to major in musical therapy. This industry fits my passion of music." A music therapist is taking music to help the needs of an individual. This profession is not only using music. It is using music to help individuals who need it the most in a different form, away from individual. The music that is played can help heal people. For example, studies show that musical therapy can help heal people with Alzheimer's disease and bring back their memory.
The Denver Youth Artists Orchestra Association helps develop young musicians by giving them inspiration, support, and skills to be great musicians. This program contains around three hundred students across Colorado. There is three levels to this orchestra and Delaney Spielman has been talented enough to make it to the highest level. Around 95 percent of the people in this orchestra pursue a career in music. Spielman is one of the seven bass players in the orchestra and there is only around 90 other people in the orchestra. Erie's small town school is lucky to have a student participating in this amazing opportunity.
Spielman always makes time for playing the bass everyday. She practices at least an hour and thirty minutes a day and stay up late if she has to just to make sure that she gets her other work done.
In addition to playing the bass, Spielman loves all things music related. She loves musicals and enjoys sometimes having the opportunity to play the bass in the orchestra pit. Spielman grew up watching princess movies and learned that she wanted to learn more about the music in the background.
"Playing the bass made me realise that you can have a community of people who like the same things as you and do the same things as you. It is just a really nice creative outlet that you can do things with."
Spielman has been lucky enough to be able to go to a bass convention. These conventions typically last around five days and they are across the country. About three thousand people attend these conventions each year. During these conventions you are either talking about the bass, watching people play bass, or playing a bass yourself.
Spielman was not born with this bass talent, she had to work for it, and that is what she tells people who want to start to play an instrument.
"Do not be afraid if you are bad at playing your instrument at first. In addition be sure to always listen to your teachers because they are always right."
You may have seen this girl on or off the court. Mya Michaelson was the captain of this year's varsity volleyball team. Michelson is the first ever Erie tiger division one volleyball player. With this, she is going to the University of Alabama Birmingham (UAB) to follow her dreams and play the game she loves, volleyball . Michaelson was eight when volleyball entered and started to take a hold of her life. She had to choose between volleyball and basketball.
"I knew, once I sat down and thought about it, that volleyball was the sport I wanted to play for myself." Michelson commented.
Mya Michaelson explained her first two years of high school and her volleyball career.  As a freshman, Michaelson made varsity for volleyball, and in the second half of the season, moved to the right side and played as a starter. Her sophomore year, her coach, Russell Fox thought she had the skill to play on the starting lineup for the volleyball varsity team.
"I knew, going into the year, that was my goal, to start the first game,  and to start every single game. I think that's what drives me to practice so hard,   and to go in and lift weights," Michaelson explained.
Michaelson's stats for her junior year were pretty impressive with 226 kills, 65 blocks, and with a hitting percentage of .374. However, throughout this year she has accomplished one of her minor goals of getting a better hitting percentage. Michelson keeps her eye on the prize as she knows how to become a better player, and to keep on improving.
With her athletic talents, Michaelson created goals at the beginning of her senior year, "The All-Conference team my Freshman year, and I made First Team All   my sophomore and junior year. I want  to leave a legacy, and I want more girls on the Erie volleyball team to get First Team All Conference, and I want them to be noticed. I feel like there is so many girls on my team who could be First Team All Conference this year, and I think they will be."
Michaelson had the desire to become a better player, and worked very hard to reach her goal. Now she has even bigger goals. Mya Michaelson leaves for Alabama in the spring, and will play her first college game for the UAB Blazers. This spring, Mya Michaelson will leave high school and graduate. However, when leaving high school, she will have become the Erie Tiger's first ever Division one volleyball player, and she will leave her legacy.
She is a freshman varsity cheerleader, an outstanding weightlifter, a soccer player, and she is one amazing athlete in general. Izzy Hageman works very hard at what she does. As she is a champion weightlifter, cheerleader, and student with a dream of becoming a junior olympian. With all of these extracurricular activities, she still manages taking on school. Hageman also aspires her goal to become part of the Pan American team, even with a lot on her hands.
A Pan American team allows you to travel around the world, and compete as a team. Being part of a Pan American team is considered a major accomplishment.
Hageman also performs as one of the varsity cheerleaders at Erie High School.
While being a high school freshman, varsity cheerleader, and a full time weightlifter, it can be hard to take on all of the activities. Luckily, through Hageman's two years of weightlifting, she has learned to power through her piles of work.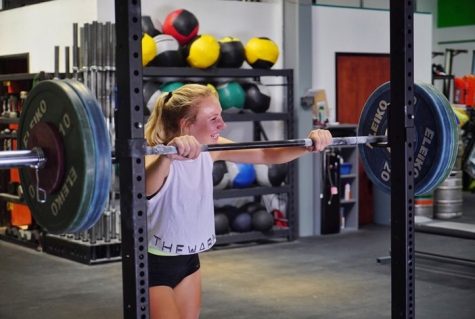 When asked how she manages school and sports, Hageman explained that "Definitely paying attention in class helps, so that way when you are doing your work you actually know what you are doing."
Hageman began weightlifting when she was twelve years old, and got competitive with the sport about a year ago.
"It was always a side activity for me until I started getting competitive with it," explains Hageman.
Two years ago, Hageman began to use weightlifting as a way to get stronger for cheer. Hageman soon started to fix her mind around the activity, and started to see it in a more competitive light. Hageman decided to start competing at the sport, and quickly realised that it was something that she could improve at, and take to the next level.
Hageman is influenced by the people around her. She notices the good and bad in people. This allows her to know what type of person she does and does not want to be.
Hageman is a type of person who is not afraid to chase after her dreams.
"At some times it may be hard to follow through, or find the light at the end of the tunnel, but you have to keep persevering."
This mindset allows her to never give up even at the hardest times. If there is a challenge Hageman knows that she can always overcome it and fight through it.
Similar to Sir Isaac Newton, the man who discovered gravity, Hageman's passion happened by accident. Being a youth weightlifter is very hard and can take a lot of effort, practice, and perseverance. It is impossible to be perfect at something, but Hageman is close to it. The phrase practice makes perfect applies to Hageman because everytime she lifts, she gets slightly better at the sport.
This student at Erie High School excels at everything and anything academically. He worked incredibly hard to able to achieve his goals and recently won an award from Congressman Ken Buck. This is one of our own junior tigers, Evan Hassman. He had an amazing opportunity that was achieved with his amazing engineering science skills. Hassman worked very hard to win the congressional award. This amazing accomplishment is very hard to do, and is an extraordinary achievement for Hassman.
Hassman, along with Hunter Burley, won an award for creating an outstanding game for their intro to programming class. They were the winning participants of the Congressional app challenge. The Congressional App Challenge is a challenge the house of congress assigns every year. This challenge aims to inspire kids to learn how to code. Congress members choose an outstanding app created by a student in their district. Hassman and Burley were in one of three winning apps.
This award winning game is called "In Space, Out of Gas" and can be found on the website www.scratch.mit.edu. While playing, the goal of the app is for the main character to complete a series of tasks by collecting gas and being able to move from one planet to the next. With Hassmans skills and creativity, he made this amazing app.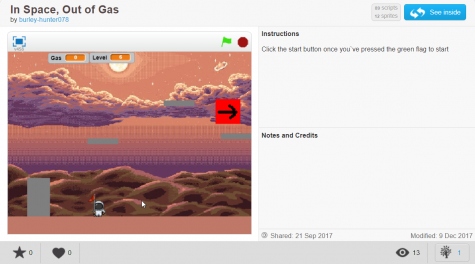 In 2019, as a Senior, he will finish his last year of high school and go off into the real world. Hassman already knows exactly what he wants to do with his life, the privilege not a lot of us have. He plans to go to University of Colorado Boulder (CU). There he will follow his passion and dreams as he will study engineering and sciences. After college, he plans on sticking with his path and become his dream profession, a mechanical engineer. As a mechanical engineer, Hassman will be able to design and build machines.
While excelling in all parts of school. Hassman enjoys many of his classes. However, his absolute favorites are jazz band, symphonic band, and chemistry. All of these classes come at a cost, piles of work. With work, comes stress,
"The stress I get everyday is my seemingly endless homework, keeping track of everything that needs to be done, and prioritizing. However, the main reason I stress is because I care. I want to do the best I can and I want to achieve the goals I have set for myself."
From athletes, to musicians, to programmers, this school is just bursting out the seams with talent. Every single person that has stepped into this school has changed the school and helped make it the place it is today. A school where everyone is welcomed, and everyone excels in at least one thing. These students are just a few people who are talented in what we do. In reality though, we are all stars. Whether it is academics, sports, music, drama, journalism, photography, or anything we all excel in something. This school is about to explode with talent. If Erie High School is the solar system, then we are all stars. The ones we know are the constellations.
About the Contributor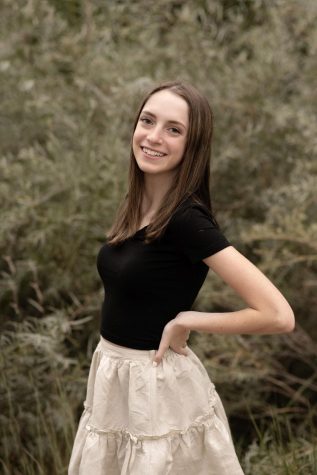 Hannah Goldman, Co Editor-in-Chief
Hannah is a senior at Erie High School. This is her third year writing for Tiger Times. In school, she is a part of Sources of Strength, Teens with Wings,...