Erie at Silver Creek Boys Basketball Recap
Yesterday, the Erie Boys Basketball team traveled to Silver Creek where Erie was playing their sixth game, and Silver Creek was playing their third. It was a close seven point game, which ended in a win for Silver Creek.
Erie senior Jeffrey Farineau had 13 points, 11 rebounds, and four assists from the night, which is the most rebounds Farineau has had in a game so far this season. Farineau is now also leading Erie's team average points per game at 16.3. Not too far behind Farineau is Jadon Lucero, who scored 10 points, five rebounds, and four assists. Senior Alex Mathis, who plays forward position, was a little late to the party by being a participant of the Erie football team, whose season ended after the first few games of the basketball season. Mathis said that the Tigers offense needed a little more work, "We just need to not turnover the ball and be able to attack the basket more."
Silver Creek was at a disadvantage as they were without one of their best players, Christian Warner, due to a broken wrist. The Raptors also lost their big man Trevor Riters when he was hit in the face and his eye was swollen shut. Silver Creek's current leading scorer, Trent Dykema, put up 21 points which was below his average of 31 during his last two games. Senior Erik Grossaint helped fill that gap by scoring 16 points of his own. Junior Nick Eaton stepped up and scored 14 points in the first half, out of his 15 total points in the game.
The Erie Tigers and Silver Creek Raptors both were plagued with fouls that slowed down momentum both ways. There were 50 total fouls, and Farineau and Kevin Loy fouled out for Erie, and Eaton fouled out for Silver Creek.
If you would want to see the game check it out here!
Erie's next challenge is against the 3-4 Centaurus Warriors at Centaurus on Friday, December 15 at 7 PM.
About the Writer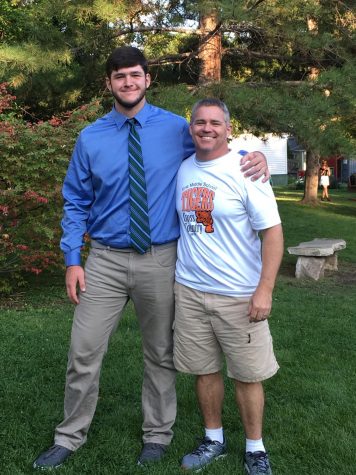 Cameron Marcucci, Senior Staff Writer
Cameron Marcucci is a senior staff writer for the Erie Tiger Times who loves food, dogs and sports. Cameron is a captain of the Tiger's football team...