The Rose Society: The Vilian's Untold Story
An ounce of love. a dusting of adventure and a pinch of darkness make for a thrilling tale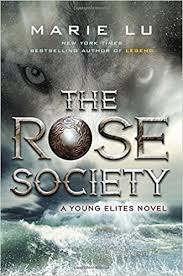 Hang on for a minute...we're trying to find some more stories you might like.
In a world filled with darkness and lies, teeming with curious people with abnormal abilities, Adelina Amouteru rises up from ashes.
The Rose Society is the second book in Marie Lu's The Young Elites series. The scene is set in another land that has been the victim of a harsh fever that stole many lives. Those who survived were left with terrifying markings and a few were given strange yet powerful abilities. Some hold power over elements like fire, rain, and wind, while others reserve the ability to be oblivious to physical pain.
In this mystique world, Adelina Amouteru is one of many powerful beings. Trained by a group known as The Young Elites, Adelina soon became a powerful and resilient Elite. However, she was just as quickly betrayed by the group. Filled to the brim with hatred and vengeance, Adelina and her sister Violetta flee to another country to recover and rebuild a new army.
Adelina conjures illusions that feel too tangible for only creations, she makes her enemies feel what she wants them to feel. Fighting by her side, the beautiful Violetta possesses the unique power to restrict an Elite's ability. Adelina and Violetta take to the city in search of another powerful Elite who fills the whispers and murmurs of the common folk. The Elite, Magiano, is rumored to live in the trees and sing people to their deaths.
Once found, Magiano seems to be uninclined to join the sisters. To prove herself to Magiano, Adelina must do something outrageous and seemingly idiotic. However, Adelina only takes the shameless task to another level. Adelina Amouteru develops a hunger for power and vengeance as ugly and terrifying whispers fill her head.
The Rose Society is a page-turning, adventurous book that has a dark side. Unlike most books, it is told dominantly from the perspective of the villain. Terrible vices and grotesque thoughts start to fill Adelina's head as she becomes more and more evil. This is an interesting read in the aspect that you are living the villain's story, feeling her pain and biting your tongue as she begins to change and make the wrong decisions. Despite the darkness and twisted characteristics, The Young Elites series is most certainly a must read, and The Rose Society goes deeper and deeper into the tale. If you are looking for a good read, check out Marie Lu's The Young Elites series!