Cheri Giammo: Soldier, Mother, Teacher, Friend
Inspiring herself, students, and her school
Filled with rapturous energy and life, Cheri Giammo inspires her students, as they learn to love her subject, and school itself. As one of the chemistry teachers working in Erie High School, her essence brings passion into the classroom. Her own love of teaching allows her to grab the attention of every person in the room. Giammo is always there for students, lending an empathetic hand in any situation.
Giammo was born in Lima, Ohio, into an adopted family, where she was later joined by her adopted brother.. Though they fought often as children, Giammo and her younger brother were always there for each other, no matter what. "I have fond memories of my childhood, I was adopted as a young baby, so I do not remember that part, but, I had an adopted brother that was only six months younger than me. So we fought like crazy when we were growing up, but we looked out for each other, and we always had each other's back, and now we are best friends," says Giammo.
For any teenager, having a supportive parent is an immutable factor, needed in school, and in life. While talking about her mother, Giammo says, "I had a very loving mom, my mom was awesome. She was my pillar. She encouraged me, she showed me disappointment, which was the worst thing your parent could ever do for you."
Growing up, Giammo had a tight group of friends. They were into sports, and supported each other through the high school career. Coming from a small town, Giammo grew up with everyone she knew in high school. "I had a lot of friends, I am from a small town, so we went to school from elementary all the way up to junior high, and then to highschool, so they were long lasting friends."
Though some of her friends live in other states, Giammo stays connected using technology. "Since facebook has come about since I have moved away from Ohio, a lot of us have reconnected and go to high school reunions. We get together and we have a blast."
The best advice can come from friends, and Giammo knows this. Her friends supported her through her life, and helped her make life decisions. "They taught me about acceptance and forgiveness, and they taught me to be yourself, to go for your dreams. I did not have any dreams coming out of highschool, but I knew what I did not want to do, so I joined the military, and they were very supportive about it."
It is almost impossible to go through life without regrets. Rather, if it is those terrible side bangs you got in middle school, or your new found addiction to caffeine as you crawl through each morning, everyone has their regrets. In life, Giammo has her own regrets: "I do have one regret, and that is seriously not buckling down in high school. I had a lot of fun in highschool, do not get me wrong, but I wish that I buckled down a little bit more, and had gone to college earlier. I did not go to college until I was 38, and so I feel like I missed out in a lot of things in my career, because I do love my career so much."
Giammo has been teaching for 14 years. She began by substitute teaching in Virginia. When she began to substitute teach here in Colorado, she realized it was the career that she wanted to pursue. She was 40 years old when she finally figured that out.
"If you would have asked me if I would have wanted to teach at the age of 25 I would have said, 'Well you are crazy.'"
As young adult, Giammo had many hobbies and activities that she enjoyed. "I enjoyed volleyball, softball. I loved to read, I was a reading nerd. I read a lot of Stephen King and horror books. We loved going to the movies, that was a big thing to do, back in the 80s."
One of the significant fears that each high school student harbors is that they will choose a career, and not be able to back out, if they change their minds. Another is that they will not be able to choose a career. Giammo has been through this experience. "I did not know that I wanted to be a teacher until I was in my late 30s. I did not work outside of the house very much, because I was raising my twin girls, so I was a parent volunteer at their school, and I found out that in Virginia you could substitute teach with a two-year degree, and I had my two-year degree, so I was substitute teaching while I was finishing my four-year degree."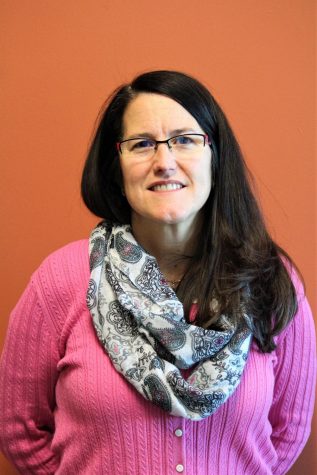 Giammo began teaching in primary school, and worked her way up to high school. She felt overwhelmed in elementary school. "I was like, 'I do not know how these elementary school teachers do it.' It is amazing. I have great respect for elementary school teachers."
Once she began teaching in middle school, she fell in love with the career. "I loved it. I loved the fact that I could interact with the kids, pretty close to their level. They were much more mature, much more inspired, I loved the middle school level, so that was my original inspiration."
For Giammo, the reasoning behind teaching is seeing the difference in her students. When she can teach, and she can see the material begin to make sense, her work flows. "I love when something clicks for a student. When you can see that light-bulb glow in their eyes. That fuels me, that is my gasoline. It keeps me going. If I can help you to reach that understanding, I have done my job for the day."
Although Giammo loves teaching, and loves her career, she thinks she missed her calling in the medical field. "I really find medicine, anatomy, physiology, biology, and now that I know more about chemistry, I find the whole mix of it fascinating. I would be a doctor, forensic, pathologist, something in that realm. I find that fascinating."
Giammo has a wide range of passions. She loves hanging out with her best friend; her husband. Giammo loves to hike and paddle board in the summer. She loves going to concerts, movies, and in her free time she loves to read Stephen King books. Her love of new adventure pushes her into an exciting life, full of learning.
Becoming a teacher has given Giammo unique insights in life, and the lives of other people, especially her students. Giammo has learned to have patience with her students, instead of just making the assumption that they are lazy. Giammo cares about the success of her students, and wants to see them do well. "Since I have become a teacher, I have become much more open minded and much less judgemental. When [kids] do not get their work done, or they are not doing what they should be doing, yet I know them well enough that this is unusual for them, and when I find out what is going on in their home life, that opens my mind to, 'wow, I never thought of that, wow, I do not know how they are coping, wow, no wonder they are so distracted.'"
Giammo sees her job as an investment in our future. She believes that student's success now will lead to the betterment of the future as a whole. "I am invested in you, the future. So, if I can make your future better and brighter, my future will be better and brighter. I see it as a symbiotic relationship here, and I get a kick out of when you guys succeed and find your passion."
At the moment, Giammo is working on her Master's Program, and will compete that in July. She is looking forward to being able to use what she has learned in the classroom. "There is some really cool ways to dig into data analyses for the kids, there is some really neat activities I could start doing with the kids. I have learned a lot in that program," says Giammo.
Once she finishes her program, Giammo wishes to continue to teach for as long as her can. She wants to make a difference. Giammo explains, "Once I stop enjoying teaching, that is going to tell me I need to retire."
The inspiration behind Giammo's interest in the science field was a teacher she had in eighth grade. His excitement in the classroom made her fall in love with science. Giammo fell in love with his energy, and wanted to pursue it then on out. "Mr. Maslar. I still remember him. He was the nerdiest guy. Black rimmed glasses, pocket protector. He wore a tie most days. Short sleeves starch white shirt. He was very hyper, and I just loved him."
Throughout her teaching career, Giammo has changed. She believes the selfishness she had as a young adult has significantly lessened. Being able to focus on teaching kids and seeing their reactions to the newfound knowledge they have gained because of her, has left an impact on her life. Giammo's empathy has grown because of what she has experienced in her career.
Giammo had a career in the military before she became a teacher. She worked in the Air Force for eight years as a dental assistant/dental hygienist. Though she enjoyed the orthodontic field, and career there, she did not feel like she made a big enough difference until she began teaching. "I started substitute teaching and I felt like my impact was so much greater," notes Giammo.
In a friend, Giammo values integrity. She wants people to be honest with her. Giammo wishes that people would be compassionate to each other, and have empathy. She says, "I want people to be able to put each other in other people's shoes."
When Giammo was a young adult she was very energetic, ready to face what the world had for her. She was motivated to accomplish her goals, especially those in the air force. Giammo loved her career in the Air Force, and wanted to stay there. She was dedicated to her country, and as a risk taker, she would do crazy sorts of things that others would not do.
As a high schooler, Giammo learned a lot about life, and much of what she learned has benefitted her as an adult. "The advice I learned… that benefited me as an adult is that if you work hard, you will be rewarded. I worked hard in school. Probably not as hard as I could have. The stuff I did work hard at, I learned my work ethic, I learned that hard work does pay off, that you can get the education."
In high school, Giammo also learned to have more of a growth mindset, so that if she does happen to make a mistake, she can learn from it, instead of being hard on herself.
Since high school and onwards, Giammo has never been fired from any job. To her, it would be devastating, and as a part of her determination to succeed, it is unlikely that anyone who has hired her ever even wished to fire her. It is clear that Giammo would not be the kind of person to not give any task her all, in any job.
Giammo's advice for highschool students is that their biggest regret will be not working hard enough, so they should do every task to the best of their ability.
"Nobody leaves saying 'Gosh, I should not have worked that hard.' The biggest regret everyone has is that they did not work enough, or they did not apply themselves. If you are going to do a job, do it to your best of ability. Do it well. Do it right. It does not matter if somebody is watching you. Have that integrity. Why cut corners? It may seem easy at that point in time, but it is going to come back and haunt you in the future."
As a high schooler, Giammo wanted to be a P.E. teacher. She loves sports like volleyball and softball. But, by the time that she graduated, Giammo was done with school. "I was tired. My parents were divorced, and it was a tough time in my life. I wanted to go far away, and I did not want to work in the factories."
Instead of completing college, Giammo went into the Air Force. She spent eight years at Scott Air Force Base. Giammo made a lot of friends, and was good at what she did there. She made rank quickly, and won multiple awards. Being in the Air Force made Giammo a more neat person, and it was the niche she was looking for. Giammo felt the purpose she provided, and she knew that what she was doing was helping to keep her country safe. Giammo got to travel in the military, in what she calls "Business trips." Giammo has the opportunity to travel to a variety of different places like, California, Virginia, Oklahoma, and North Carolina. The military allowed Giammo to slow down, and pay attention to things she would normally overlook.
"I loved it. I loved the calling of the military, I loved the format, I loved the fact that I did not have to get up in the morning and figure out what I wanted to wear. I ironed everything Sunday; they were my uniforms. I did not have to worry about that, I worried about how I had to perform my job. I loved it," reminisces Giammo.
Giammo's reasoning behind pursuing a military career is simple. She did not want to go straight into school. Although she tried community college, she did not want to pursue that, and waste her or her parents money. The confines of schooling did not work for her at that time, but, Giammo did not want to work in the factories that made up her small hometown, as her mother, father, and brother had. "I wanted more, so I was going to do something for that. I think the problem, for a lot of people, is that they want more, but they do not do something about it, because they do not have the confidence. Joining the military was the other option for me."
In the military, Giammo learned her work habits. She was very well accomplished there, and her confidence grew as people took notice in her. Going through inspections, getting awards, being acknowledged for her efforts, all was amazing for her. Giammo says, "It really strengthened my work ethic, my integrity, my sense of self pride, my sense of self worth."
The impact her mom has left on her is incredible, and when Giammo makes decisions, she always thinks about what her mom and husband would think.
In a friend, Giammo looks for honesty. She values integrity very highly, and she knows that empathy is a pertinent part of being a good person. "Always be able to put yourself in others shoes. That is what I look for in a friend. That is what I would like my students to be able to do too."
A former student of Giammo, Rand Phillips, now attending CU, says that if he could describe Giammo in one word, he would use kind. Phillips says that she was, "Funny and sassy, " and that "She inspired me to stay focused and work well with others."
When asked how Giammo impacted him, Phillips said, "She made me appreciate science."
Erie High School is an incredible school. The teachers are amazing, and the opportunities are endless. The students that attend are almost always kind and helpful, some of the best kids around. Though this is true, there is always room for positive change, and, in Giammo's opinion, the change that needs to occur is in the usage of technology in the school system. "Because technology is changing so much, and we have it at our fingertips, I think we are doing too much too fast," stated Giammo.
Giammo thinks that students and young adults need to learn to use technology less. They need to put their phones away during lessons, and interact more with other students and teachers. The anxiety caused by not having access to such technology is harmful in a classroom setting. "I think our focus is so changed, and I think it is causing us to change and multitask, and the research is telling us we can not do so effectively."
Giammo believes that using technology in certain situations can be useful and fascinating, but that the constant need for it is causing more problems than solutions.
Giammo thinks that students in Erie need to focus on what they plan to do after high school. They must have a plan other than "Graduating and just existing."
"I think that the expectations of going to college are great, but kids need to understand that if that is not their path, that is okay, but they need to be constructive citizens, effective in their worlds" Giammo says.
Giammo also thinks that the school itself needs to do a better job with helping those kids that decide not to go to college, with getting into other schools with specialization. "I think the school does a really good job with academics, but I am not sure that the kids who do not want to go to college get enough help to get into those technical schools, or something a little less than a four year degree school," comments Giammo.
Though there are some things that change could help with, Giammo is very grateful to be at Erie High. "I feel very blessed to work at this school. I think that it has phenomenal opportunities and things are great, for the most part," says Giammo.
One thing in Giammo's teaching career that has really changed her outlook were the Frederick suicides. Though she has personally never had a student pass away, the suicides brought her fear, but also ignited a special bond with each of her students. "I become so attached to my kids, that having them just be lost, or lose one of them at such a young age, I think that would be one of the hardest things I would have to get over," reveals Giammo.
Giammo has learned to take nothing for granted, and to find the good in everyone through her teaching career. She tries to find the good in every person, and to be there for her students in every situation. "You never know what is going on in their mind. I am always available, because I understand you guys are busy and stressed," elucidates Giammo.
There are many reasons why Giammo loves doing what she does. Teaching has brought her many opportunities and inspiration, but most of all, she loves to see her students succeed. She knows that the future could depend on the kids sitting in her classroom each day.
"Seeing you guys succeed and build our future (is why I teach), because you guys are our future," explained Giammo.
The energy that Giammo gives off is tangible. It can be felt in a room as she commands it. Her teaching style is robust and powerful, giving off the special flare that ignites her classes. Cheri Giammo is unique and kind. She stays positive and is an incredible part of Erie High School.
About the Contributors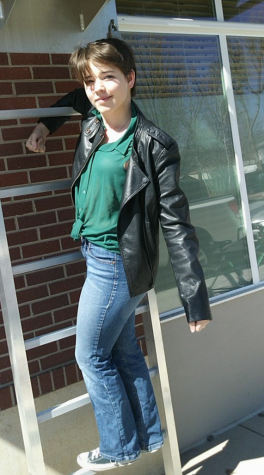 Isabelle Spetalieri, Staff Writer
Isabelle Spetalieri is sophomore and a journalist with Erie Tiger Times, and she enjoys writing and participating in all different types of classes. She...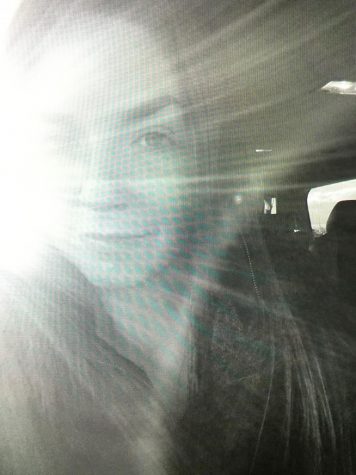 Morgan Walje, Photographer & Staff Writer
Morgan Walje is the staff photographer and a staff writer for Erie Tiger Times. She is also a Sophomore at Erie High School. Morgan hopes to go to college...