Erie Palmer Ridge Game Recap
Hang on for a minute...we're trying to find some more stories you might like.
United States Air Force Academy- The Palmer Ridge Bears won the 3A State title, beating the Erie Tigers 46-21 at Air Force's stadium.
The start of the game was a disaster for Erie. After going 3 and out and punting, Palmer Ridge got the ball. Their first play was a 56 yard touchdown pass from Ty Evans to Anthony Robertson II. Erie went 3 and out again. Palmer Ridge drove down the field, and despite a Nate Hackney sack, Noah Brom ran it in from 12 yards out to put Ridge on top 14-0 with 5:55 to go in the 1st quarter. Erie went 3 and out AGAIN but the defense stopped Palmer Ridge on 4th down when Hackney batted down a pass at the line of scrimmage.
The offense finally woke up, driving 45 yards to score a touchdown. Noah Roper punched it in from 4 yards out to pull within a touchdown at the start of the 2nd quarter. The momentum began to shift as Erie forced a fumble and recovered. Erie drove the ball down the field quickly. Then, Roper took the snap from the quarterback position, rolled about 15 yards backwards, reversed field, and somehow found Jacob Mansdorfer standing wide open at the 2 yard line. He backed into the end zone as the Erie stands exploded. Julian Custine nailed the extra point to tie the game. Erie would stop Palmer Ridge on downs AGAIN with who else but Hackney knocking down a pass at the line.
After Erie went 3 and out, Evans tossed a 69 yard touchdown pass to Robertson II to put Palmer Ridge up 20-14 after a missed PAT. Then, disaster struck for Erie. Mansdorfer rolled out and got walloped. He fumbled the ball which Palmer Ridge recovered at the 5. Raef Ruel promptly ran it in to put Palmer Ridge up 26-14 with 36 seconds left in the half after the 2 point try failed. Palmer Ridge kicked it out of bounds on the kickoff and Erie settled for a first down and running out the clock to end the first half.
After halftime, Palmer Ridge punted on 4th down. After taking the ball, Noah Roper ran it in from 16 yards out to pull Erie within 5. After that, it was all Palmer Ridge. Evans threw another touchdown to Andrew Miller who got popped by Roper on the next possession to make it 32-21 Palmer Ridge. They then stopped Erie and blocked a punt and recovered it for a touchdown. They went up 39-21 after finally making an extra point. After stopping Erie, Palmer Ridge drove it down the field one last time. Evans took a bootleg from the 1 to put Ridge up by a final score of 46-21.
Preston Vanlandingham took the last carry of his senior year for about 30 yards. Erie punted the ball back and Evans took a knee to end the game.
Evans said after the game that he trusted his offensive line to protect him all game. Given the score, they did.
Erie and Palmer Ridge will both be very good next year. Given that Roper and Evans are both juniors, as well as other key players for both teams, it makes sense that this could be a potential rematch for next year's 3A championship game.
About the Contributors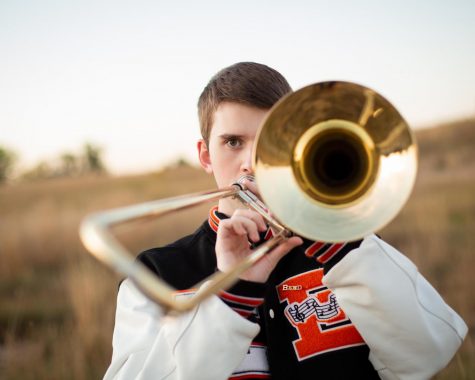 Grayson Blalock, Editor-in-Chief
Grayson is the Editor-in-Chief for the 2019-20 Tiger Times and is a senior at Erie High School. He was the Assistant/Sports Editor for the 2017-18 Tiger...