Boys Basketball Season Preview
This senior laden team has a positive outlook for this season.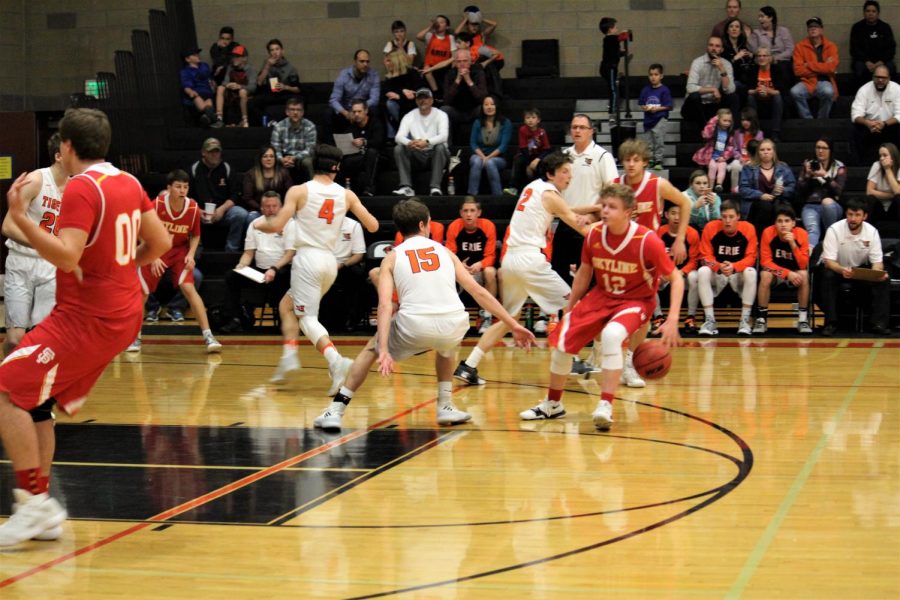 Projected Starters-
PG- Sr. Tyler Larson
SG- Jr. Ethyn Tyson
SF- Sr. Jadon Lucero
PF- Sr. Luke Loy
C- Sr. Jeffrey Fairineau
Projected Bench
**F Jr. Noah Roper
*F- Sr. Alex Mathis
F- Sr. Cody Yopp
G- Fr. Jordan Nyguen
G/F- Fr. Kevin Loy
G/F- Sr. Bryce Meier
G- Sr. Caleb Humble
G- Jr. Cooper Hinman
Player Capsules
#20 Jeffrey Fairineau- PF, C. 6'3, 170 lb. Senior.
Strengths-
Outside Shooting
Perimeter Defense
Inside Shooting
The Tigers best big man this year. Erie will probably keep the ball out of the post and work it around the perimeter on offense. They don't  have 6'9 Cameron McCurry (now at Western State) or 6'4 Will Campbell anymore to help in the post. If Farineau is going to be the player the Tigers need him to be, he will have to defend people bigger than him in the post. And if he can do that? The Tigers could make a run in the playoffs this year.
#21 Jadon Lucero- PG, SG, SF. 6'1, 155 lb. Senior.
Strengths-
Outside Shooting
Mid-Range Shooting
Ball Handling
Perimeter Defense
Playing off the ball this year should help Jadon's shooting tremendously. While he was a very good point guard last year, his shooting percentage fell out from his sophomore year, where he played shooting guard. Hopefully moving back to his more natural spot of SG/SF will help boost his shooting percentage. There will be a lot of games- Holy Family, Windsor, Silver Creek, and Evergreen all come to mind- where he will need to score a lot of points to keep the Tigers in the game. If his shooting percentage does go back up- and it should- there is no reason that Erie cannot compete with some more traditional powerhouses this year.
#15 Luke Loy- SF, PF. 6'0, 155 lb. Senior.
Strengths-
Outside Shooting
Mid-Range
Ball Handling
This is the position change that will matter the most for Erie. If Luke Loy can defend the opposing teams PF well, then Erie will be very good this year. They missed him dearly in last years playoff loss to Thomas Jefferson. While he might not be better than Lucero or Farineau, it might hurt the Tigers more to lose him to injury than either of them.
#2 Tyler Larson- PG. 6'0, 130 lb. Senior.
Strengths-
Ball Handling
Defense
Tyler will step into a starting position for the first time as a varsity basketball player. He played some last year as Lucero's backup at point guard. Now Lucero is moving to a wing, allowing Tyler to step in as a starter. His ball handling and defense should be his most watched skills as he will be going against excellent point guards in Tri-Valley. However, he will probably have to make a clutch shot or two as defenses will key on the trio of Farineau, Lucero, and Loy. If he can do that and run the offense well, he will be the perfect point guard for this Erie team.
#4 Ethyn Tyson- SG, PG. 5'10, 150 lb. Junior.
Strengths-
Ball Handling
Defense
Outside Shooting
Ethyn is the only starting non-senior for Erie for a reason. He is a great basketball player who will be tough to defend with Erie's other options on offense. He will score a lot of points with defenses focusing on Farineau and Lucero
*#23- Alex Mathis- SF, PF. 6'3, 165 lb. Senior.
Strengths-
Outside Shooting
Mathis is about to play in the last game of Erie Football's title run against Palmer Ridge. He was a good shooter last year, but will be rusty not having played basketball for a while. We'll know more about him once he starts playing. The best guess for his first game is probably the trip to Greeley Central.
**#22- Noah Roper- PF, C. 6'0, 195 lb. Junior
Strengths-
Defense
Will Noah even play basketball? Maybe. If he does, he will be Erie's best defensive player on a team that could use some help with post defense. As with Mathis, his first game would probably be against Greeley Central.
#5 Kevin Loy- SF. 5'11, 145 lb. Freshman.
#14 Jordan Nguyen- PG, SG. 5'9, 125 lb Freshman.
Loy and Nguyen are the unknowns on this Erie team. They have to be very good to make the varsity team as a freshman, but that is all that anyone outside of the team knows as of now.
#3 Caleb Humble- PG, SG. 5'8, 145 lb. Senior.
Strengths-
Court Vision
Humble is a good player. However, he will be a non-factor unless Tyler Larson gets hurt.
#32 Cody Yopp- PF. 6'1, 175 lb. Senior.
Strengths-
Rebounding
Yopp is a tenacious player and good rebounder. With Mathis coming back from football, Cody will play a primary role as a 6th man for the Tigers to begin the season, as he improved much over the summer.
#10 Bryce Meier- SG, SF. 6'0, 160 lb. Senior.
Strengths-
Mid-Range Shooting
Bryce is a good player. But like Humble, if Roper plays and once Mathis comes to the team, Meier will be a non-factor as well.
#32 Cooper Hinman- SF, PF. 6'3, 165 lb. Junior.
Hinman will play mostly JV this year and have time to improve before his last year of high school basketball.
*Currently playing for EHS Football
**Currently playing for EHS Football- Will play basketball OR wrestle (undecided)
Season Predictions
Friday, Dec 1 – Niwot, 7PM, Home.
I like the Tigers chances to come out and start strong. They have an old group, with 8 seniors on varsity this year, which is double last year's total of 4. These guys have been working together all fall, and have played with each other for years prior. They beat Niwot last year and they'll do it again. Farineau scores 19 and the Tigers roll, 61-47.
(1-0)
Result- Got it right. It was lower scoring than I guessed, but Erie won their season opener.
Green Mountain Tournament 2-1 for tournament
Evergreen- The Tigers will need a complete performance to beat the preseason 11th ranked Evergreen. Chances are that they drop their first game and win two games in the consolation bracket, or they just go home. If the Tigers COULD beat Evergreen, however, it would show the rest of the state that Erie basketball is here to stay. I like Evergreen, 72-59.
(3-1)
Monday, Dec 11 – Greeley Central, 7PM, Away.
Erie's chances are good in their first true road game. Greeley Central should win the battle of the post, but Erie's outside shooting propels them to their first road win. Jadon Lucero has his best nonconference game of the year and carries the Tigers to a 53-48 win.
(4-1)
Wednesday, Dec 13 – Silver Creek, 7PM, Away.
6 Silver Creek on the road during finals? No thanks. Erie is stifled for the only time in nonconference play and gets whooped. Sharpshooting Trent Dykema scores 27 for Creek and they roll. 76-41.
(4-2)
Friday, Dec 15 – Centaurus, 7PM, Away.
Erie will bounce back against Centaurus in the last game before Christmas break. Luke Loy hits 4 threes and scores 18. The Tigers also have their best defensive performance before Christmas break. After being smashed by Creek, the Tigers smash Centaurus, 63-38.
(5-2)
Tuesday, Jan 2 – Berthoud, 7PM, Home.
After practicing for as much of winter break as allowed by CHSAA, Erie comes out ready for the start of league play. Tyler Larson shows why he is the starting point guard and has 11 assists. Both teams defenses are a little rusty coming back from 2+ weeks of no games and it shows. Tigers in a close one, 75-69.
(6-2, 1-0)
Friday, Jan 5 – Mead, 7PM, Away.
Mead and Erie get into a good old fashioned defensive dogfight. After Erie doesn't play any defense at Berthoud, they play ALL the defense against Mead. Points will be at a premium in this game more than any other. Fairineau is productive enough from outside to help Erie squeak out a win in the first true nail biter of the year. Erie, 39-38.
(7-2, 2-0)
Saturday, Jan 6 – Fort Morgan, 5 PM, Home.
Erie is tired after a physical game against Mead. The bench is game defining for the first time all year, and Alex Mathis hits 2 threes. The game being early at night and Fort Morgan traveling 50+ miles almost saves Erie, but an excellent Mustang team that is used to traveling spells Erie's doom in one of their 2 non tournament back to backs all season. Fort Morgan, 61-53.
(7-3, 2-0)
Tuesday, Jan 9 – Roosevelt, 7PM, Away.
The trap game of the year for Erie. The Tigers get out to a fast start and a big lead at halftime. The senior laden team starts thinking about their last home game against Frederick and blows a double digit lead after halftime. The scrappy Roosevelt team and their obnoxious crowd helps them trounce Erie in the second half and pull out the game. Roosevelt, 54-47.
(7-4, 2-1)
Friday, Jan 12 – FREDERICK, 7PM, Home.
Coming off back to back losses for the first time all year, Erie comes out fast in the
experienced teams final home game against Frederick, but the one impactful non-senior steals the show. Ethyn Tyson has his best game ever, scoring 31 points, and helping Erie maul Frederick and get back on track. Erie, 73-42.
(8-4, 3-1)
Tuesday, Jan 16 – Holy Family, 7PM, Home.
They lost by an approximate score of 85-25 last year. This year? They'll give them a scare but Family will wake up in the 4th quarter and come back to win. 63-59 Holy Family.
(8-4, 3-2)
Friday, Jan 19 – Skyline, 7 PM, Home.
The 1-2 punch of Jadon Lucero and Jeffrey Farineau begins to dominate games. They combine for 50 points and 5 steals as Erie dominates a usually good Skyline team at home.
Erie, 76-53.
(9-4, 4-2)
Tuesday, Jan 23 – Windsor, 6:30 PM, Away.
Windsor is the WORST place to travel to in Tri-Valley. It won't matter to this group that has been there twice. Lucero and Farineau take advantage of the early start and stun the Wizards on the road with a buzzer beating three. Erie, 57-56.
(10-4, 5-2)
Friday, Jan 26- Berthoud, 7 PM, Away
Berthoud lost their big men to graduation last year, similar to Erie. The difference is, Erie will be much better than Berthoud on the outside. Tigers cruise to an easy victory and let their starters rest. Erie, 53-28.
Predictions for February and beyond coming in January.
About the Contributor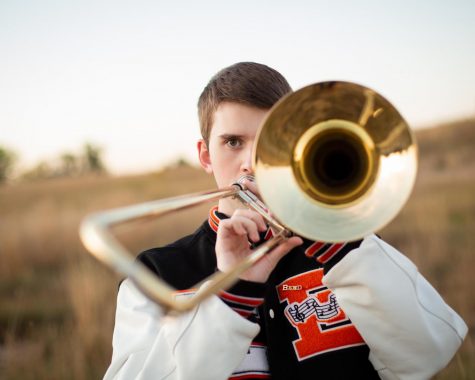 Grayson Blalock, Fall Editor-in-Chief
Grayson is the Fall Editor-in-Chief of the 2019-2020 Tiger Times. He was the Assistant/Sports Editor for the 2017-18 Tiger Times and was the Sports Editor...