Model United Nations
Everyone is gathered around the conference table, on the edge of their seats; silence overtaken the room except for one group of students. This group is the Erie Model MUN group.
The Model United Nation is an organization that consists of college and high school students that gather in different regions around the world. These students gather for conferences to discuss global problems that are serious global issues and threats. Before the conference, groups are given a topic and a country which they must research, and then student debate the topic at the conference.
Judith Trinker, the teacher leading the Model UN at Erie High School commented, "It's kinda cool for students to see how the world makes decisions, and also to learn about major topics."
Here at Erie, we have at least 25 students that are involved in model UN. These students will be dressing up and traveling to different places, representing their country in a discussion. Being a part of MUN means that you get to travel. At the end of the local conferences, the students involved get to travel to New York and take a tour of the actual United Nations conference building.
The attendance of the MUN meetings at school before the conferences is not mandatory to be involved in the club. Trinkner explained, "We don't do a lot at meetings. The MUN doesn't require you to show up at meetings and do a lot; it requires you to know what the topic is at our next conference, practice your presentations, and that's about it."
The purpose of the MUN is giving students who care about global problems, a chance to speak their mind and be apart of the political world.
About the Writer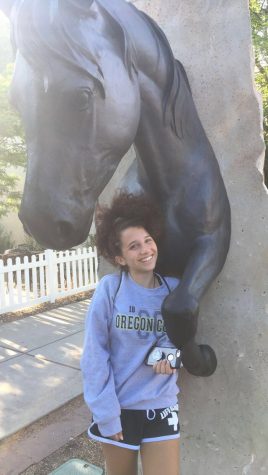 Celina Laslow, Staff Writer
Celina is a freshman at Erie. She is involved in the auditioned choir group, Topaz. She is also almost fluent in Sign Language.