Last Minute Thanksgiving Desserts
    Thanksgiving, a time to be thankful (a.k.a. STRESSED) when all of your friends and family gather together at your house. You have the main course all mapped out with traditional turkey, stuffing, and mashed potatoes. Yet, dessert slipped your mind until now. We have all heard the disaster stories of desserts, even when the recipe is followed perfectly. Luckily two dessert options were baked and tested, pulling all the dessert mayhem stress out of Thanksgiving and creating something everyone will love.
The first recipe: Glazed Spiced Pumpkin Bars from Betty Crocker
Recipe states time-          Recipe time when made-
Prep: 15 MIN                    Prep: 45 MIN to an 1 HR
Total: 2 HR                       Total: 3 HR
Servings: 32                     Servings:32
Ingredients

Bars-
2 cups Fiber One™ original bran cereal SAVE $
½ cup canola or vegetable oil
½ cup orange juice
1 can (15 oz) pumpkin (not pumpkin pie mix)
2 eggs
1 ½ cups Gold Medal™ all-purpose flour
1 ½ cups granulated sugar
2 teaspoons baking powder
1 teaspoon ground cinnamon
1 teaspoon baking soda
½ teaspoon ground ginger
¼ teaspoon salt
1 cup chopped walnuts
Glaze-
1 cup powdered sugar
4 to 6 teaspoons orange juice
Steps
Heat oven to 350°F. Spray 15x10x1-inch pan with cooking spray, or grease and flour pan. Place cereal in resealable food-storage plastic bag; seal bag and crush with rolling pin or meat mallet (or crush in food processor).

In large bowl, beat oil, 1/2 cup orange juice, the pumpkin and eggs with electric mixer on low speed until well blended. Stir in crushed cereal; let stand 10 minutes.

Beat in remaining bar ingredients except walnuts on low speed until well blended. Stir in walnuts. Spread evenly in pan.

Bake 35 to 40 minutes or until top springs back when touched lightly in center. Cool completely, about 1 hour.

In small bowl, mix powdered sugar and enough of the 4 to 6 teaspoons orange juice for desired drizzling consistency. Drizzle over bars. For bars, cut into 8 rows by 4 rows.
Review-
Overall, the pumpkin spice bars turned out well. The bars were very moist and  almost had the texture of cake. A few critiques I have include, in step one, putting the cereal in a food processor. When following the recipe the cereal did not break down into small enough pieces. Also, the total preparation time for the recipe took 45 minutes to an hour instead of the 15 minutes stated. To continue, the walnuts are not necessary. When trying the recipe, I did a batch of without walnuts in and one with walnuts and they both turned out great. You could also create a replacement such as adding chocolate chips. Lastly, the glaze was too sweet with the orange juice. I recommend changing the orange juice to milk. Also, there was a lot of extra glaze. If you are not wanting to drizzle much glaze change the measurements to half of what is stated by adding 1/2 cup of powdered sugar and 2 to 4 teaspoons of milk or orange juice.
The second recipe: Chocolate Covered Pumpkin Cake Pops from Betty Crocker
Recipe states time-          Recipes time when made-
Prep: 60 MIN                    Prep: 60 MIN
Total: 2 HR                       Total: 3 HR
Servings: 12                     Servings: 30
Ingredients

1 box Betty Crocker™ SuperMoist™ cake mix (any chocolate flavor)
1-1/2 cups canned pumpkin pie mix (not pumpkin puree)
2 tablespoons Betty Crocker™ Rich & Creamy chocolate frosting (any variety)
2 cups dark chocolate candy melts
2 tablespoons sprinkles

Steps-
Preheat oven to 350ºF. In a large bowl, mix together chocolate cake mix and pumpkin pie mix. Stir until smooth, spread into a 9×13-inch baking dish. Bake for 30-35 minutes, or until the center of the cake springs back when touched lightly.

Remove cake and cool completely. Once cooled, slice the edges of the cake off and discard. Crumble the center of the cake into a large bowl. Mix with chocolate frosting until a dough that resembles the texture of Play-Doh™ forms.

Roll cake dough into 12 balls. If desired, press a paper straw into the center of each ball to make pops.

Melt the candy melts in a large glass bowl. Microwave in 30-second bursts and stir between, cooking just until the candy melts become smooth and melty.

Dip cake balls into the candy melt. Use a spoon to ensure every side of the cake pop is covered. Place chocolate-covered cake balls on a piece of parchment. Sprinkle, if desired. Allow to set completely before serving.
Review-
     When looking back at the pumpkin cake pop recipe, it turned out well and is a unique Thanksgiving treat. There are a few changes to make the recipe better. One of the changes is the amount of cake balls. The recipe states to make 12 balls, yet that would make the cake pops too large to be bite size. In the end, I ended up rolling around 30 cake balls. Next, the recipe says you'll need 2 cups of dark chocolate candy melts. When trying this the cake balls were too rich, and there was not enough candy melts for all the balls. Instead of getting the dark chocolate candy melts consider getting the vanilla to balance out the flavors. Before melting the candy melts I recommend freezing the cake balls so they do not fall apart which is what happened to me. Pop them in the freezer just long enough to get a little harder.
     Jordan Westenbroek, as an Erie community member states, "I'm not a chocolate lover, yet these cake pops were delicious. I didn't expect the cake pops to have each flavor come together as they did. The pumpkin worked very well with the vanilla coating."
     In conclusion, these recipes create a unique Thanksgiving dessert that no one will expect. They are perfect for large or small groups and can be made ahead. They are just right for any Thanksgiving dessert making it look like you planned desert all along.
About the Contributor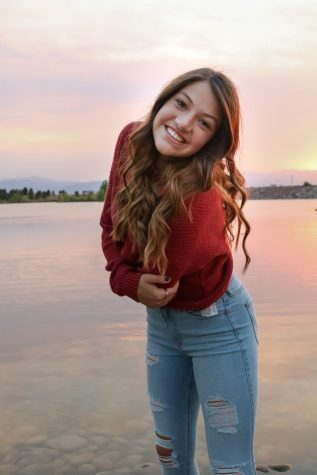 Madison Hays, Editor-in-Chief
Madison Hays is a senior at Erie High School, and is in her third year of being  a part of the Erie Tiger Times. Through the 2020-2021 year she will be...