The New Era of Quarterbacks
With the most recent NFL draft, there were many quarterbacks that were produced and this calculated action may have been taken to change the future path of the NFL. These new quarterbacks might rise above the rest, and outshine the old stars.
In previous years, the NFL has only produced a few mobile quarterbacks who can throw the ball well, such as Russell Wilson and Tyrod Taylor. Star quarterbacks such as Peyton Manning, Aaron Rodgers, Eli Manning, Tom Brady, and Drew Brees have been able to put the ball exactly where they want to and scare secondaries with their dead accurate cannon. But the problem was, these stars were stuck in the pocket and could not move around and be dual threat quarterbacks.
"The new era," as NFL analysts are calling it, could cause offenses to change and force defenses to play differentially, which can change the game and make it a whole different level of playing style. One of the most notable rookie quarterbacks, Deshaun Watson, 1st round 12th pick by the Houston Texans, is tearing defenses up through the air and scrambling for a couple yards when the defenses are vulnerable.
Many of the greatest players in college football have been looking forward to the future, and the newly up and coming NFL Draft. A few of these players include J.T. Barrett, Sam Darnold, Baker Mayfield, and the 2016 Heisman winner, Lamar Jackson. These quarterbacks have set some of most insane school records, and have brought their teams to be in the top 25 college rankings.
Some of the most known players/coaches in college football and the NFL have said many things to hype up the news on the quarterbacks. Clemson Head Coach Dabo Swinney said, "Lamar puts up video game numbers." Another person said, "Baker Mayfield must've used some sort of video game cheat code to throw for that many touchdowns and yards," in Mayfield's win over their in-state rival OSU.
The upcoming quarterbacks could overpower some of the veteran NFL corners, such as Richard Sherman, Aqib Talib, and Stephon Gilmore. Offensive coordinators might change to deep passing. and if the pass is covered, have the deadly new era of quarterbacks make a move.
Be looking out for some of the current NFL rookie quarterbacks, and upcoming rookie quarterbacks ready to terrorize defenses.
About the Writer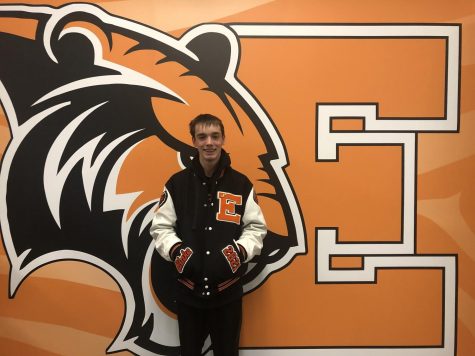 Blake Donaldson, Staff Writer
Blake is a Sophomore at Erie High School. He runs on the Varisry Track Team running the 100m dash, 200m dash, 4x100m relay, and 4x200m relay. He also plays...