As the autumn air turns crisp and the leaves start to change colors, the anticipation of Halloween and the beloved Trunk-or-treat tradition is buzzing across the Erie community.
Leaders of the event Maryn Perschon and Joshua Banks put together the event for all ages of the community. This is the first event Joshua has put together and the first exposure to the Erie community. " It has been a lot of fun learning the ropes and seeing this event come to life," Joshua states. 
As the event has brought the community together, the concept was relatively simple due to the event being held in the Erie High School parking lot. It provides a safe and controlled environment for kids to run around and get candy to have a night of togetherness. 
The preparation for the event was not a walk in the park. There were weeks and months in advance of planning and making sure every detail was carefully arranged, "there are a ton of different things that go into this event, from the logistics to the advertising to the actual set up the day of. We have put in a lot of hours for logistics, and we have asked our committee members to decorate their trunks as well as make some games." Josh stated.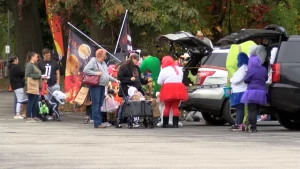 At the trunk or treat event, there is a bunch of creativity and effort to make a variety of different games. The atmosphere of the event is something that will bring the community closer together. "The trunk or treat helps to create an atmosphere of fun and provides a great opportunity for people of all ages to have a good time and grow closer together." Joshua Banks mentioned. 
With the different games and residents of Erie at this event, the atmosphere will be enhanced by the Erie Fire Department making an appearance at the event this year. "We plan to have a ton of trunks handing out candy and a bunch of Halloween-themed games for people to play. Some local Erie businesses might show up, and this year we are especially looking forward to having the Erie Fire Department bring one of their trucks." Joshua Banks mentioned. 
As we get closer to the event, the anticipation is building and everyone is eagerly looking forward to the event. Trunk or Treat is beginning to feel like more of an unforgettable event as the magic of Halloween comes to life in Erie High School's own schoolyard.