This weekend, athletes from Erie high school's cross country team will be traveling to Portland, Oregon to run and represent Colorado. 
This is not the first year that the cross country team has made an out of state trip. In 2021 the team traveled to Oregon and in 2022 they went to Arizona. Traveling back to Portland is something that the team is looking forward to with hopes they will grow as athletes and as a team.
A stark difference between running in Colorado versus Oregon is the altitude. Being at sea level means that the runners will be able to get more oxygen with each breath, which has Head Coach Alan Culpepper hoping for some new personal bests, "It's fun to go to sea level and feel the benefits of dropping in elevation and trying to get a faster time." Coach Culpepper is excited to see what these tiger athletes can do.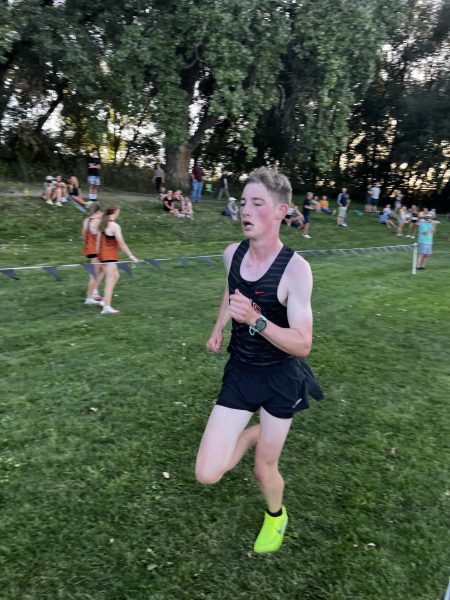 Abi Umbenhouer, a senior and first time cross country runner, is looking forward to the potential gains that her and her teammates can make. "It's really focused, we go out and we run and it's very controlled and a lot of [personal records] happen at events like this." Being able to step out of their regular routine and give their attention to this race gives the possibility for these runners to perform better than they ever have.
Beyond just running, the trip is a chance for this select group of athletes to grow closer with each other. Cody Simonson, a senior and leader of the team, mentions, "being together and competing outside of home is really gonna strengthen [the team]". Traveling together, eating together, and running together will undoubtedly provide many opportunities for the cross country team to come together and build upon the bonds already in place.
Unfortunately, this trip is happening over homecoming weekend, meaning these tiger athletes may have to miss the dance. Umbenhouer comments, "A lot of us are not able to go home [in time for the dance], it's pretty disappointing for some of us, but a few are able to go back in time." Some runners are taking matters into their own hands and taking a separate flight back in hopes of making it to Mile High Stadium to enjoy the dance.
For this team, being around each other for roughly three days straight is a golden opportunity to continue the great season they are already having, along with furthering the connections between the athletes. Coach Culpepper has high hopes for this trip in multiple regards and has no doubt that the Erie cross country team is going to stand out. "We are going to give it our best and represent Erie".