Graduating Seniors in Student Government
Every other day at 1:18 the C201 classroom fills with members of Erie's Student Government, ready to work hard to make Erie High School a better place for learning and socializing. The seniors in particular have worked hard all year to make their very last year of high school their best yet. Whether that's by making the posters students see all over the hallways or by attending school meetings and events to make sure that Erie has interesting and exciting school events, assemblies, and activities.
Many students in the StuGo class have specific jobs to make sure that each event runs smoothly. A lot of the seniors in this class are in executive positions, like Emily Frech as Student Body President and Joey Watts as Senior Class President. These positions require a lot of work and time to make sure they are done correctly. Frech states, "I manage all of the projects we do, so basically anything that you see that has been done by StuGo I have oversaw it and I have made changes to it and tweaks to it and just made sure that its happened in general…I do a lot, it consumes a lot of my day."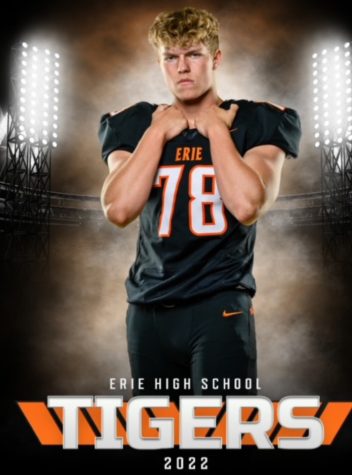 Although not all seniors are in leadership positions, some like Presley Ayers and Bella Rowzee are in the poster committee. This committee spends their time making sure students and faculty at Erie know what's happening around school. They make posters and display them around the hallways and on the mezzanine so all students can see them, "We make a bunch of posters to just kind of go around the hallway and raise school spirit or inform people of kind of what's going on or during homecoming week it's like crazy and during prom week as well," Ayers adds.
Being a senior in StuGo does not require having a specific job, a lot of seniors are general members, like McLaine Flynn. General members in StuGo usually give whatever assistance is needed when necessary. These positions are essential to a smoothly run Student Government as they add much needed organization and help. Flynn says, "I basically help our Student Body President, which is Emily Frech in whatever she needs for the day, I help organize things, get students involved and, yeah help wherever is necessary."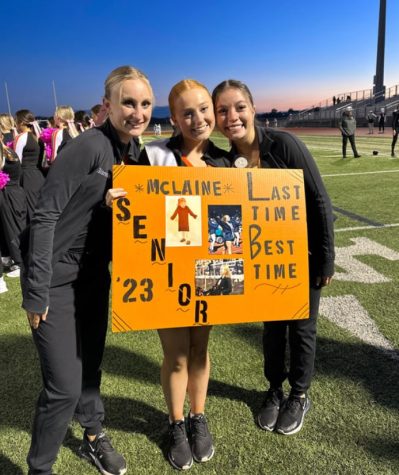 Even though Stugo is a mostly a student run class, every class needs a teacher or person in charge to keep things running smoothly. This year was Mackenzie Stuart's first year teaching Student Government here at Erie which means that she might have needed a little help from the members to understand how the class really works. This was a perfect opportunity for the seniors to step up and show their leadership skills. "I mean each senior just really helped me learn the ropes of everything, and like what traditions have been around within Student Government," Stuart says.
As the seniors get ready to graduate this Saturday most will be reminiscing about their past years working in StuGo. The StuGo community is known for being extremely close knit and everyone works together to ensure a fun and exciting year for students and faculty. Rowzee says "They're my best friends and so getting to see them every single day and just like having that time with them, that's what I'm going to miss the most."
A lot of seniors in StuGo will be, or have used their time and work in StuGo on college applications or job applications. Many students have valued this experience and will find that the things they have learned from StuGo can and will help them in decisions regarding their future education and job opportunities. Frech states, "StuGo really pushes me to be outgoing and just it's pushed me to be a leader and I wouldnt have necessarily considered myself a leader before I had joined StuGo and started to get into those leadership positions."
Being in StuGo is definitely not an easy task and having support from fellow seniors in this class is a must to always produce the best work. A lot of seniors in this class joined in the beginning of their high school career and have been working in it with their peers for almost the entire time. Although some other seniors joined for just the end of their high school career and help from the other seniors was useful as they learned the ropes of this class, Flynn, who just joined for her senior year adds, "The other seniors, most of them have been apart of StuGo for almost their entire high school career so it's just been fun to learn from them and see how their involved in school and events, assemblies and stuff like that."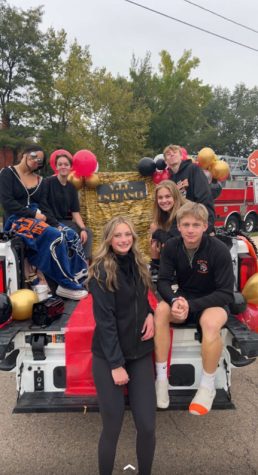 StuGo seniors have worked incredibly hard to make events, assemblies, activities and so much more memorable for the graduating seniors. This class has had everything but a normal high school experience since their sophomore year when COVID shut the world down. This year was the first "normal" year since then and StuGo wanted the 2023 class to go out with a bang and the rest of the school is going to miss them when they head off in all their separate directions.
The last day of school for seniors was this past Wednesday and they graduate this Saturday. Most seniors have committed to colleges and know exactly what they want to do and although Erie is going to miss their faces, many students and faculty are excited to see how far they'll go.