Evan Kraus: Running to the Finish Line
As the school year comes to a close, Erie seniors count the days until graduation. At Erie High there are a multitude of talented seniors, but one in particular is Evan Kraus. 
Kraus is typically a long distance runner, so his main events include the 3200, the 1600, the 800, and the four by four relay race. He also plans on continuing his track and cross country career in college at Creighton University.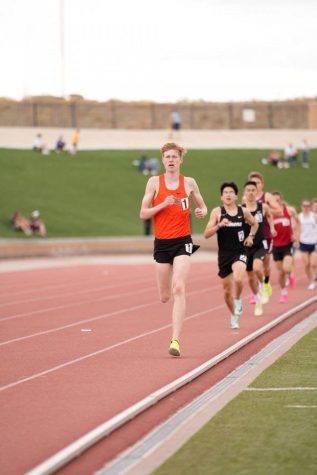 The track and field community at Erie is known for being very tight knit and supportive of one another, "all the track kids are basically my best friends, I hang out with them at school along with track," he adds. Kraus reflects that he is going to miss his track friends that he will be leaving once he graduates. 
Along with missing the track community, Kraus adds that he will miss the people of the school as well. "I mean they have the greatest kids in America- which I mean take it as you will- but I just think the people here are great," Kraus says, "growing up being friends with a lot of these people, they are the people that have kind of molded me into who I am today." 
Kraus' favorite memory from his entire high school career is the team dinners during cross country season. "The whole team will have like all this pasta and we'll go to someone's house and we just socialize there…I've had a ton of fun at those," Kraus says.
Kraus' plans for after high school include going to Creighton University in Omaha Nebraska, majoring in general chemistry. He is going to be running cross country and track for Creighton as well. 
As the last day of high school for our seniors comes up in just a couple of weeks, Evan Kraus and the rest of Erie's seniors are getting excited and ready to begin this new chapter of their lives, full of new opportunities to explore and learn.