Kenzie Ross: A Senior Under the Spotlight
As the last bell of the day rings, and the students of Erie high file out of the building, senior Kenzie Ross makes her way to the performance arts wing of the school. 
Since freshman year, Ross has worked the lights for theater by designing and operating the light board along with running spot cues. Ross has worked in multiple ways for the Erie Theater Department, like doing lights and props throughout her tenure. Throughout the duration of the production of each play and musical, Ross is working almost the whole time, as making props is entirely pre-show work and working the lights is mostly during the show.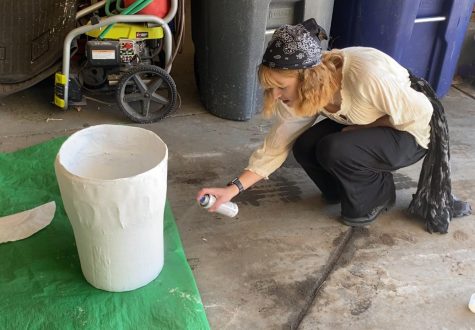 Similar to how many kids at Erie High put their talents to use in ways other than just one subject, along with theater Ross plays the trumpet for the symphonic and jazz bands. She explains, "I don't perform as an actress, so I like performing as a musician."
Friends and fellow performing arts students have nothing but good things to say about Ross, "Kenzie is super giving and always cares about everyone and always puts her all into everything" Miranda Wood, a peer in the performing arts department and one of Ross's good friends says. 
After high school, Ross plans on going to Elon University in North Carolina, majoring in business administration, market concentration and digital marketing. Ross mentions, "I'm excited to get out of my comfort zone because North Carolina is across the country; that'll be a new experience."
After being involved in various extracurriculars, Ross expresses the little things she is going to miss about the theater department, "being able to depend on people all the time, being able to come in and see all my friends and know that they're all going to be in one spot." The students of EHS will definitely miss seeing her face in the hallways as well. 
Being a little over two months away from graduation and the end of the school year, the EHS community is sad to see their 2023 seniors go, but they are excited to watch the soon to be Erie Alumni go above and beyond in everything they do.