Soothing Strings: Erie High Student Takes on a New Challenge
Taryn Petruncola is shooting for the stars as she builds her own business as a sophomore in high school. 
Petruncola has been playing the harp since the age of six, but along with her musical talents, she is on the EHS volleyball team and is an AP student. Her idea to play the harp as a business started because she enrolled in an intro to business class through the Front Range community college. As she explains, "It was an assignment for my business class, but it turns out that I actually wanted to pursue [the business]".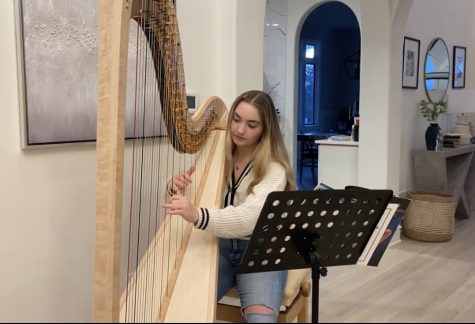 As one of the only teenage harp players in the Denver area, she enjoys using her talents to help people in need. "I play for people in nursing homes, on hospice, or people who are sick to help them heal and relax through music". Petruncola goes on to explain that music is able to help spark memories from people who suffer from dementia or memory loss itself. "I was playing my harp for a group of people at a senior center, when this one sweet older lady asked me the same question five times in a row, not remembering what I would answer." She says, "but when I started playing 'Can you feel the love tonight' by Elton John, she was humming and singing along word for word, almost like she suddenly remembered everything." 
When she started volunteering at nursing homes a little over a year ago, Petruncola quickly realized she has a passion for helping people through her music. "When I go play in retirement homes, the look on people's faces when they realize I'm playing songs from their childhood years makes everything worth it." 
Since Petruncola is still a high school student, running a business all by herself comes with its own challenges. Her mom has helped advertise her business and build up a solid foundation, so that she has the right tools to pursue what she loves. "Me and my mom are currently working on building up a website to make everything easier, but I do all of my own scheduling."
Petruncola is still working out a few minor flaws, but overall, she expresses that the challenges she is facing will be easy to overcome as time goes on. "Developing my business wasn't very difficult because I had a lot of help from my business professor, and I was guided very well in that class. The hardest thing right now is scheduling with customers, as I am also busy with volleyball and school, and of course harp lessons and practicing every day."
She expresses how much she has enjoyed starting a business from scratch, and she wants other teenagers to know that the process isn't as scary as it seems. "I would really recommend taking Intro to business from Front range, but if not come up with a good business plan and advertise well to let people know about it. The process may seem rocky at first, but it will become enjoyable before you know it".
As she is only a Sophomore, Taryn has lots of time to continue showing what she is capable of, and to finish building her business to its full potential. Her friends, family, teachers, and everyone else in her life are delighted to see how far she has come with playing the harp, and excited to see what the future holds for her.