Tobin Echohawk: Erie's New Head Softball Coach
As of the 22-23 school year, Erie High has had a new face join the teaching and coaching staff. Tobin Echohawk is not only one of Erie's health teachers, but she took on the role of the new head softball coach.
Though it was her first year at Erie, Echohawk has many years of softball experience behind her. Playing from when she was about ten, to playing through high school, she eventually played college softball as a Nebraska Cornhusker. Like many other young athletes, in high school she played other sports like basketball and soccer and even ran track. Her reasoning behind playing these sports was different than just having a love for them. "My parents always told me if I was involved in sports, I didn't have to work. So, I chose sports over working." 
Choosing to play softball instead of working led her to many amazing experiences. "I went to college and I played professionally, I got to see the world and I played in Italy for three years, and it was just amazing to see what sports can add to your life."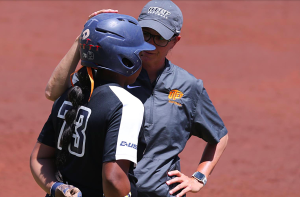 Along with playing the game of softball, Echohawk coached at Broomfield and Centaurus, two schools Erie has been competing with for years. She continues her relationships with players she coached in the past, with one of her assistant coaches being a previous player she coached at Centaurus. After coaching high school for a bit, she went and coached softball at the Division I level. "I coached at Portland State for eight years. I coached at University of Texas El Paso for seven years, and then before I came to Erie, I was at New Mexico State."  
Echohawk grew up in the Denver area, and after being gone not only coaching but playing softball out of state, she wanted to find her way to live back closer to home. She wanted to spend more time with her parents, who still live near here, but also to be able to spend more time with her young daughter. Erie had an opening for a softball coach a few years ago, and though Echohawk considered taking it, "It just wasn't the right time, and I wasn't ready to stop coaching in college." But, when this past season's job opened up calling for a new head coach and coaching staff, she called Justin Carpenter, the athletic director at Erie, because "I couldn't let [this opportunity] pass me by." 
The varsity softball team went 24-4 by the end of the season, having a 23 game win streak. With shutting out other teams for 11 of the games, the highest scores being 16-0 and 15-0 three separate times, it is clear that it was a successful season for the varsity team. With five seniors and the rest of the team being primarily juniors, it is evident that the team already had a bond that Echohawk only enhanced and made stronger.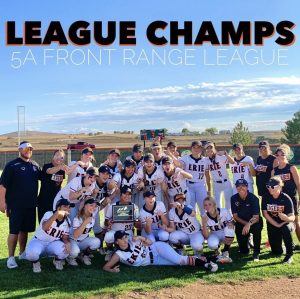 Throughout the season, Echohawk ensured to make the team feel connected with each other. Last season, the team experienced some rough patches since the coaching was inconsistent. 
Though coaching high school softball is different from college, she made ways to have the team bond like they might not have the previous season. "When you're coaching college, your season is in the spring, so you have all fall and all spring to get to know each other and learn about each individual teammate." Only having pre-season weightlifting activities for the girls, there is not much time for them to become a solid team. She then counted on the team to help get everyone in the program on the same page. "I feel like our seniors did a great job of embracing me and listening to me, buying into what I was trying to tell them." 
In the beginning, the team only had three practices before playing in a tournament in Oklahoma. Though they went 2-3, those were the only games they lost until the last game of the season. Coach Echohawk saw this as a bonding experience for the team. "To me, it was such a learning moment, the team came together, and we were on the road. The team started to bond a bit, but they didn't make it difficult to become a true team." 
One of Echohawk's biggest goals for the softball team was to alleviate as much stress as possible and to keep reminding the team that their value is how they are as people, not how good or bad they are playing. "I feel like sometimes we lose sight of that, and we just put all this pressure on kids to be successful. I tried to let them know that success is who you are and not the things you accomplish." The culture she was trying to create was valuing each other for who you are not what you can do on the field. 
Keeping positive energy and reminding the girls that sports are supposed to be fun experiences provided a successful season for the team. "I always tell them, you're not gonna remember strikeouts, you're not gonna remember home runs, you're gonna remember the relationships that you form, all the fun times and the bus rides and the dugout, and all the things you feel no pressure with," as she explains, "those are the things that you carry with you for the rest of your life." 
Paving a path to a successful season, Echohawk gave her players a book in the beginning of the season titled "21 Ways to Be a Great Teammate." As Echohawk says, "To me, being a teammate is about how you treat each other, the good times, the bad times, when you're frustrated, when things are going well, you have to learn to be a good person." 
Even with all of her efforts, Echohawk still explains how every team will have aspects to improve on when talking about teamwork. "That's one thing that I focused on the most, I'm really big about how you talk to each other, how you interact, how you communicate. At first we weren't spectacular at it, but if you were to come watch us the last couple weeks of the season, we got really good at it and started to show how we care about each other." Seeing how these team members continue to grow closer to each other, it is only imaginable what this team will come to be over time.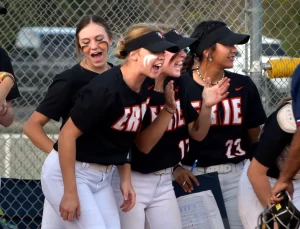 The five seniors that will not be returning next year will be missed by the team, but the large junior class will step into the roles of being the uppermost classmen. Echohawk expresses that she saw glimpses of what the juniors are truly capable of, but also that they know how to have fun with the sport. "Some of [the players] said, 'you made me love the game again', and to me that is my job. I'm supposed to make them have fun and enjoy what they are doing." Even with new girls that will join the team next year, Coach Echohawk will continue to uplift the atmosphere on and off the field. 
As the next season comes up, Echohawk doesn't just see it as another opportunity to get victories, but to continue to grow the program and the people in it. She looks for team members that will show progress, even if its not during the school season. "Hopefully they all can carry the positive energy through this summer because they all play competitive, so continuing to practice is very important." 
Even though the team did not take home a state title, Echohawk still counted this season as a victory. "I know we didn't win a state championship, but I know that they became better teammates to each other and better people, and to me, that's a win." Later saying, "Obviously, our goal is to win a state championship because we have almost everyone coming back. The hopes are high, but then again, that's not the number one goal. The number one goal is to continue to grow as people." Showing her perseverance to be the best coach possible for her players, it is no doubt that she is shaping these kids into being great team players, and just to be overall good people.
As a pervious player, Echohawk understands the stress and pressure that goes into being a team player. In her case, playing sports gifted her great life experiences that made her who she is today, and all she can do is show gratitude to this lifestyle. "I feel like there's so much pressure on how you succeed, but to me I am so grateful that I played sports because it introduced me to so many different things and it brought so many great experiences into my life." Coach Echohawk cannot express enough how much she wants her players to succeed and thrive in the sport like she did. 
From being a mother, teacher, player, and coach, Echohawk brings so much to the table in terms of motivation and overall good intentions. Having the opportunity to coach and teach at Erie brings a whole new perspective to the community, and people are excited and intrigued to see what comes from Tobin Echohawk for future years and seasons.