Erie Cheer Junior Tigers
The Junior Tigers have come back again for another fun night of Friday Night Lights, they join the Varsity Cheer and Dance team as they cheer on the Erie Football team on the sidelines and get to preform a fun wholesome halftime routine!
This cute and sweet little tradition happens once or twice a year to really give great opportunities for little girls who dream of cheering at Erie some day. These Junior Tigers register online and help the cheer and dance team fundraise money for things like Poms and new Uniforms, once they're registered they are ready to take on a fun night of learning not only a dance routine but how to stunt and cheer on the sidelines.
Nora Roth, Erie's Varsity Head Coach along with Erie High's New Varsity Head Dance Coach Hallie Lockhart work together to help these future tigers have and gain the best experience possible. "This tradition gives us great opportunities and really puts us out there as well as helping our department raise some money for things like Signs, Flags, and even Poms!" Nora Roth states.
"My daughter loves this time a year, she really gets to feel like a part of the communities Erie Varsity Cheerleaders" A Parent explains as she drops off her eager daughter.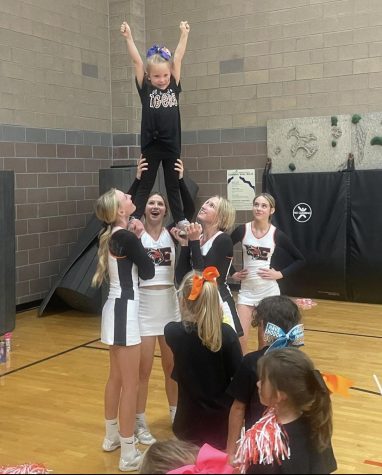 A lot of thought was put into making this event as close to perfect as possible, after all the community gets very excited for fun little events like these. There is a ton of preparation in advance that goes on as well from not only cheer but dance, Nora has the cheer team pick the most fun cheers to do on the sidelines and go through to make sure all of Varsity knows every cheer. A classic is the Cookie monster Chant for the sidelines a "fan favorite" by the kids. Hallie Lockhart went through and made sure not only Varsity but a select few of JV members knew the dance they would be teaching the kids, they make a special routine just for the Junior Tigers every year. There are about 30 Varsity Cheerleaders to help lead, and 14 Varsity Dancers with the added 9 JV members all helping out with 150 junior tigers, Each person is pared with around 6 Junior Tigers to make sure each kid is safe and accounted for.
Erie's community comes together for this Friday Night Light as they watch not only the game go into play but the lively sidelines. Things can get super hectic so a lot of supervisors are out making sure nothing goes wrong, Justin Carpenter, Molly Irwin, even Courtney Stanesa keeping everything in check. The stands get super crowded as the student section is pouring out of the stands as usual but this time there are so many parents for the Junior Tigers they almost pour out of the stands as well.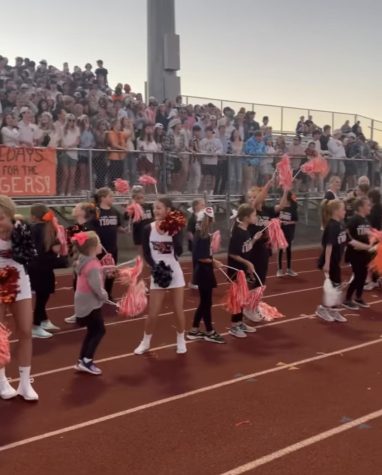 The Junior Tigers was a huge success every one was happy in the end and got to experience an amazingly fun Friday night light with the Junior Tigers getting to leave after their big halftime performance to get home to their families and talk about all the fun memories they just made.