Fall Choir Concert
Now that the fall semester is well underway, the choir department is preparing for their fall concert on October fourth at seven pm in Erie Highs auditorium. It has been two years since the choir had a fall concert without masks and everyone's excited. 
Thalia Burd, Erie's choir director reflects, "It's been a tough couple years just with covid. Choir does not work well online but we've recovered from those WebEx days and now we're thriving". Apart from the difficulties brought on by covid, the choir department had to transition choir dir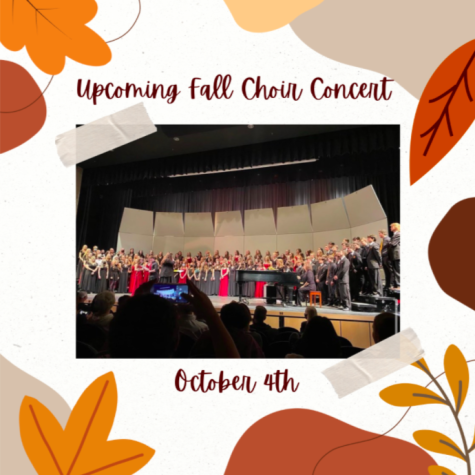 ectors at the same time, which the previous director Mrs. Bird passed the mantle to the new director, Mrs. Burd.

Maddie Adams, a senior and member of CR5 explains, "Well it definitely had a drastic change due to covid and the switching of birds, but it has all changed for the better because the new bird is great and she's helped us in many ways. She's not only a teacher but a supporter, she tries to get us involved and improve our musical abilities as we progress."
In addition to the difficulties caused by covid, the choir department has had the challenge of learning their difficult songs. One of their most complicated songs is an all-state level song in Latin which choirs such as CR5 have been working hard to master since August. 
Adams explains how "My[her] favorite song and I would argue that it's most of the choir's favorite song, is Daemon. It is fast-paced and really challenging to learn but when it comes together it sounds amazing". Due to the challenging level of music for this concert, choirs such as CR5 have had to focus in their rehearsal time on perfecting their performances. 
Adams goes on to detail their preparation process, "Practicing in small groups which we call sectionals. So that's where you're with sopranos, tenors, bases, altos. We do those like once a week to really iron out the specific things that each section has to fix. Then we do a whole group as your choir every single day for about the whole class period."
Apart from each choir's individual songs, there is a tutti piece that they all sing together, however, Thalia Burd describes, "There isn't really a time where we get to come together and practice the combined choirs' piece until the day of the concert. So we always have our dress rehearsal at three PM the day of the concert."
 In addition to the impressive musical composition behind this concert, the songs were also selected to send a message that brings people together through the power of music. 
Burd explains how "I[she] always try to pick music that says something. Music that might be hopeful or uplifting or connect to people in a way that just makes them feel something and helps make our world a better place."
This particular concert's tutti piece is the heart of the message for the fall concert. Thalia Burd describes the piece, "It's called requiem and it's basically a plea for the world to be better and have healing, so whether that is from covid, a tsunami or from the marshal fires its people coming together to heal and make the world a better place and find hope again."
Come see the fall choir concert on October 4th at 7 pm in the school auditorium to support Erie's choir department.