Joey Watts: A Name to Remember
Though it was hard for many at Erie High to say goodbye to seniors from last year, no seniors of the 2023 class are ready to step into the role of being the  uppermost classmen. Joey Watts, one of our seniors this year, is ready to take on as much as he can before his final year of high school comes to an end. Watts is a starter on the varsity football all team, along with the Senior Class President, and on top of all of that he is running for Senior Homecoming Royalty.
One might wonder, how does he manage his time with all that he does, but Watts sees it as a way to keep him in line. "Being in football and being senior class president, I feel like it holds me accountable with my grades, so with football and everything, I strive to have better grades than even if I wasn't in football."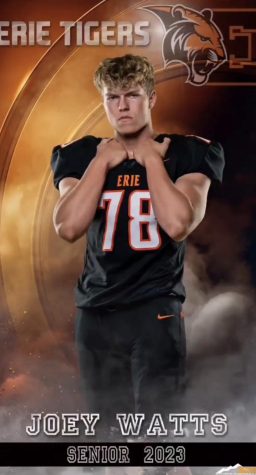 Being senior class president comes with a lot of responsibilities, but Joey looks at the bright side and enjoys seeing everyone else having fun. "My favorite thing about senior class president, it's just going to STUGO, helping with the pep rallies, and just seeing people have fun on the spirit days."
Though Watts focuses a lot of his time on being senior class president, football still plays a big part in his high school life. If you were at Erie for the 21-22 school year, you would know how big of a deal it was to go to the 4A state championship game held at Mile High Stadium. Though the game didn't end the way we all hoped it would, it was still a memorable experience for everyone. "So far, I think going to state last year and playing football was a highlight for sure." He says, and he can't help but smile when remembering the greatness of the day.
Being a part of so much at EHS means getting to know everyone and the community that comes along with it. The students at Erie High get to experience what it's like to be a part of a small town and the upbeat energy that comes along with it. Watts is no different, " Yeah I just really like being involved and I love Erie, I love being a part of this community."
With an open mind and big hopes, he is looking to go down a career path that some wouldn't expect. Without knowing for sure, he is hoping to find a career under engineering or something along the lines of computer sciences. Watts wants people to see him as someone who is productive and likes to get things done, but with all that he does for Erie, that shouldn't be a problem.
With only being a little over a month into the school year, Watts has already accomplished so much, and we are excited to see what else has to come with his leadership role. Though it will be sad to say goodbye to him at the end of the year, the school will thrive in what he has to offer and continue on his ideas as we continue to grow as a school and community. All Erie has to say is, 'thank you Joey for everything you do at EHS!'