The Road To Nationals: Tiger Poms Take On Disney
As the stage is set and nervousness fills  the room, the Erie Tigers Poms team is ready to serve out a show. After a tough loss in state to Roosevelt Poms, the Lady Tiger Poms found themselves coming up short. But with their heads held high, and the Nationals stage in the near future, the Tigers were straight back to work. On Friday the 28th of January, they took the stage once again to show the crowd what they are made of, and what they are bringing to the Nationals stage, at the Disney World Resort. 
When it comes to being a part of the Erie Tiger Poms squad, head coach Chelsea Incorvaia holds high expectations for her girls and the program as a whole, "Being present at every practice, being on time, following dress code, having all your gear and knowing choreography when you arrive are all things that I expect from the girls day in and out," Incorvaia states. "I also expect 110% at every practice. If one person is not giving it their all, it affects the entire team". With those expectations set and Nationals right around the corner the Tigers are practicing four to five days a week to prepare.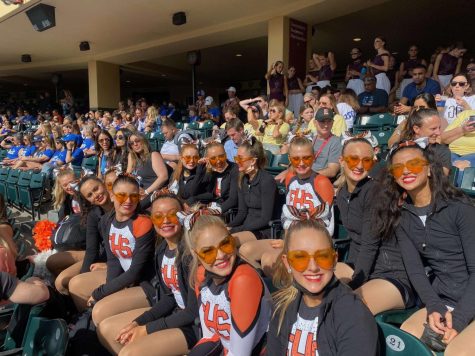 Considering all the girls' hard work and dedication after state, the showcase provided the girls with one more opportunity to showcase their talent to their friends and family. Incorvaia explains that, "We are holding our annual dance showcase for a few reasons, to raise money for Varsity for Nationals, to showcase our Nationals routines in front of a hometown crowd, and to invite local dance teams to perform and showcase their skills during a high school show and be a part of the Erie Community." 
That night the crowd got to experience performances not only from the Erie Poms program, but also from Dance Space in Thornton. Both programs featured hip hop and poms performances from all ages. Along with the routines varsity performed, the crowd got a special gift from the seniors on the team. Heidi Warlock and Kaelyn Decker performed a duet to "History" by One Direction. Warlock says, "The night before the showcase, after we both got off work, Kaelyn came over around 9 and threw together a routine on the spot." The girls performance brought the crowd to tears, including Incorvaia. 
After a night of success, and only five days until leaving for the Nationals competition in Florida, the Tigers worked hard to perfect their skills and routines before leaving. Sophomore Cora Hoeft explains, "After the showcase, and leading up to Nationals, we will continue to perfect our routines and ultimately just keep installing the trust in each other and trust that we are gonna do what we need to do to prepare ourselves for anything that gets thrown at us during competition." 
The Tiger Poms Squad left for the Florida Disney World Resort for the competition on Wednesday, February 2nd. After many bumps in the road, Incorvaia says with a smile, "We have learned to overcome obstacles by working harder than the year before. We are relentless and won't let anything stop us. By not winning State this year, it has only fueled us to come back stronger and better and work harder to kill it at Nationals!"