Jacob Rupp: From Rainclouds to Sunny Days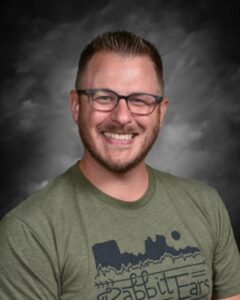 When students walk into Jacob Rupp's classroom, they can see the sun shining through the window: A sight that he almost never got to see during winter when he was growing up in the town of Puyallup, right outside of Tacoma, Washington. 
Rupp says, "A town with a name like Puyallup sounds like it's really small but it's about the size of Longmont." He added, "You'd go months without ever seeing the sun or seeing it almost never with constant precipitation. You'd have hundreds of days in a row of measurable rainfall." 
Rupp mentions, "I just always wanted to go somewhere else, is just what it came down to." When it came time to apply for colleges, Rupp applied for Free Application for Federal Student Aid, "to further [my] education that [I] don't have to pay back…I got 80% of my college paid for in grants" 
Rupp wanted to go to school in someplace warm. He says with a laugh that, "I only applied to schools that had palm trees in the pictures, because I didn't know what to study…I just wanted to be warm." He ended up applying to Florida State, Arizona State, and UC Berkeley. He was accepted to all three and decided to go to Arizona State. 
"I didn't go into it wanting to become a teacher. That never even crossed my mind." He says. His interest in teaching began when he read his girlfriend's textbook on educational psychology. "It basically seemed like this idea where if you were observant enough to recognize how people could think, you could teach them stuff." He said, "I'm not really majoring in anything else anyway, so I'll just get into education. And I liked it. I liked it a lot." 
Rupp and his wife wanted to move to Colorado as a place to resume his teaching career. He knew if they didn't he would regret it for the rest of his life. "Do you ever just get an idea that you want to do something and so you kind of have to do it or else you're going to think about what would've happened if you hadn't done that thing?  It's gonna be the thing that burns in your head. Going to Colorado was that thing for my wife and I…we had never been here. It wasn't based off anything."
Rupp had taught at 3 schools in Arizona before coming to Colorado, then 5 schools before finally coming to Erie High.  Rupp says, "I took the first job I could get and it was at a middle school in Greeley." He then moved to Valley High School in Gilcrest because "I am terrible at teaching middle school." He says. He spent 5 years at Valley High School before coming to Erie. "I'm on my 5th year here because I wanted my kids to go to school in this area."
The first time Rupp came to Erie was for his niece's presentation in Erie X. "Erie X is a program where they take these students from AP Lang, AP Research, and AP Seminar that have done this exemplary work. At Erie X, these students get to present it in this TED talk style presentation." He said, "These students were presenting this research, and I was [thinking], what is this school? I've never seen anything like this ever, but my niece was presenting in it." At this time, Rupp was looking for another job. "My buddy called me and she was like, 'I went on the website and Erie has an English job open, but there's only one and it closes on Friday. That was on a Wednesday, and just like moving to Colorado, I [thought], I have to do this." 
Rupp said he was, "the top four or five people out of the 90 or so that applied for this job and I got the job." He adds, "I didn't know I needed it when I woke up that Wednesday, but I knew I had to have it when I went to bed that Wednesday."
According to Rupp, Erie High is a special school because, "…many students at Erie High School say thank you when they leave the classroom, and have never really thought about it. How outwardly kind students are with their willingness to say that a teacher did a good job." He concluded the interview by saying, "I've had opportunities to man the barbecue for the theater barbeque. I can go run the scoreboard at the football games, and I can create these classes where students learn about young adult novels. There's just so many welcoming spaces in this building. I've never been to a place with so many welcoming spaces. That's what's special [about Erie]."