Top 50 Athletes At Erie 30 To 21
I'm finally back with the next ten athletes, I apologize for this taking so long to come out but I've finally been able to get back to working on the list. I will be releasing the 20 to 11 list after winter break. Thank you for your support and lets get to the players.
Honorable mention, Lindsey Sebesta, Senior, Volleyball
Lindsey was a four year player in volleyball but was unable to finish the season this year but made a stamp on many of the people on the volleyball team. Her encouragement to teammates and younger players was something that impacted the success of the team by helping build on a focus on teamwork. Her play in 2019 earned her a player of the month award in September and was a huge contributor to having a winning season last year. Lindsey was no doubt a key factor in them being such a strong team this year and has left a mark on the younger grades but the seniors on the volleyball team.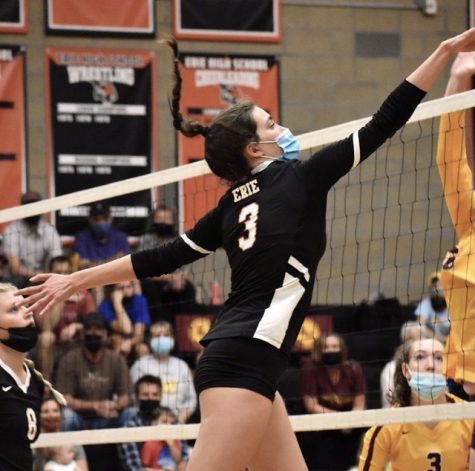 #30 Katelyn Gardner, Senior, Volleyball 
Gardner was a key piece in what became a strong Tigers volleyball team. Not only that but she has been a key to the upbringing of many of the younger volleyball players. Her blocking ability is one of the best on the team, leading second with 104 total blocks. She also does a fantastic job on offense, with 55 kills this season. Hannah Osmann says, "Katelyn is an amazing all around player. On the court she is such an aggressive middle blocker, who frightens the hitters on the other side. She is also a very smart offensive player, placing the ball in places, knowing that a point doesn't always mean she slams the ball to the ground, but rather finding the weaknesses opposite of the net. Off the court Katelyn makes everyone feel as though they belong, and that they have a friend in her."
#29 Logan Hale. Sophomore, Golf
Logan Hale has become an intriguing up and coming player to the huge collection of sports at Erie. Her skill over the last few years shows how much she has put into learning and playing a tough sport like golf. Hale's 2018 season stands out the most, with her being named '2018 player of the year' by the junior golf alliance. That season she was a part of nine tournaments, and she was in the top ten during eight of those events. The next three years were also head turning for her, since she still has not placed below the top 25 in any tournament she has played. Last spring was one of her best seasons, with Hale playing a total of ten tours, and placing in the top ten in eight of them. That is pretty outstanding. While it might seem like she started playing golf as her first sport, she actually started with ski racing when living in Vail. You do not find many people who have had the opportunity to do that at a level like she did. Logan has only just begun her journey at Erie but so far it seems that she is going to be someone to watch closely for years to come.
#28 Anna Lillie, Junior, Swimming 
Swimming is a grueling sport that pushes competitors to the edge. Anna Lillie has pushed past that edge, and has competed at a high level in her first 2 years as a Tiger. She is a fantastic athlete who competed in some tough events, and has come out victorious against other swimmers in the state, winning multiple events over the years. Her win totals are impressive, with 14 first place finishes and 7 second round places. She has been a strong swimmer her whole career. She has also competed in championship events, placing top 10, Including CHSAA's 3A championship where she placed 7th in 50 yard free with a time of 25.46 seconds. Her role with the team will keep getting bigger, with this year being the time where she will possibly be one of the best in the state and take the whole team to new heights. We have only seen a small amount of her potential, and it is frightening to anyone having to compete with her only halfway through her high school swimming career.
#27 Caden Lettis, Junior, Football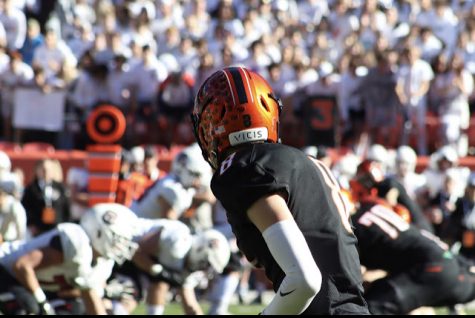 #8 Caden Lettis (Jillian Briganti)
To many the breakout player for football this year is Caden Lettis. Lettis showed many why he is number 19 in the state at the wideout position. With 400 yards and 8 touchdowns, Lettis gave other teams' defenses struggles trying to control and cover him. One of the most underrated parts of his game was how much he pulled defenders off their original responsibilities. Not to mention that his corner play is lockdown, and with him having 24 tackles and a QB rating of 57.5 it is almost impossible to throw anything around him without it having consequences. Plus, he is doing all of this with a cast on his hand. Lettis has proved himself a top weapon for the explosive offense, and a lockdown corner on defense. You cannot ask for any better from a guy giving it his all every Friday night.
#26 Colin Selters, Junior, Lacrosse 
Playing goalie in lacrosse is not an easy task at all. But, despite only being in his sophomore year, Colin Selters became a star goalie for Erie's lacrosse team. With 450 minutes at goalie, Colin has proved he is a game saver. He has had teams shooting 169 times at him over the span of 12 games and he stopped 102 of those shots.Selters' save rate is above average with a 60.3 percent save rate, while the average save rate for most goalies is 50 percent. That is  good at the high school level. The play he has made is not just seen in Erie, but around the whole state. He has been selected to a CHSAA all state second team, all while only being a sophomore. He is only going to get even more formidable for other teams, and will be someone to keep both eyes on as he gets ready for his junior season of lacrosse.
#25 Emma Osborne, Senior, Softball
Paige Gilbert, Osborne's teammate, says that, "After getting her chance her freshman year of softball, Emma Osborne has only been on the incline since then. After her freshman year, she found herself being the starting center fielder throughout the remainder of her highschool career. Emma not only was an outstanding teammate, acting a "sisterly" figure, but she also racked up many athletic achievements. Some of which include, 2019 CHSAA All State Honorable Mention, 2019 BoCoPreps All Regional Honorable Mention, 2019 Tri Valley All Conference Team,  2020 First Team All Conference, 2020 BocoPreps All Regional Honorable Mention, 2021 All Conference First Team, 2021 BocoPrep Regional First Team, and Second Team all state. With all those accomplishments, Emma Osborne definitely proved herself as extraordinary and a huge part to the Erie softball program over the last 4 years."
#24 Gauge Nichols, Senior, Football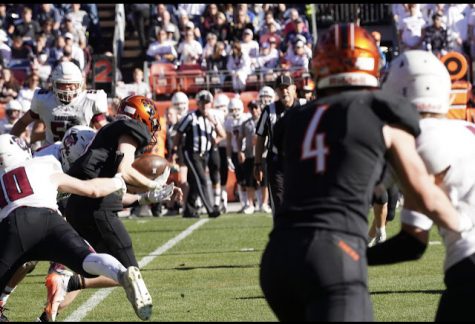 Gauge is one of the toughest working players on the whole team, and he helps to improve his teammates around him. Playing wide receiver seems natural for him. With 364 yards and 7 TDs, Nichols has been a top target for the QB's. Not to mention, he is averaging 17.3 per catch on 21 catches. He has also been an impactful playmaker on defense: having a 60 percent pressure rate at the outside linebacker spot, which is above average. Nichols' push to be the best is incredible to see, as he wants nothing more than to win this season and do it with all of his teammates. He leads by example and shows younger, and even some of the older teammates, what it takes to be a leader and to keep pushing to bigger goals. Gauge will not stop until the goal is done, then he will move to the next challenge in his way.
#23 Parker Patzer, Senior, Volleyball
Parker Patzer has been an all-around worker for the Tigers volleyball team. Since her sophomore season, she has been a consistent player in both kills and blocks. This last season she totaled 34 k's while also having 63 total blocks. She is dangerous on both sides, with her having the ability to play offense, and defense at a high level. Hannah Osmann, Patzers teammate, says that, "Parker Patzer does well in mixing the value of a steady teammate, and playing her best on the court. This season the audience was given the opportunity to see her talents in serving, and her ability to control the ball as it speeds through the air, trying to find the empty spot on the other side. Parker is also an advanced middle hitter, in that she does well to control the ball there as well. She also makes everyone from the managers to the girls on the lowest level teams feel as though they are important. Parker, like the other senior players, was very important to the "sisterly" bond that was part of the volleyball program's season, and her impact will rest with the younger girls for years to come."
#22 CJ Reeves, Senior, Football
CJ Reeves is one of the scariest players to go up against on a bruising tiger defense. He has been an anchor to the secondary by controlling the middle of the field and swarming anyone unfortunate enough to be  holding the ball. He is one of only two players to go over 40 tackles this season, with 48 total tackles. That is a rare number for his position as strong safety. CJ is also tied for first in interceptions, with 3 over this season, one of those going for a pick-six. He is a consistent playmaker who will have a highlight play every game. I would not even call him a safety sometimes; he can come up in the box and play linebacker, or cover wideouts perfectly as an outside corner. I would not be surprised if he could play some Dline as well. CJ is one of the most versatile players on the field and makes any ball carrier wish he played offense.
#21 Trenton Rowan, Senior, Baseball/Basketball/Football
Trenton is another new face to Erie, but his arrival has been explosive and unique.
His stats in baseball last season, playing for Flatirons Academy, was incredible. With an average of 0.525, Rowan is a consistent hitter, and he also has 34 RBI's and 9 home runs. He led in both categories and was a huge reason why the Bisons were 12 and 3 last season. Trent will keep playing after high school, having gotten an offer to play at Garden city next year. He is also skilled when it comes to basketball. Since he is averaging 7.8 points per game and 4.1 rebounds he will be a great addition to what is looking to be a strong offensive on the Tigers team this season. If that was not enough, Trenton was a star in Football. In his first 3 years of Football, he combined 46 catches for 900 yards and 16 total touchdowns. Not to mention that he also was dominant on defense, with 75 total tackles and seven sacks before joining us at Erie. Rowan's play has awarded him with two CHSAA all-state first teams. He also had a second team that came in his first year in basketball, and multiple players of the game awards. It is safe to say he will keep winning more awards, and will strive to be a huge key to both Baseball and basketball for Erie.
For any questions or and opinions feel free to contact any of these media's 
Personal
Email:[email protected]
Instagram:@Josh_zero73
Erie tiger media:https://erietigertimes.com
Instagram:erietigermedia