The Leagues Of Their Own: Erie Spirit Squads
Every Friday night spectators can see the cheer and dance squads busting a move and flipping through the air into the night sky. However, behind the scenes these two squads are hard at work, competing for a state title of their own. 
On November 10th the two teams headed to Centaurus High School to compete for leagues that would have later advanced them to state. The energy in the gym was bursting with excitement and support for your Tigers as they did what they do best to win. 
With a great turnout that evening, senior Kendyl Tyson, who represented the cheer three-time back-to-back state champ squad, says that an enthusiastic crowd is beneficial to a great performance, "It encourages us to give our cleanest and loudest performance. It makes us really want to get the crowd involved, and when we hear everyone yelling with us it feels amazing!"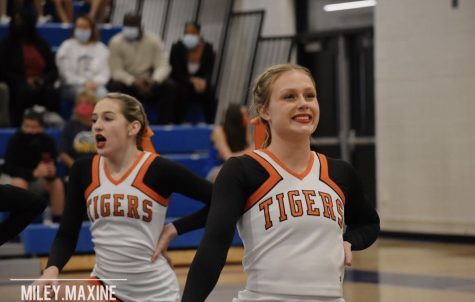 Sophomore cheerleader Jada Kloppe adds, "A big crowd helps influence our performance because it just gives us all energy…it's just easier to shout when you know people are shouting back in support."
Like in any other sport,  Tyson and senior dancer Kaelyn Decker, have pre-performance rituals to settle their nerves, and get them ready for whatever is thrown at them. 
"For me personally, it's helpful to listen to my music and get through the routine in my head. We also always do a team huddle before we get on stage, which gives everyone reassurance that we are all on the same page and we're fighting for the same thing," Decker explains after stepping off the stage. Tyson, similarly explains, "To get in the performance mindset I have my own little rituals I do myself and with other teammates, as do the other girls. Sometimes it is jumping around to get your body moving, or a handshake with another girl, or a certain way you step on the mat."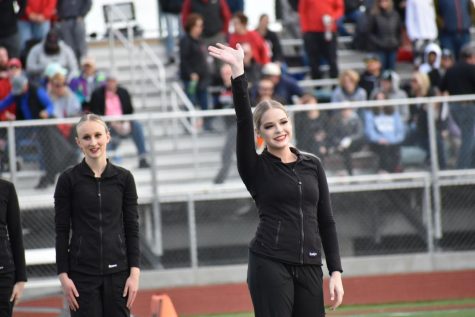 With all the nerves aside that night, the Tiger squads walked away with the 1st place title, sending them on their way to state. Both cheer and dance gave the crowd a show, and certainly did not let anyone down while doing so. 
"We really stepped onto the mat and gave everything we had. Though there are places in our routine where we could have cleaned up our skills, we made a statement that Erie girls cheer was not here to mess around" Kloppe says with a smile.