Spiking Their Ticket To State: Girls Volleyball
The girls volleyball team walked into playoffs as the seventh seed, set to face Canon City and Lewis-Palmer. Coming off a loss in their last regular season game against Holy Family, the Tigers were out for two big wins to secure them a regional title and a spot in the state championship. 
Katelyn Gardener and Maggie Olson, both captains on the squad, had high expectations going into regionals, and knew if everything fell into place, their team had what it took to go far in the postseason. After coming off an initial loss in the beginning of the season to Loveland, the Tigers found their groove and started on a 14 game winning streak. 
"[Loveland was] a really strong team and I think we've come a long way since then. We went on a winning streak for a good majority of the season, and with that we got a strand of easier teams for a few weeks, which really boosted our confidence and cohesiveness as a team" Gardner explains.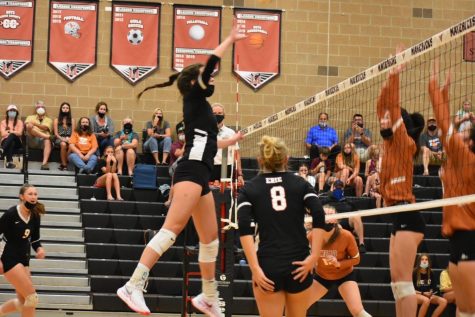 Before stepping onto the court to compete for the regional title, Olson said that during their practices as they prepared to be successful the weeks leading into their matches, "Our biggest struggle throughout the season was our overall communication, so we focused on having fun practices revolving around that. We played the music super loud, forcing us to work on our communication as a team."
The Tigers secured their regional title and spot in the state championship, after shutting out both Canon City and Lewis Palmer in three sets. "As well as working on our communications, we worked a lot on our defense because we've been running a new defense lately. We focused a lot on running down around the block and I think that implementing that in the games today was very beneficial to the wins," Gardener commented later that night. 
"With state now being in the near future, we plan to focus on not getting into those ruts in those long point runs, but mostly just keeping up our communication and keeping up our energy and supporting each other throughout the entire match," Olson says, smiling, while holding the regional title trophy.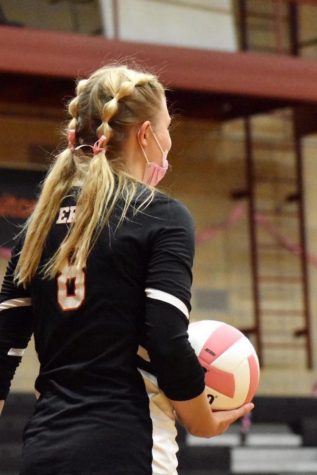 The next weekend, the Tigers traveled down to Colorado Springs to compete for a state title. In their first match on November 11th against Holy Family they fell short, three sets to one. The next day on the 12th they fell short once again to Discovery Canyon in five sets, making their final match of the season a close and a hard fought game.