Top Athletes At Erie 40 To 31
This week's list will go over players 40-31, and I will also be adding one honorable mention each week. These are people who were unable to finish their season. But, I still feel they deserve to be mentioned on this list.
Honorable mention: Paige Gilbert, Senior, Softball. 
Paige was with the softball team for three full seasons before she had to step away, but she is one of the most dedicated people at whatever challenge she is dealing with. Paige has played at a high level since her sophomore year. She had a great bat at the plate, and strong pitching skill on the mound. Her attitude shines everyday and that brought comfort to her teammates and friends. I have been able to work with her in the Tiger Times. She has done a great job making stories about the people at Erie. She has also helped me a lot in my research; She has given feedback on my work, which is something that has been a huge help for me. Paige will keep striving at everything she believes in and will continue to make an impact at Erie.
#40 Jackson Clancey, Junior, Football 
Jackson is one of those offensive lineman who you just cannot stand to go up against. The power in this guy's play is so impressive because it is not very often you get the opportunity to play a starting position on the Line in your sophomore year without being a powerhouse. It is tough for the other team to  get their hands on him, or make a move, as his quick thinking and reflexes are a huge reason why he is so important. The way he plays football has virtually no flaws. He also always represents himself in a good manner against all defensive linemen and linebackers who dare go up against him. I cannot wait to see him next season, when he makes a comeback for the ages.
#39 Trent Bowers, Senior, Tennis 
In the past, an underrated part of Erie sports was the tennis team. But that has changed thanks to Trent. He is one of those athletes that seems to do pretty well in whatever he plays. His abilities in tennis are just some of the most well known examples of his sports career. He plays the game with precision, and an approach that helps his team and whoever is playing in doubles with him. His skills are to the point where he and Sam Stem went undefeated in doubles, getting 4-0 wins and making it to regionals. His calm and friendly demeanor is always noticeable when on the court. Trent's work ethic is also amazing, he wants to always fight and try his best at everything he does, and he will keep trying until he finally succeeds in his goal. Trent is a true athlete who strives to make a mark on everything he touches here at Erie.
#38 Xander Fernandez, Senior, Soccer 
A huge key player in the Erie Tiger's Soccer team is Xander Fernandez. He has really been one of the most underrated players on the team. Fernandez has been exceptional on defense: He has tied for first, in goals, with 4, and has almost averaged 2 points per game. That is impressive for someone who is more of a defensive player. He is quick in his play,  tough, and is willing to put his body on the line to keep the ball out of the possession of the other team. His leadership has been huge for the team this year and has kept their heads high. He pushes all of his teammates to play harder, and strives to be the best of the best. Xander has been a huge contributor to Erie's soccer, and has not only helped improve the team, but has also given energy and leadership. This all shows why he is such a great caption.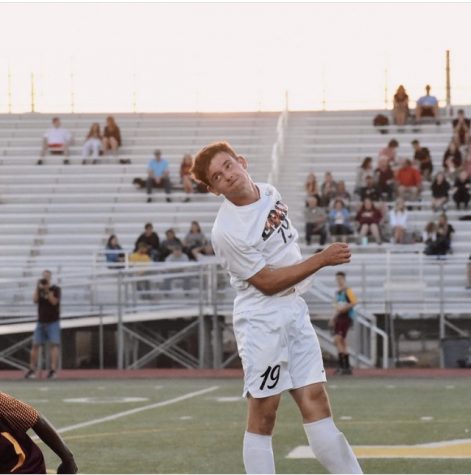 #37 Evan Rearick, Junior, Football 
I do not think there is a better Quarterback room than the one at Erie, and Evan is a huge part of that. His play style and leadership has made a mark on The Tigers' offense. It has been so impressive to watch. With the ball in his hands he can be one of the most accurate Quarterbacks in the state, and his running skills are a huge back breaker to defenses. The cool, calm, demeanor he has on the field spreads to all his teammates. I believe he has been  important to the success of the Tigers being undefeated. Evan will keep getting better and become such a huge factor to in the coming years at Erie
#36 Marin Cantwell, Sophomore, Girls Golf 
Despite being only a Freshman last golf season, Marin turned heads as she became one of the best female golfers at Erie. She helped get Erie girls golf into the top 5 last season, and had a performance that got her 9th and helped the team qualify for state. Her calm and happy attitude helps keep her teammates in a perfect state during the whole tournament . Marin has definitely impressed many and will be changing girls golf going forward. To be able to play a challenging sport like golf and succeed only in  her freshman year is astonishing and there is no doubt she will be looking to the top in her sophomore year.
#35 Jackson Mundy, Senior, Lacrosse 
Jackson, a fundamental player for the team last season and one of the key pieces in the Tigers' lacrosse team, is expected to keep progressing in his sports career. He was the leader in face offs last year, and was pretty spectacular in that category: having almost a 50 percent win rate. Of the 209 faceoffs, he won 103 of those, showing how well he was at getting the ball for Erie. He was also tied for second with 38 ground balls. Jackson has definitely made a name for himself with his skills, but I believe that he will become even more of a huge leader for this team. Jackson Mundy will be a huge X factor in this team's success and will be someone the next group of players will look up to.
#34 Noah Lopez, Senior, Wrestling 
We have been able to watch Noah Lopez for a couple years now and it is always entertaining to watch him on the mat. The guy is so strong that many believe he can take down a 200 pound wrestler with no problem at all. It shows how talented he is when he is consistently in the top 5 in tournaments. 7 times since coming to the High school level he has been in the top 3. The way he attacks his opponents is fast and super physical. It makes his opponents have to find tougher ways to beat him in a match, or have to find a different weight class. His presence can be felt throughout the whole gym and eyes are alway on him, whether he's up or not. Noah will keep getting better and I have no doubt he will be exceptional in this year's wrestling season.
#33 Jett Cooper, Senior, Football
To me there is no player more like a Swiss Army knife than Jett. I think his abilities as an outside linebacker has been a huge factor in keeping opposing teams from rarely ever scoring. He has the best pressure rating on Quarterbacks compared to the whole team, as it seems no one can come close to catching him before he gets to the passer. He is third on the team in tackles, with 35 total tackles, which just shows how well he is doing against ball carrier's. In coverage Cooper barely ever gives up any passes.  I think you could stick him anywhere in the secondary or linebacker core and make an impact right away for the defense. Not to mention how much he has helped many of his fellow teammates when it comes to learning the defense and helping younger players get a strong foot forward. Jett's smart and strategic play on defense keeps everyone focused and makes other teams question what he is going to do next.
#32 Gracie Sackett, Sophomore, Softball
Another player on the 1st team for all conference is Gracie Sackett. She was lights out on the mound for Girls softball with 101 strikeouts this season, and 13 games won in her sophomore year of high school. Her play made a difference, and  is what led to softball having such great wins. She averaged almost 5 strikeouts per game, which is what helped the Tigers keep pace with their opponents. What goes under the radar is the fact she did not give up a single double or triple this whole season. I can not stress enough that she has done this only as a sophomore, which is impressive. She also only gave up 3 home runs the whole season, which is low for how much she has been pitching this year. There is nothing stopping her from getting better and I would expect her to be one of the very best in her junior and senior years, and rise to the very top of Erie sports.
#31 Addie Osborne, Sophomore, Softball
One of the biggest surprises of fall sports this year was the outstanding play of Addie Osborn. To say she had a great season would be an understatement, she dominated this year in softball. Addie led the team in with 54 RBI's, and had nine home runs. Those stats were a big help in getting her team 23 total wins this season and making it to state. All of this helped her notch 1st place in all conference her first but definitely not be her last. Osborne's potential and skills were definitely shown full circle this year and her abilities will definitely shine in the next two years as she continues to put on a show for all of Erie to see. Osborne has already proven she's one of the best in the school and state; she will keep showing people what she can do on the diamond for years to come.
I want to end this list by sending my prayers to the Rademacher family. Last week they lost a loved member of their family, and we lost one of the best people to come through this high school: Cole Rademacher. I was able to interview him on many occasions last year and he was always fantastic to talk to. I loved what he had to say every time. His mark on this school will never be forgotten and he will always be remembered by his teammates, teachers, and classmates. His legacy will never be forgotten at EHS. If you want support the family please look at the link below
https://www.gofundme.com/f/memorial-for-cole-rademacher
For any questions or and opinions feel free to contact any of these media's 
Personal
Email:[email protected]
Instagram:@Josh_zero73
Erie tiger media:https://erietigertimes.com
Instagram:erietigermedia