Blocking The Competition: Volleyball's Impressive season continues
Erie's varsity volleyball has been on a dominant streak this volleyball season. As the team has been on a 13 game winning streak not losing since the first game of the season against Loveland who they played nearly two months ago. Since then the team has won non-stop,and are undefeated in league games up to this point. With less than 4 games left in the season, they look like they are ready to push for state. 
The success of the team can be attributed to the senior class of 2022. Players like Maggie Olson and Katelyn Gardner are showing off some great skills on the court, while also leading the younger group of volleyball girls to a promising future and paving the way for great success in the coming years.
Middle hitter Katelyn Gardner says, "It's been great to lead a group like this, and it feels like this has been building up for years now. We really feel we can go really far."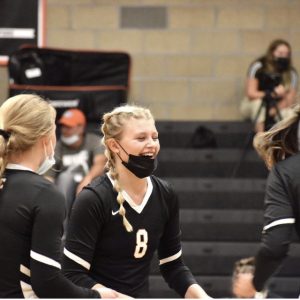 The team has also had some huge contributors from the younger grades this season, the biggest being Avery Malek, who has been very successful in her freshman year of high school. 
Rowan Ramsey has really been a difference maker on the team and has stepped up huge for her team. Her play has been electric for the team and a huge help for the team's winning streak.
Both Malek and Ramsey lead the team with Sets Played with 46 and both have gone over 50 plus k's. Both are in top 5 in total stats so far this season 
Audrey Moeding says, " Every person has been working hard this year and it's been amazing to have such a good relationship with all the girls on this team."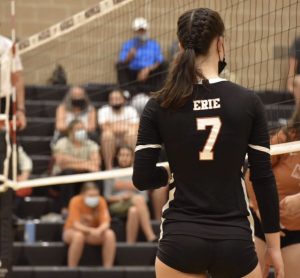 The group has still had to deal with some adversity. Multiple girls left the team half way through the season, but the team kept strong and moved forward with the season. 
Now the team will soon be ready for regionals, and fans expect nothing but the best play coming from a strong group that doesn't seem  able to stop anytime soon. The team's talent has skyrocketed over the last few years with the team already having the best record in the last five years, showing why Erie volleyball is ready to take on any team that comes there way to becoming champions.